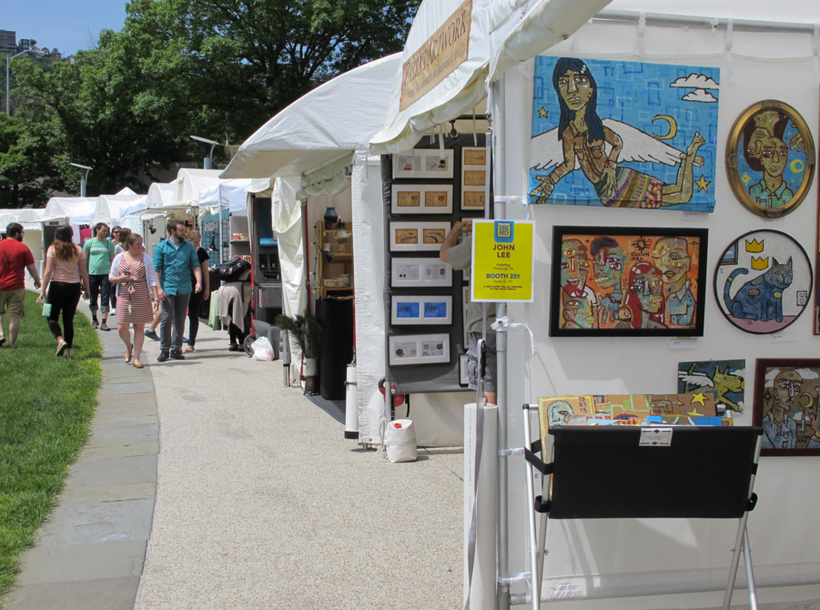 In Pittsburgh, this year's Three River's Arts Festival has risked the same oversights as the Whitney Biennial: threatening to center and promote white artists who unwittingly exploit and profit from Black death. Cleveland-based artist Tom Megalis, who identifies as ethnically Greek, planned to contribute a painting that depicted the 2014 death scene of Tamir Rice, a 12-year-old boy murdered by Cleveland police.
Megalis's painting has obvious parallels to "Open Casket," a work by the white American artist Dana Schutz that replicated the photograph of Emmett Till's body at his funeral. "Open Casket" was shown at the 2017 Whitney Biennial, where artists protested the painting's insensitivity and exploitation.The protests eventually led to a coalition of Black artists signing a petition, penned by artist Hannah Black. Signed by artists including Juliana Huxtable and Aria Dean, the letter requested that curators remove the painting from the exhibit. It also recommended that "Open Casket" be destroyed by the artist to alleviate the trauma it had resurfaced.
The painting "Within 2 Seconds, the Shooting of Tamir Rice" drew attention on social media on May 21, when the artist Tom Megalis posted a Facebook video, which he has since removed, promoting his plans to deliver the painting to the Festival the following day. The video included footage of the painting, which depicts Tamir Rice's bloody body, the police who shot him, and his sister's arrest after she ran to her brother's side.
Several Pittsburgh-based Black activists, artists, and organizers articulated their pain at the inclusion of the painting in the Arts Festival.
"When I initially saw the painting I became immediately frustrated because, yet again, white people continue to show their faux solidarity when it comes to state-sanctioned violence towards Black bodies," said Pittsburgh organizer Aubrayia Dowdy. "The man who created this wreck of a painting decided to trivialize a young Black boy's death by the hands of an anti-Black institution in the name of art. Hearing that it would be included in a city-wide arts festival drove the knife deeper and twisted it. It is not this man's place to depict the death of a young Black boy. It's almost like they get off by triggering our emotions and tearing our wounds open."
"I not only want to see his art banned from the festival, I want it destroyed," she added.
Tom Megalis has since decided to pull the painting from the festival, stating that he did not expect its inclusion to generate controversy. He also deleted his original Facebook post and ensuing conversation.
In light of the fact that white artists are making the reoccuring trangression of depicting and profiting from Black pain, it's important to understand why—as Megalis himself asked on his post—many believe white artists should not respond to the state-sanctioned murder of Black people by depicting scenes that portray Black death.
Felicity Williams, a Pittsburgh activist and organizer, said that the work is not adding to the conversation, especially since it replicates traumatizing footage that has already been circulated.
"A white artist depicted the violent death of Tamir Rice and his sister's grief for 'good' white people to ogle, critique, and purchase. Why? The artist states it is for awareness and that the conversation needs to be ongoing, but we have seen the video of Tamir's death over and over and over on TV and social media. This is Black trauma porn. It is sick and disgusting," Williams said.
When videos depicting racial violence go viral, it has been linked to causing emotional and mental trauma in Black viewers—symptoms that are very much a part of PTSD. Black Americans suffer among the highest rates of PTSD, which can be triggered by encountering videos of police shootings in such normally innocuous spaces as Facebook news feeds. In an article about how viral videos depicting Black death trigger racial trauma, the impulse to share such violent images was identified as a form of voyeurism. Attorney and Washington Post columnist April Reign compared the footage to the circulation of images of lynching. "It is a dehumanization of black people, and we don't see that with any other race. It's ingrained in us from our history," she said. "White people used to have picnics at hangings and at lynchings, bringing their children to watch black bodies suffer and die. We are not far removed from that, it's just being played out through technology now. And it hurts." 
Megalis initially responded to the pushback by attempting to defend his work as responding to the death of Tamir Rice as "a father, a Cleveland artist, and a resident." In the case of "Open Casket," Dana Schutz made a similar argument, stating that she could understand the pain of Mamie Till, Emmett's mother, because she knew what it was like to be a mother.
In Pittsburgh, multiple commentators expressed that the experience of Black parenthood—specifically the dangers of raising Black children who could be killed or hurt by police—is not shared by every parent. It is especially not a trope of white parenthood.
"If you understand as a father, understand this: this isn't your pain. Your children are not disproportionately vulnerable to violent injustices of murder by the police," wrote organizer Daeja Baker in response to Megalis's assertions of fatherhood. (She gave permission to quote her here.) "The painting and this conversation is very triggering for people. Black artists and the Pittsburgh community are speaking to you and saying that we don't want this art as a representation of what our community appreciates."
"This would never happen to [Megalis's] children," Felicity Williams said.
Like Schutz, Megalis also stated that the painting was not for sale, as an attempt to indicate that he would not directly profit from Tamir's death. While Schutz did not intend to sell "Open Casket" at the Biennial, her children still stand to profit from the painting should they inherit it and sell it in the future—and, particularly now, the painting stands a good chance of increasing in value as time goes on.
While Megalis may not fiscally profit from showing the painting in Pittsburgh, his notoriety stands to increase from participating in the Arts Fest.
"Art is about recognition, largely," wrote Daeja Baker in her comments to the artist. "You will profit from this somehow, because people will see this and know your name in the future."
In defense of "Open Casket," Cuban-American artist Coco Fusco argued that the painting did not violate the Till family's wishes because Mamie Till stated that she wanted an open casket funeral for her son so that the "world would see what they did to my baby." Whether readers agree with Fusco's argument or not, it's notable that while Samaria Rice, Tamir's mother, has spoken out frequently about her son's death, she has not granted permission for the replication or distribution of images of her son's death.
Megalis did not speak to the Rice family before painting this image of Tamir. Online, he responded to one commentator who asked whether he had made contact with Samaria Rice before painting the image by asking the commentator whether she "needed permission to breathe." Although assumedly trying to express that painting was as natural to him as breathing, when addressing a Black woman his question evoked connotations of the death of Eric Garner.
Instead of replicating images of Black death, Daeja Baker said that it's the responsibility of a white artist to support the lives and art of the Black community, without appropriating that community's pain or centering themselves.
"Why take the pain and severe injustice of the Black community and make it the center of your work? Why make this event or any other events that are happening to Black children—not your children—about you?" she asked Megalis.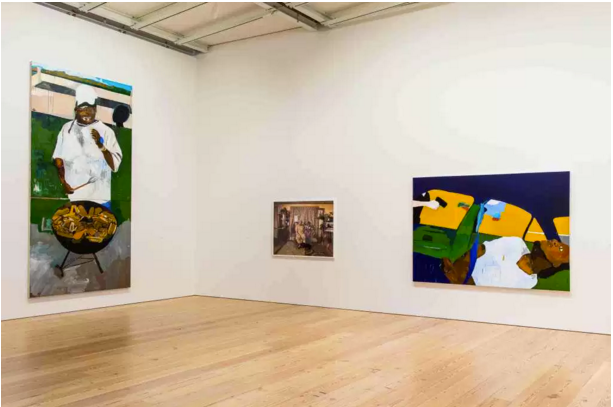 At the Whitney Biennial, Dana Schutz and her "Open Casket" generated more press coverage than the far more notable work of Los Angeles-based artist Henry Taylor, a Black man whose work raises the issues of police killings of Black citizens. Among the five works on display at the Biennial was his painting depicting the 2016 police shooting of Philando Castile.
One wonders what work from local Black artists is not being included in the Three Rivers Arts fest or obscured by white artists appropriating Black trauma and pain. Although Tom Megalis has decided to remove the painting from the arts fest, the issues that led its inclusion in the Fest in the first place still remain to be resolved. Pittsburgh has its own history of deeply entrenched racism and segregation, as well as its own cases of brutality and murder of citizens at the hands of police. Bruce Kelley Jr. was shot by law enforcement in January 2016. Other police brutality cases include those of Jordan Miles, a Black youth brutalized by police in 2010, and Leon Ford, who was shot and paralyzed by police in 2012. In May, a city police officer beat Nathan Stanley III, an unarmed Black man, outside of a South Side bar. An investigation is currently pending.
"When events like this happen, it reveals the cracks in our systems that must be addressed and restructured," said Pittsburgh artist Julie Mallis, referring to the inclusion of the painting at the Arts Fest.
Those who asked the painting to be pulled say Tom Megalis could demonstrate accountability by not showcasing or making art of this nature again, actively engaging in work to dismantle the systems that led to Tamir Rice's death, publicly acknowledging the wrong committed by making the painting and sharing with his followers why it was wrong, amplifying the voices of those affected by police brutality and the money being done to stop it, with fiscal contributions. It was also recommended that he sit with allies to craft his public statement, rather than placing the burden of that work on the Black community.
Megalis has stated that he prefers to conduct his dialogues through art—but exhibitions, after all, are something of a one-way conversation.
Calling all HuffPost superfans!
Sign up for membership to become a founding member and help shape HuffPost's next chapter
This post was published on the now-closed HuffPost Contributor platform. Contributors control their own work and posted freely to our site. If you need to flag this entry as abusive,
send us an email
.