Which communities are you a part of? I'm sure there are a few!
People have always congregated in communities, and for many good reasons: it builds confidence, can create part of your identity, and provides a sense of belonging. Not to mention that being a part of something that is bigger than yourself drives people to be more active and take action!
Communities are powerful because they create an accountable environment where people feel good sharing, working, making things happen, influencing and promoting a small or a big change - together.
There are countless types of communities: your university, a hobby, sports team, interest group, business group, and many more.
Communities can also serve as your network of connections, and in the business world these networks can help you to gain more clients, collaborations, deals and revenue when they are used in a smart way.
That is exactly what Guy Franklin did, and the community he formed happened to change a whole global eco-system!

"If you can't find a way, create one!"

Franklin relocated to NYC from Israel with his family a few years back, working as an accountant for a big financial firm and being in charge of Israeli start-up activity. Soon enough, he came to realize it wasn't easy to find Israeli startups in New York, as they were not listed anywhere. It was frustrating to invest so much effort in that avenue and literally pick them up one by one, and to not be able to make real progress in his work as a result.
He knew there were hundreds of Israeli startups based in NYC, and that among them were a few very successful companies whose success was not well known, because nobody bothered to leverage that and unify that group properly.
Harnessed with his entrepreneurial spirit, he was looking for solutions and was inspired by former NYC mayor Mike Bloomberg's "Startup Map," and the Israeli initiative "Mapped in Israel." Suddenly, it all made sense to him, and he invested his time and resources to create an Israeli startup map in NYC in order to attract Israeli startups to him and unify that community.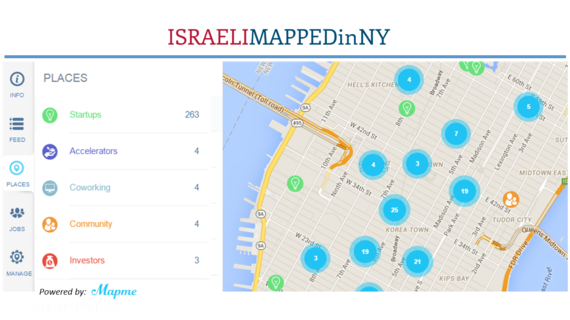 Israeli Mapped In NY

The startup map was an immediate success: Franklin collected 60 initial startups on his own while others started to approach him. His initiative gathered interest from startups, investors, governments, service providers, event organizers, and not long after, a whole eco-system has started forming around his platform!
In three years, Franklin's map has tripled in size and contains close to 300 Israeli startups, accelerators, investors, co-working spaces and others on the NY map, and the number keeps growing every month. Most of the companies are technology startups, video and Ad-Tech. In addition, since Franklin launched his map, three of his listed Israeli startups filed for an IPO in Nasdaq and are publically traded.
The map's effect as a new rising community was outstanding:
The Israeli startup scene in New York became more inter-connected, accountable and thriving.
The map's community became known outside of its own shell, and gained interest from American investors, companies, media outlets and more.
Franklin became a well-known figure in his industry. He also won an award from the government of Israel for his distinguished service in supporting the Israeli startup eco-system in NY, and an award from the America-Israel Friendship League, among others.
Franklin launched another map community in Boston and more cities are coming in the future!
Today, Franklin is also the Chief Evangelist of "Mapme", an Israeli startup that developed a platform that allows anyone to create an interactive map and actually create vibrant online communities.
Steps for building a thriving community
Guy Franklin and I analyzed the steps he took to create a thriving community that supports itself, and helps build a professional and personal brand while giving value to others! We have outlined the three steps to do so:

Step 1: Understand what kind of community is forming around you
Like every painter does, take a few steps back, and look at your field or market from a broader point of view: Look at your company, market, clients, service providers, competitors and others. Be aware of different trends that are emerging, along with popular interests, and try to detect a potential for commonalities that can be increased in a more significant form. See where you can unify people based on that.
A community can be created and unified by different components, such as:
•Field of interest or common ground that unites your community
•Your clients' needs- direct needs or secondary needs
•Your clients' characteristics
•And more.
For example, Kaltura, is an open-source video platform. Their business goal is to provide services to companies that are using video technologies. They realized that companies that are working with video would like to specialize in the latest technologies in the field as a way to grow and expand. They found that fact to be a common need that unites those potential clients of theirs, and launched professional trainings to those companies which slowly formed a community, while positioning Kaltura as a leader in that community.
Kaltura achieved their objective by creating a community for their clients and for other video-related companies.
Step 2: Find a way to gather your community
Once you know the reason to bring people together, you should find a way to get them acquainted and enable them to share information, share knowledge, and ultimately create great things together.
Some common ways to do this would be: workshops, sessions by thought leaders, cocktail parties, Facebook or LinkedIn groups, a Mapme platform where you can create an interactive map around your specific community, and other original ideas.
For example, Startup Grind, a leading global entrepreneurship community that initiates monthly events with big-name guests, interviews with industry leaders that help attract the right audience, educate them and add value. Gradually this concept proved itself, forming 177 communities in 75 countries. Startup Grind communities worldwide are supporting their events through dedicated Facebook groups that act as a place for all community members to stay updated and engaged.
Step 3: Maximize the value your community gets
Most people will join communities in order to get a certain value from them (such as financial, personal, educational, etc.). By letting your community feel empowered, as well as receiving and giving what they can, you'll be able to create a sustainable, long-lasting community. Franklin recommends doing so by creating collaboration opportunities among the group members and other influential bodies in that specific ecosystem. For example:
Entrepreneurship ecosystem:
Invite and connect between: Entrepreneurs - investors - mentors - service providers
Restaurants and bars / hospitality industry:
Invite and connect between: Chefs - restaurants/bars - coffee houses - suppliers
Fashion industry:
Invite and connect between: Designers - suppliers - bloggers - models - magazines - media - photographers
A fantastic example would be WeWork, which is a collection of shared offices for startups and entrepreneurs that is expanding globally at an amazing pace. Their community is based on connecting an ecosystem together: Suppliers to services, services to businesses, and businesses with each other -- which forms an ultimate round value situation! WeWork provides a facility, along with every types of service a business could need: insurance, office and administrative services, and more. They also make sure their community members will engage with each other, and that allows many companies to hire other neighboring WeWork companies.
Eventually, community creation is all about providing a greater value to others. Your aim should be, first and foremost, to create communities in order to make a difference and contribute to other businesses.
Be sure that what goes around comes around, big time!
So... when are you going to start YOUR community?
Popular in the Community