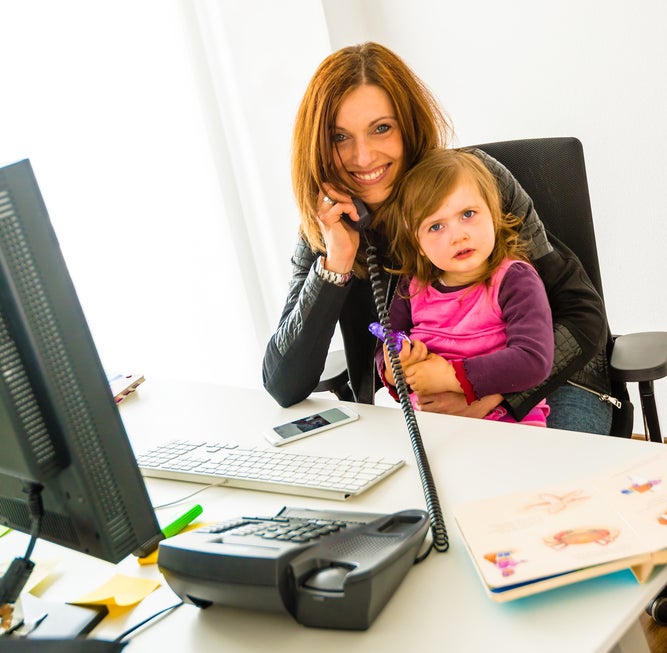 The average job hunt takes six months of hitting the proverbial pavement, shopping your résumé, and going through interviews. As a working mom who is also in charge of her family, you don't have time for a long, drawn-out search.
You are fully aware of what you are up against.
You are competing with professionals who have more time to focus on standing out.
You barely have time to add your most recent experiences to your résumé.
You've tested the waters and know that you do not have all the qualifications necessary to secure the roles you truly desire: You may not have that advanced degree or designation that your childless peers spent time pursing. In fact, you didn't have the time (or the desire) to focus on building up your résumé because you were consumed with building up your family.
So, you now find yourself in a position where you are attracting opportunities that fall short of your expectations, despite your continuous commitment to staying in corporate America. You are having networking conversations that don't seem to be going anywhere, and which are cutting into your parenting hours. You're tired of second-guessing yourself when it comes to deciding if you should apply to opportunities that you feel capable of handling. You are unsure how to refocus your professional ambitions when you feel so overwhelmed by motherhood, and all this in the beginning of summer when your routine will shift. (You more than anyone else knows how even the best routine turns into a circus show come the start of the school year.) So, how can you make the time you need as a working mother to land your next big role? As one working mother to another, I invite you to consider the following three steps so that you can lead your hunt with the same precision and focus you had prior to becoming a sleep-deprived working parent.
Know what you want and tell others - As mothers, we are our household's problem-solvers. You and I tend to be resourceful. You see an issue and you resolve it before it becomes bigger. However, you very often solve challenges by yourself. Often, you are flying by the seat of your pants in both your personal and professional spheres, maybe even feeling like you're not exceptionally good at either. As you embark on a job search, it is critical to go against this tendency to solve everything alone if you desire different outcomes than the ones achieved in the past through your own efforts. As a mom, this is even more important if you are pursuing a stretch opportunity, or one that might be beyond your recent comfort zone. You'll need that accountability to stay the course when family life pulls your focus inwards (as it very often unexpectedly does: Think summer colds, summer-camp injuries, and the like).
Know your position of power and leverage it - What is that one skill that you didn't realize you had until you became a working mother? It's figuring out how to both lead a team at work and parent children at home, while not mixing up the two extended networks. Who supported you throughout your maternity-leave negotiations, or more recently when you needed to find that specialist who accepted your health insurance to help your child? How would you define your leadership style as the matriarch of your family? Figure out in what ways your competencies have amplified, or who you now know in your network. Anchor your search to employers who need someone with these skills, as well as access to decision-makers and influencers. This way, you'll be desirable.
Know your worth and quantify it - If you are looking to go up in corporate America at any stage of motherhood, it's critical to do the math — specifically, add into your equation both the traditional workforce experiences you bring to the table and the untraditional ones that you took on at any point in your career when you stepped back from pursuing your own ambitions. For example, one government official who I coached after a year-long stint away from the workforce accomplished quite a bit during her "time off," yet grossly undervalued its potential impact on her career prospects in the present. She built a business and earned an MBA while abroad with her family, but she didn't see with clarity how her career prospects would be grossly different as a result. She was stuck in thinking that her worth was tied to traditional corporate outcomes. Have you ever felt like you are only as good as your last real job? It took a few calculations to prove that while she had been aiming for mid-level opportunities, she was actually now in a position to go after more executive-level roles. We did the math. What did you accomplish during those moments when you consulted on the side, led the PTA, worked part-time, or took on a junior position to be more flexible for your family?
As a working mother, it can be challenging to fully commit to a job hunt. I'm sure you feel pulled in two directions right now: delivering on work deadlines and ensuring your children are well taken care of… and all this while not letting anything important fall through the cracks. Consider the three steps above when figuring out how to optimize your finite time. If you want more answers to help you cut through the wasted hours or to stop overthinking your job hunt, you can learn more about the Working Mothers-In-Chief Mastermind, a virtual career-coaching group experience for working mothers looking to quickly upscale their job-hunting skills.
Melissa Llarena is the Founder & CEO of Career Outcomes Matter. She teaches business leaders on how to dissect and deliver the perfect job interview. Melissa has transitioned across 16 distinct business units throughout her career and has coached professionals since 1997. Melissa has partnered with working mothers globally - from new moms (a current CFO of American Express Canada) to empty nesters (a current General Manager for Medtronic). She authored the viral eBook, The Mommy Shift: A Reentry Strategy and the Huffington Post piece, "Mission Possible: How to Thrive as a Working Mother of Young Children." Forbes, Fox Business News, Society for Human Resources Management, Money Magazine, WSJ, TheLadders and Fast Company amongst others have turned to her for insights. Melissa earned an undergraduate psychology degree from NYU and an MBA from the Tuck School of Business at Dartmouth. Melissa has three sons (one six-year old, and a set of identical twins who are three) and one husband.
Related
Popular in the Community