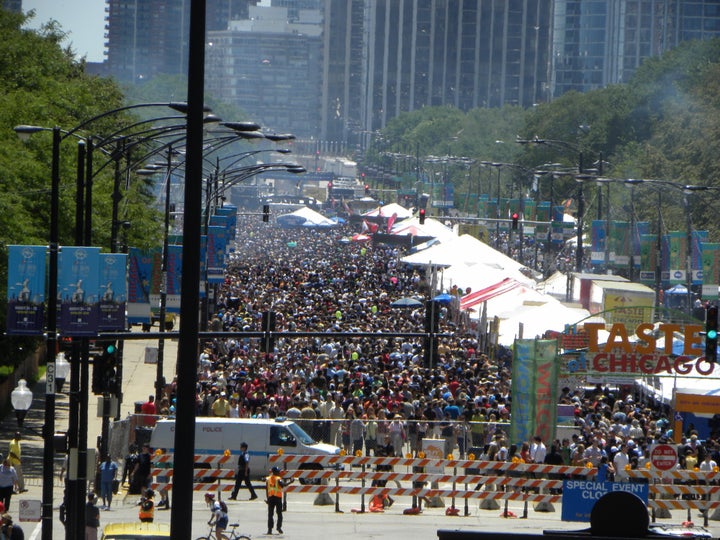 Violence erupted near the city's popular Taste of Chicago festival Thursday night, leaving three teens stabbed and one man Tasered by police.
The Chicago Sun-Times reports that a 15-year-old boy was walking with friends in the 200 block of South State Street about 9:25 p.m., when they encountered a group of males fighting.
The teen is a known gang member, according to the Chicago Tribune. He felt a pain in his back and realized he had been stabbed. Large crowds leaving the Taste blocked the teen's ambulance for a time, and he remained hospitalized Friday morning in serious condition.
Two other boys, ages 14 and 15, were also hospitalized with stab wounds. From the Tribune:
About 15 minutes later, two boys, ages 14 and 15, who were leaving a McDonald's restaurant, also in the 200 block of South State, encountered what police described as a melee--perhaps the same one the other boy walked into--and tried to get away, said Police Officer Laura Kubiak.

Before they could, the 14-year-old was cut on his lower right arm and his 15-year-old companion received a two-inch laceration to his lower back.

The two boys ran to a Red Line station, where they hopped on an 'L' train and got off at the 79th Street station. Their parents took them to Little Company of Mary Hospital in Evergreen Park, where they were treated and released, police said.
Police in riot gear responded to the festival earlier, when other violence was reported by attendees, according to the Tribune.
Aside from the stabbings, police also had issues with large, disruptive crowds, according to the Tribune:

In the Tasing incident, also nearby in the 300 block of South State, a 24-year-old South Side man was blocking traffic and refused officers' requests to move, said News Affairs Officer John Mirabelli. The man struggled with officers on the scene, and pushed one of them before being taken into custody. Marabelli said police Tasered the man when he continued to be unruly and began fighting with them.

An increased police presence can be expected throughout the weekend. In 2008, two people were shot outside the Taste of Chicago after an Independence Day fireworks display.
REAL LIFE. REAL NEWS. REAL VOICES.
Help us tell more of the stories that matter from voices that too often remain unheard.