Millennials currently make up 30% of America's independent workforce. Within the next two years, they will become the largest generation of self-employed workers in America, surpassing Baby Boomers and Generation X alike.
This data is supported by other studies as well--Deloitte Consulting's Global Human Capital Trends 2015 study reports that more than half (51%) of corporate HR respondents said their need for contingent workers will grow over the next three to five years. McKinsey says that the growing use of online contingent talent could add $2.7 trillion to global GDP.
Millennials view traditional employment skeptically after the turmoil of the Great Recession, and many see the entrepreneurship of self-employment as the way to take control of their futures and achieve security as well as job satisfaction.
As Millennials mature, they will continue to drive the shift to independent work. Companies will need to pivot from the traditional competition for full-time employees and focus on the war for top Millennial Independent talent.
Companies winning the war for the best Millennial independent workers understand:
1.The growth of the independent workforce, and the Millennials in particular, heralds a fundamental power shift in the relationship between employer and employee. Independent workers have a high degree of choice when it comes to who they work with, and so securing top talent for key projects requires companies to meet the expectations of independent workers. And 61 percent of Millennial independents plan on staying self-employed for the long haul, either as solopreneurs (40%) or in order to build a bigger business (21%). Companies need to accommodate the "work to live" mentality of the Millennial independents they seek to attract.
2.Flexibility is crucial. 61 percent of full-time independents cite the "ability to control my own schedule" as the top reason to work solo, compared with only 38 percent who cite money as the most important motivator. Money is, of course, still important--45% of independent workers say they make more money working on their own than they would in a traditional job. But as the Millennials gain influence, competitive compensation will not just mean good pay, but also soft benefits like flexible work schedules.
3.Everyone knows that a strong tech infrastructure is important to every business. The Millennials, however, are a generation of digital natives who expect even more. To compete for self-employed Millennials, companies need to enable 24/7 access to corporate programs on all devices, both inside and outside the office. Critically, companies will also need to apply their existing tech infrastructures to project-based work, so that top independent talent can engage seamlessly with the company.
In the coming years, we are going to see more and more companies focused on becoming "clients of choice" for top independent talent. As the younger generations gain experience and seniority, they begin to mold the economy in their own image. With the rise of the Independent Millennial, future generations following their example will be even more likely to see self-employment as a route to fulfillment and financial security. Companies must be prepared.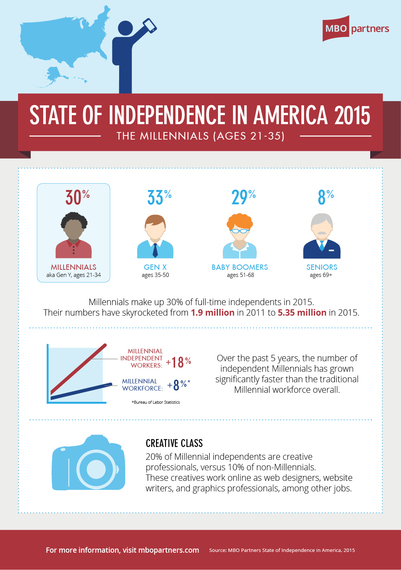 Support HuffPost
The Stakes Have Never Been Higher
Related
Popular in the Community