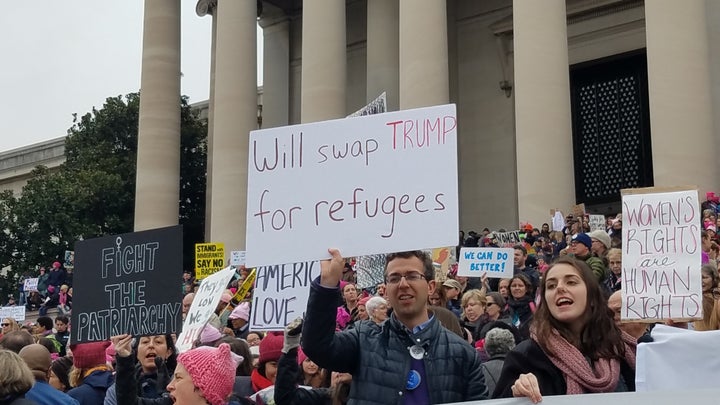 Over the last two weeks, the whole world has changed. However we voted, most of us did not take Trump's extreme campaign promises literally. We were wrong, and the ramifications of this miscalculation are setting in. We need to ensure we come out of this constitutional and ethical crisis with our values unscathed. I'm a pragmatist. I'd rather have a seat at the table than protest the discussion. But these events are different. There are no justifications for some of these actions. They are wrong, and we all feel it in our guts. But righting this ship won't happen overnight; we need endurance. So here are three things we can do when things seem darkest.
Slavery, Jim Crow, apartheid, the Holocaust, and the Holodomor were all considered legal and upheld by the majority at the time. The latter two were actually executive orders, made by Hitler and Stalin. As a youth, I always felt that if I had lived back then I would not have kept silent. Didn't everyone question if what was happening around them felt right? Now the world is watching to see if we allow recent events to become the norm. Will Congress and the judiciary step up and hold the President accountable to the laws and values they swore to protect? What happens if they don't? Am I willing to hold them accountable? How can the media protect us when their own first amendment rights are at risk? How will our children see us? These are the questions we need to start asking ourselves.
I'll confess, I waited until every train and bus from New York to Washington were sold out for the women's march. The more inconvenient it became to get there, the more I wondered if they needed me. Thankfully, I joined, alongside ninety year-old women with canes, young girls and boys, and men too. For eight hours in the cold, everyone felt a special bond of solidarity. Equally, last Saturday, when refugees were detained at JFK airport, I thought of the struggle of my own immigrant grandfather and grabbed my coat to join others raising voices on their behalf.
By being there, I learned what is possible when you show up. After hours of peaceful protest, a federal judge heard our pleas and answered. America's newest legal residents were released, having seen just how much Americans cared. There is a silver lining in all this: it turns out that when normal Americans see a bully, they are indeed willing to face him head on, lawfully and peacefully, without fear.
Over a year ago, I watched the refugee crisis headlines with an aching heart. Sixty-five million people were fighting for their lives and we were watching it unfold from the comfort of our living rooms. As a singer and entrepreneur who isn't yet the next Bill Gates, I couldn't solve the problem with a check. But I could write a song. It might move people to some kind of action. Then I'd donate whatever came from it. So with trumpeter Keyon Harrold as my songwriting partner, we composed "Running" (aka Refugee Song). We asked refugees about the lyrics and recruited Keyon's long-time collaborators Gregory Porter and Common to record it for World Refugee Day. It was released on a shoestring budget to honor what was still a crisis unfolding thousands of miles away.
The song was modestly successful but nothing earth shattering. Perhaps Americans didn't think the rights of refugees entering Europe were their top priority at the time. "We Are the World" raised $66 million. Needless to say, we didn't come close.
But the worthiest fights require patience. Within months, messages from around the world showed we had moved hearts and minds. We didn't do anything monumental. But our attempt to speak seemed to resonate. As a few thousand listeners become a few hundred thousand, we realized that it only takes one more sympathizer at the right place and time to change a refugee's life. That's what happened over the weekend, in fact.
Like it or not, each of us must decide where we stand during these critical months ahead. I remain deeply concerned by what the executive pen may bring us next. But I am also comforted by early signs of our already GREAT America stepping up to this challenge. By asking hard questions, showing up where I'm needed, and speaking up when others aren't heard, I can cut a path through the uncertainty, to find the right way. These simple daily rituals will help me act with love and compassion rather than anger and fear. Will you join me? We may not know each other yet, but I think we need each other right now.
Calling all HuffPost superfans!
Sign up for membership to become a founding member and help shape HuffPost's next chapter