One of the main components of Gov. Bruce Rauner's "Illinois Turnaround" plan is an Illinois property tax freeze.
On May 17, Democrats in the Illinois House approved a property tax freeze bill that Republicans protested as a stunt.
And the conservative Americans For Prosperity-Illinois has made tamping down property taxes a major cause this spring.
We're hearing a lot about property taxes in Illinois this year because of two conflicting dynamics. Rauner wants to lower the amount of state income tax that goes to cities and smaller government units. For some of those entities, property taxes are the only protection against dwindling state funds.
To put some perspective on the importance of property taxes in Illinois -- some would call it over-reliance -- Center for Tax and Budget Accountability Research Director Amanda Kass put together a document that hits the high points.
Here are three things that every Illinois taxpayer -- regardless of whether you own property -- should know about property taxes here.
1. Residential property provides the vast majority of property tax revenue: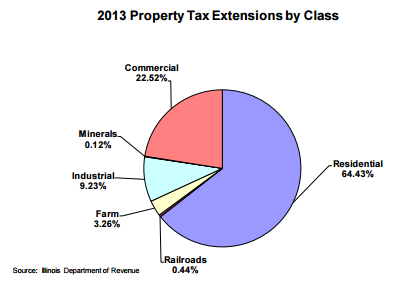 2. Nearly 60 percent of the state's property tax intake is used locally to fund elementary and high schools. This is a problem for school districts in poor areas with low property values and small property tax bases.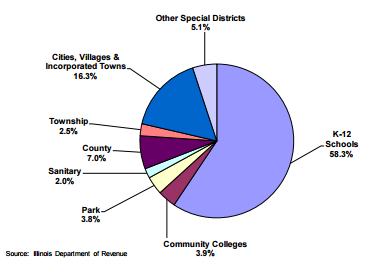 3. The suburban collar counties spend the greatest proportion of their property tax collections on schools. Again, this tends to benefit school districts in these mostly high-income, high-property-value locations.

Andrew Nelms, the Illinois deputy state director for Americans For Prosperity, has his own thoughts on Illinois property taxes:
The Illinois Legislature is considering designating an official state pie, vegetable and polka (pumpkin, sweet corn and "Another Polka Celebration," respectively). If the white-tailed deer weren't already our state mammal, surely a top contender for the title would be the Beleaguered Illinois Taxpayer. Chief among the natural predators of this humble yet majestic creature is the taxivore Local Government.

Over 6,000 local units of government levied some $27 billion in property taxes in 2013, making Illinois' property taxes second highest in the nation. That figure represents an increase of 36 percent from a decade earlier. Even after taking inflation into account, the increase still exceeded 10 percent.

Related
Popular in the Community