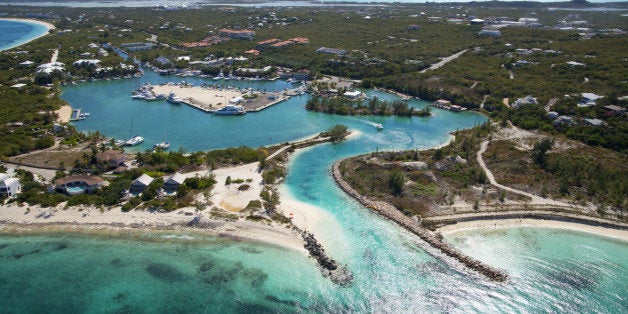 Turks & Caicos has built its reputation as the luxury destination of the Caribbean.
For years it's been the escape for the rich and famous. Truthfully, it's only been a recent getaway for the famous; but a well-kept secret of the rich for ages.
You won't find any budget hotels on the archipelago of 40 low-lying coral islands, but rather an average of five-star resorts and villas with the agenda to help you indulge in the luxe life. Flights flying into Providenciales aren't cheap either. There's not any discounted stores or shopping outlets, and you'd be hard pressed to find fast food joints or cheap food spots. Turks & Caicos isn't like it's neighbors, Jamaica or Bahamas, where you can pack your schedule with ziplining and off-roading excursions. Rather, visitors go there for nothing else but to beach-bum-it-out. They call it "simple luxury." That means you can do as little as you want, but indulge in the finer things in life -- like an on-call butler to prepare your fine dine-in meal on your personal infinity pool's terrace. Or something like that.
I must mention that Grand Turk, which is the port stop for major cruise lines, is a total contradiction to the general Turks & Caicos atmosphere - which is "simple luxury." I had a chance to speak to the Premier Dr. Rufus Ewing about the vast difference between Grand Turk and the rest of the islands. He said "Noting was really going on with Grand Turk. Then there was an opportunity to make a port stop here. They wanted one at Providenciales, too. But, of course, that wouldn't match the brand." He continued, "Grand Turk as a port stop has proved to be beneficial as another source of income for us."
Eat, beach, drink and sleep, is the normal part of the agenda.

The white, fluffy sand that leads into the crystal clear and perfectly tempered waters of the Atlantic Ocean (of course, it's the Caribbean part of the Atlantic). Many of the beaches also have extended sand bars (a consequence of the tropical storms), and that makes for fun Instagram photos that make it look like you're walking on water in the middle of the ocean. Whether you're on the main island of Provo or have accommodations on the private island of Parrot Cay, it easy to find the perfect beach nook and lay out all day. And quite frankly, that's what many visitors prefer to do.
Now when most people grow weary of the beach bum life, they grab a bike or paddle board and do something a little more active, yet still, very leisurely. But, while I was there, I found some Beyond the Usual ideas to add to your agenda.
1. Rent a dog for the day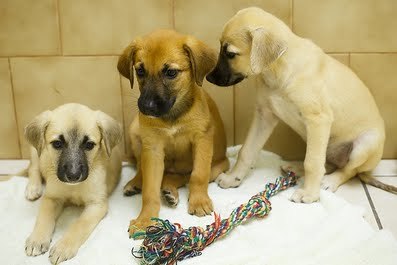 To my knowledge, it's the only place in the Caribbean where you can do this. But, yes...you can rent a puppy for an hour, for a day for the entire week you are there.
The mutts on the island are called Pot Cakes, and the Potcake Place is a dog rescue charity based in Providenciales, Turks & Caicos Islands. Their mission is to reduce the number of stray dogs on the island. They say they have constant stream of puppies needing socialization and adoption. (So if you really fall in love, which you can imagine has been done before, you can even take one home with you!) Stop by their location in the Salt Mills Plaza and take a puppy out to the beach. They say "we will give you everything you need, you just need to supply some TLC."
2. Charter a boat and dive into the ocean

The Bight Reef is just off the coast, so there's some great snorkeling and diving opportunities. The sea is full of color fish and beautiful arched coral. Charter a boat with Silver Deep, who have been providing excursions for over 25 years. Island Vibes Tours have a boat with a diving board and water slide, which equals THE.BEST.DAY.EVER. Whichever way you choose, getting a boat and leaving your resort for a day will take your vacation to the next level.
On our trip out, our Silver Deep captain took us to the private island of Fort George Cay. He pulled the boat right up to the sand, we hopped out and floricked around for a few hours. We picked sea shells and played silly floating games that we made up in the warm water near the shore.
3. Take the ferry to see the caves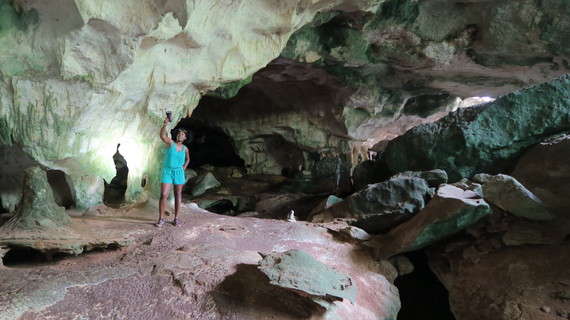 Dayvee explores and looks for bats in the Conch Bar caves on Middle Caicos - photo: Dayvee Sutton

Just about a half hour ferry ride and you can venture to North Caicos. Reserve a taxi tour through North Caicos and to Middle Caicos. (You should look up my new pal Mac from M&M Taxi.) North Caicos is the lushest of all the islands because of the abundant rainfall. They call it the Green Island. On Middle Caicos you'll find the Conch Bar Caves. They are the largest cave systems in the Caribbean. It's about 3 miles of non-submerged caves, and worth the adventure. There's tons bats that will fly out of your way as fast as they can when you show your light on them, and strange (non-edible) shrimp in the water. Don't worry, you won't get wet or have to walk through water. But, bug spray is highly recommended. The mosquitos are waiting for you! (As of this writing, the official Turks & Caicos tourism department said there were no cases of the Zika virus on the islands.)
Be inspired, watch Dayvee's latest travel video:

Visit The Daily Affair for travel and lifestyle tips from our award winning team.
There's also awesome lifestyle, travel tip video and vlogs on our Youtube channel. Please subscribe.
Stay tuned for Dayvee's exciting new digital travel series, Beyond the Usual, coming this fall!