In a small, garage-like building in northern Iraq, Seve wakes up each morning not knowing how she'll provide for her six children. Her husband is injured and unable to work. Their only income comes from the few vegetables her 12-year-old son can sell. Two years ago, they and thousands of other Yezidis fled Sinjar as they saw their neighbors kidnapped and killed by ISIS. A survivor of sexual violence, Seve is still deeply traumatized. Many days she doesn't have enough food for the family. Living outside a refugee camp, they have limited access to resources to help them.
Seve is not alone in her struggles. Of the world's 65 million displaced people, 80 percent are women and children, and 80 percent of refugees live in developing countries like Iraq, Kenya, Lebanon, and Turkey that do not have the kind of resources they need.
This week we mark both World Refugee Day and one month since the World Humanitarian Summit in Istanbul. The key issues have been identified: given the complexity and long-term nature of the refugee crisis today, the international community has to do more than provide traditional short-term humanitarian assistance (although that is essential.) Given the disproportionate impact of conflict on women, programs have to be tailored specifically to address the needs of women who are refugees and displaced. What women like Seve tell us they need are three things: personal security, psychosocial support, and economic opportunity.
Naming and Ending Violence against Women and Girls
The precarious situation facing refugees leaves them vulnerable to exploitation and abuse - this is especially true for women and girls. UN Women found that over 80 percent of refugees live in daily fear of abuse, and over two-thirds know someone who has been abused. Every time a woman leaves her home, goes to the market, or to visit a doctor, she fears becoming a victim of sexual harassment and violence. But even at home, she is not safe as refugees confront rising levels of domestic violence and early and forced marriages.
"All of these things disturbed me before but somehow felt part of normal life," says Sheiran Habash, a 32-year-old Syrian refugee. She and her sister Kabira fled Syria several years ago, and now live in northern Iraq with their families.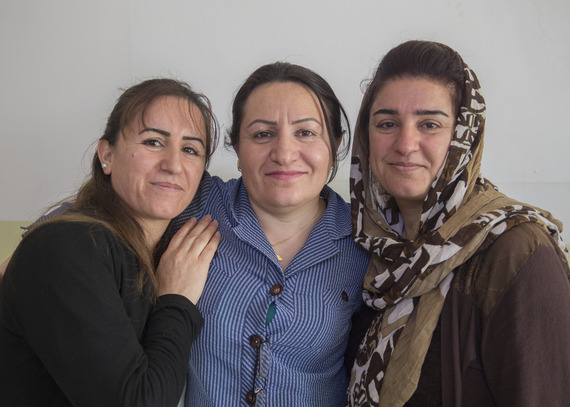 Sheiran Habash (left) and her sister Kabira (right) with their trainer Amina who leads classes on gender-based violence. "All the women of the world... we all have the same stories," says Amina. "I want to build safe spaces for all women." Photo credit: Alison Baskerville, 2016
In northern Iraq, Women for Women International is supporting programs to help displaced Syrian and Yezidi women understand the many forms of violence, learn their rights, and know how they can address harassment and abuse. By bringing women together, they gain the confidence to share their experiences and to speak out against their abuses. We are also engaging men in the communities as allies and partners in our efforts to end violence.
"To understand what it actually means, it has given us the language to understand how we feel," explains Sheiran. "We have the language to speak about it and have a voice about it." Her sister Kabira agrees.
"I now know when you are sitting in a taxi for example and the taxi driver starts to make suggestions to you...or trying to harass you sexually, you now know that this is not normal behavior, this is gender-based violence. So now you know how to deal with that and how to complain and where to go...to get support."
For refugees to have the chance to move forward, however, they need the resources to treat and manage their psychological and emotional trauma. Most of the women we meet in northern Iraq are deeply traumatized by their experiences of war, and by their ongoing struggle to survive.
For Seve, the Yezidi woman who survived sexual violence, coming to the centers WfWI supports in northern Iraq has finally enabled her to open up and find healing. She began to talk to the trained social workers about some of her experiences, and found being together with a group of other women who had similar pasts calmed her.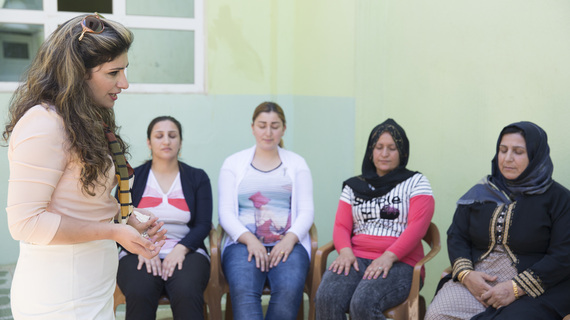 Awaz leads a relaxation therapy group for Seve and other Yezidi women to help them find ways to reduce stress and heal from trauma. Photo credit: Alison Baskerville, 2016
Many Syrian and Yezidi women living in host communities in northern Iraq shared with us their daily struggle to provide for their families. In fact, more than 50,000 people or one-third of households cannot afford food, water, fuel, and clothing. The lack of income and opportunities to earn has driven families to arrange forced and early marriages of their daughters for a bride price.
"Life here is difficult for us, because we are refugees and we cannot find jobs," says Slava, a Syrian refugee living near Erbil, Iraq. Her husband is educated, but as they searched for work, they fell into a vicious cycle that haunts many refugees. Without work experience, it becomes harder and harder to find employment, and aid can only stretch so far. "Everything is too much for us," she says.
We know from our work in other countries that women who have experienced conflict and displacement need opportunities and skills to earn and rebuild their lives. In northern Iraq, WfWI is connecting women with business skills training and support to help them identify markets and opportunities for them to generate income.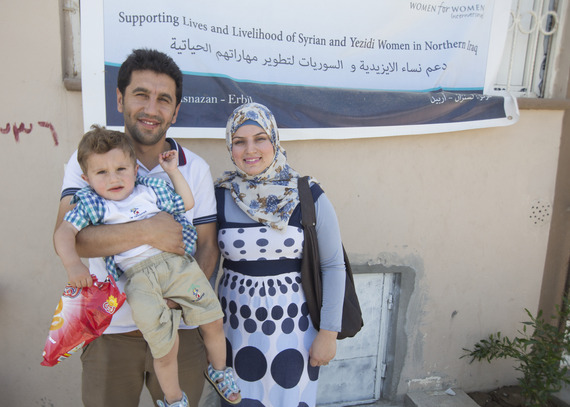 Slava with her husband and their son at a training center supported by Women for Women International. Photo credit: Alison Baskerville, 2016
While Syria and Iraq are at the epicenter of the refugee crisis today, the need for security, economic opportunity, and psychosocial support is shared by all women who have experienced conflict and displacement. Long-term displacement requires longer-term solutions that go beyond traditional forms of humanitarian assistance. The international community is saying the right things - what we need now are words translated into action.
Women for Women International is providing psychosocial support, rights awareness, and business skills training to 3,000 Syrian and Yezidi women displaced by conflict in northern Iraq over the next three years. To learn more about their work, visit www.womenforwomen.org.
Calling all HuffPost superfans!
Sign up for membership to become a founding member and help shape HuffPost's next chapter