Today, youth in the Arab world face the toughest job market on earth. We have the power to do something about it.
Over 67 million young women and men in the Middle East and North Africa (MENA) are not employed, in education or in training. The regional unemployment rate for youth is at 26%, and the International Labour Organisation (ILO) predicts that it is not coming down any time soon. According to a survey by Bayt.com, the Middle East's leading jobs site, youth in MENA believe that finding a job is the foremost challenge of their generation.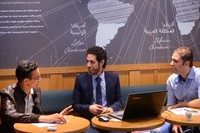 The statistics do not tell the whole story. They fail to convey the disillusion that so many young people feel when their education produces big expectations but little success when it comes to finding a job. We see this first-hand at Education For Employment (EFE). It is no wonder that, as one EFE trainee explained, "I was frustrated to see that even with my Master's degree, it wasn't possible for me to find a decent job, and that made me hate the country I am living in."
Just as important, the statistics do not capture the vast potential of these youth. Today's unemployed young women and men are better educated, more globally aware, and technologically talented than any preceding generation. When they are locked out of employment, businesses and economies across the region sideline a precious resource.
Governments have tried for years to tackle the issues that have produced record levels of youth unemployment. While the causes are complex, they are not a mystery. Youth themselves are telling us what they think stands between them and a decent job.
This spring, EFE and Bayt.com joined Opportunity Café - a Starbucks MENA-led initiative as part of Starbucks Global Month of Service. Together through this partnership, we organized the region's largest-ever CV writing workshop across 29 Starbucks stores to train youth and help them prepare for jobs. As part of the engagement, over 600 youth across the region were surveyed in order to understand their perceptions of the biggest challenges to securing employment.
The largest proportion - 38% - pointed to the absence of available jobs as a top challenge. 31% of respondents cited poor CV writing skills as a top challenge, and 28% felt that lack of awareness of existing job opportunities was to blame.
What is surprising here is not the results - they confirm the findings of similar surveys.
What is surprising about the findings is how addressable they are. None of us can single-handedly change government labor policy or dramatically improve the quality of education. But the results point to tangible, concrete actions that businesses and individuals can undertake to chip away at the youth unemployment challenge.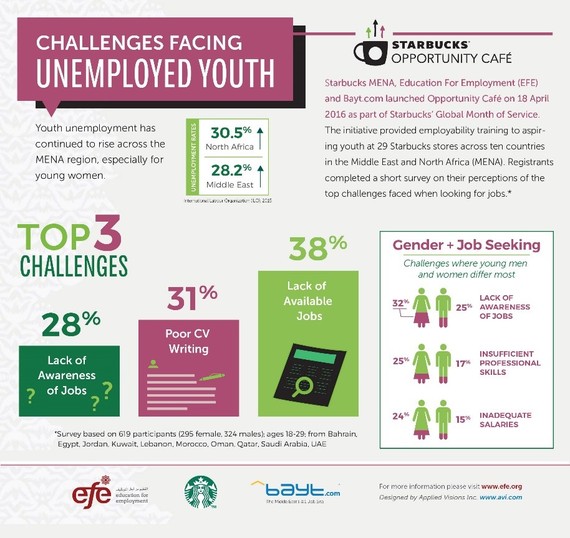 Talk to youth about your profession - especially if you're in a growing industry that needs fresh talent. Help youth to understand the types of jobs available, their skills requirements, and what they could expect in salaries and career progression. At the Opportunity Cafe, Starbucks MENA partners (employees) spent 15 minutes explaining to youth participants what it takes to do the job. Few of the youth had considered Food & Beverage jobs, despite the growth predicted in the industry in the region. Exposing youth to opportunities in such fields can help to drive young, creative talent to the industries that need it most.
Pitch in at a local youth employment organization. Increasingly, nonprofits across the region are adopting the market-driven EFE model, which relies on insights from the private sector to shape training curriculum and relationships with companies to link trained graduates to jobs. Many, like EFE, also seek volunteer professionals to hold mock interviews for trainees, provide feedback on trainee CVs, or serve as inspirational guest speakers at training events and graduation ceremonies.
Advocate for inclusive youth employment opportunities at your own company. Support policies that discourage wasta (nepotism) and rely on merit and relevant skills to fill open positions. Seek youth employees with backgrounds that you might not have considered in the past, recognizing that diversity of perspective can strengthen your company. Consider relaxing "previous work experience" requirements for candidates who can demonstrate that they acquired the relevant skills through training programs or volunteer experience.
Encourage first-time job seekers to start their search with a simple assessment of the region's job market. Governments, civil society institutions and companies are producing a growing number of reports that outline the skills and qualities MENA's employers seek and value most. Resources like the employer-based survey reports on Bayt.com also describe the skills that will help youth to remain competitive in the job market, and what certifications or training may position them to advance. With this knowledge, youth can strategically invest in continuing their education online or through targeted programs.
Youth employment has the potential to transform economies and societies across the MENA region. 67 million lives can be changed if we help youth along the pathway to employment. Let's get to work.
Calling all HuffPost superfans!
Sign up for membership to become a founding member and help shape HuffPost's next chapter