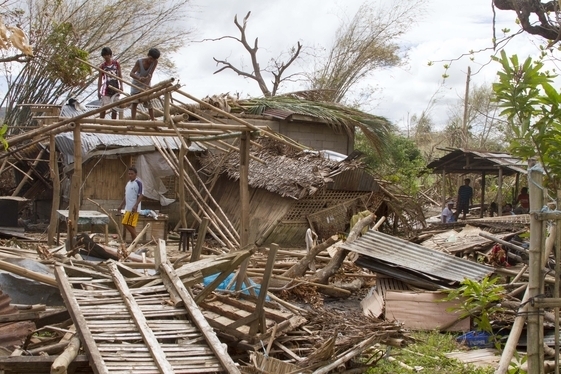 The focus in the Philippines is now on rebuilding the destroyed homes and communities after Typhoon Haiyan. Photo: Tyler Jump/IRC
I've seen incredible devastation in my short time in the Philippines after Typhoon Haiyan. Homes have been flattened, school yards mangled and businesses blown away. These are things I'd come expecting to see. After a storm like the one on November 8, it's a wonder anything was left standing.
What I haven't seen is widespread despair.
Lives have certainly been shattered as a result of the storm. In a coastal town on the island of Panay, we met a woman named Virgie whose home had been destroyed. Little more than the foundation marked where it had once stood. Virgie had worked for years to build the house piece-by-piece, sending money back to her mother from jobs abroad. She shared the home with her extended family of seven, only to have it entirely washed away as they took shelter in a community center the night of the storm. The children still cry when they hear strong winds, she told us.
But the culture here in the Philippines is not one that dwells on misfortune. Rather, it is a culture of fortitude and great resiliency.
As relief organizations like the International Rescue Committee reach some of the last communities to receive aid after Haiyan, the focus on rebuilding has remained constant. When we ask storm survivors what they need most, the response is overwhelmingly supplies and support to rebuild their homes and businesses. Many lost their livelihoods to the typhoon. Fishermen lost boats, and shop and restaurant owners lost their buildings and much of their supply. When we ask what they would do if the relief aid stopped, they tell us they would find work. They would sell banana leaves or work as in-home help. "We would get work," they tell us, "somehow."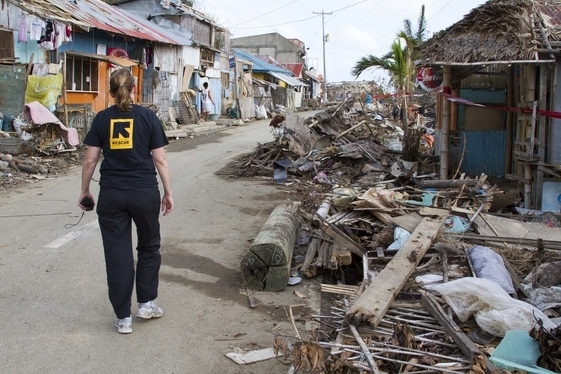 An IRC emergency response team member walks through a row of destroyed buildings in the Philippines following Typhoon Haiyan. Photo: Tyler Jump/IRC
The people of the Philippines are thankful for the support they have received from around the world but it is clear that they have no desire to become dependent on it. They want to rebuild their homes so they can get back to work. They want to get back to work so they can rebuild their communities. And they want to rebuild their communities so they can get back to normal.
And aid organizations are listening: The IRC is delivering water storage containers to areas where clean water supplies have been disrupted, solar powered lamps to places where power is not expected to return for months, and emergency kits packed with spare clothes and other personal items to help women hold onto their dignity amid extremely difficult circumstances. We're also focused on programs that will put some money back into people's pockets and help to revitalize the local economy
The people here have lost so much in the wake of the storm, but they've already begun to take back what was important to so many of them - work. Only days after the storm, people had already begun to rebuild. Driving to the communities where we are delivering relief supplies I was astonished to see how many structures had already sprouted up among the wreckage. Rice milling factories were being repaired, churches were getting new roofs and the skeletal remains of homes were being restored.
As Virgie -- the woman we met on Panay -- held her son and struggled to speak as she recounted all she'd lost, much of her grief was focused on the barriers to recovery in front of her. "All of my papers are gone, my passport is gone, I can't work anymore," she told us.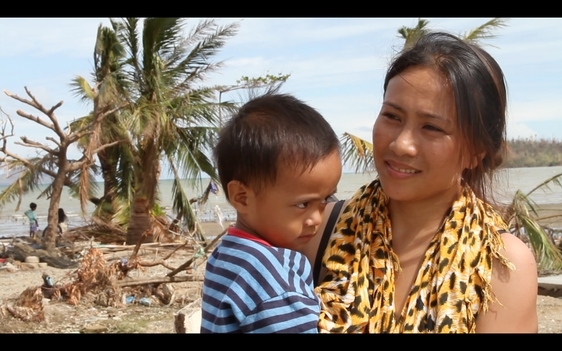 Virgie, shown here with her son, lost her home and most of her possessions during Typhoon Haiyan. Photo: Tyler Jump/IRC
But she will work again. Everyone in the Philippines will. The drive and determination of the people here is exceptional. They know what needs to be done, and they're ready and willing. But first they need the resources to do it. The people of the Philippines will get back to work, and I know they'll be thankful when they do.
To support the IRC's work in the Philippines and around the world, please consider a gift that makes a difference this holiday season by purchasing a Rescue Gift.
REAL LIFE. REAL NEWS. REAL VOICES.
Help us tell more of the stories that matter from voices that too often remain unheard.