It is National Recovery Month. Every September, SAMHSA sponsors Recovery Month to increase awareness and understanding of mental and substance use disorders and celebrate the people who recover.
On May 3, 2013, Mark Vosk died after being struck by a train. Three years later, on October 24, 2016, his mother handed me her son's CD, posthumously titled, "Gone."
I received the CD from his mother at the official viewing party of Here's the Story: A Family Disease, the documentary chronicling my activism. Over 100 people were in attendance. She approached me, as many did in the crowd that day, but instead of simply hugging me or handing me a business card, she handed me a CD and told me her son, who had openly battled depression, had died three years prior.
"Mark was a son, our only son, a handsome, strong, talented, and lovable son. He was blessed with a smile that could melt you away and put a warm feeling in your heart," his mother, Barbara, told me. "Unfortunately, he had an affliction that nowadays seems to be present in too many people, that being depression. He had tried to combat it many times in various ways. He wanted to feel 'normal' like everyone else and even with all his searching, he eventually turned to self-medication."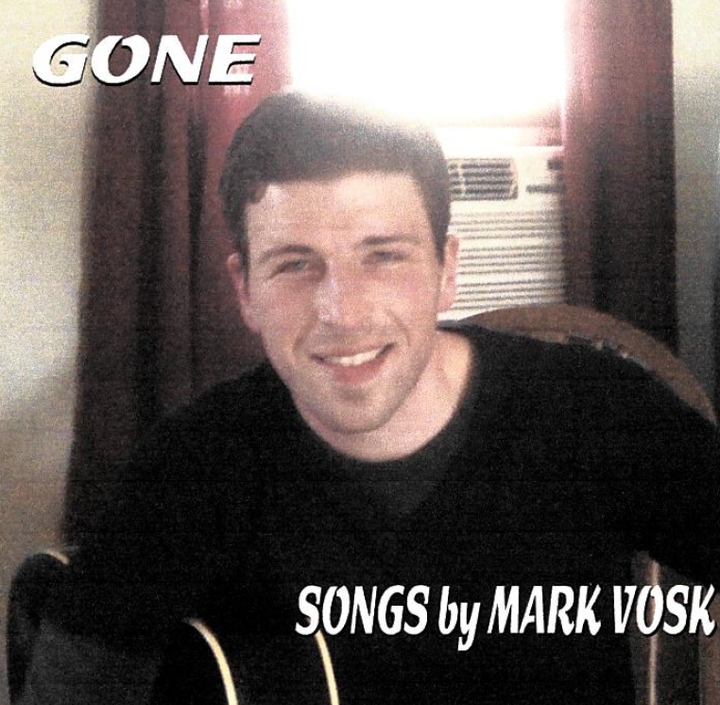 20% of Americans with an anxiety or mood disorder, such as depression, also have a substance abuse disorder.
Compared with the general population, people addicted to drugs are roughly twice as likely to have mood and anxiety disorders, and vice versa, according to the National Institute on Drug Abuse (NIDA).
I didn't learn the details surrounding Mark's death until January 2017. Given how I met his mother, I naturally assumed he lost his life to drugs. In a way, he still did.
Mark's depression resulted in his self-medicating with prescription pills. To this day, little is known about how Mark ended up between the train platforms and on the tracks. His own mother will never truly know what happened that night, because her only son is not here to tell her what actually occurred.
But, Mark left a piece of himself behind for his mother and family. His music. Mark was a talented musician and wrote and recorded his own songs. His family has since copyrighted his music.
"One way he chose to deal with his depression was through self-expression, through his music. Early on, even before his addiction, he taught himself to play guitar which lead to writing lyrics," said the grieving mother.
Studies have shown that music therapy can help relieve depression.
Every Day Health reports that from the earliest days of civilization, music has been used to heal people, and to express what is difficult to articulate in words, with ancient Greek philosophers using music for therapeutic purposes.
Modern music therapy originated in the 1940s after World War II when thousands of soldiers developed post-traumatic stress disorder (PTSD). Community musicians began to visit veteran hospitals to play for them. Nurses and doctors noted the positive response, both physically and emotionally.
Six days after I was handed Mark's music, his mother emailed me asking if I had listened. Truthfully, I hadn't. I didn't listen to it until November 4, 2016. Now, it has been eight months since I first heard Mark's voice in my ears and I cannot shake it.
He wasn't just strumming a guitar, he wasn't just creating music, he had something to say. Something that 15 million adults can surely relate to. His voice reminded me of a young Eddie Vedder, and inflected on all the right notes. Not only was Mark an attractive, talented man, he had a bigger purpose. He may have left his music behind for his family to treasure, but I believe his music will help others battling depression and/or Substance Use Disorder.
I told his mother this, who began to cry every time we spoke on the phone.
"Ultimately the lyrics he wrote talked of his pains, sufferings, and frustrations with where his life was going," echoed Barbara. "His writings truly became a release for him."
Below you will find my favorite song of his, "No Secret." Don't let the upbeat nature of the song fool you though, the lyrics are heavy. I believe they speak on the stigma one experiences while battling diseases of addiction/mental illness, especially when he croons, "It's no secret/when I'm around/there's no quiet/when I'm in town."
The song does have a positive angle though as he openly discusses trying to make the right choices and how hard it is to actually do so in what I deem the stand out lyric: "I'm walking down the line/trying to do what's right/trying to live my life/I'm sick of waiting/waiting around/there's no problems/still I come down/and I get that taste in my mouth/it's more painful/than I can pronounce."
If you would like to learn more about the benefits of music therapy, the AMTA lists over a dozen studies supporting the benefits of music therapy for those with depression and anxiety on their Music and Mental Health page.
Support HuffPost
The Stakes Have Never Been Higher
Related
Popular in the Community