ACT Theater Seattle recently opened the intriguingly titled Threesome, which one might be led to believe is a play about sex and relationships. Threesome is that and more. It's a complicated story of an Egyptian couple (Leila and Doug) that invites a man to join them in what is to be a first threesome for all the players.
Threesome opens with Leila and Doug sitting in bed innocently dressed in pajamas and awkwardly discussing what is about to happen, how it will affect their relationship and man / woman issues. Everything shifts when (spoiler alert, but you might want to know this before attending) Doug bounds on stage fully naked and ready for the adventure of a threesome.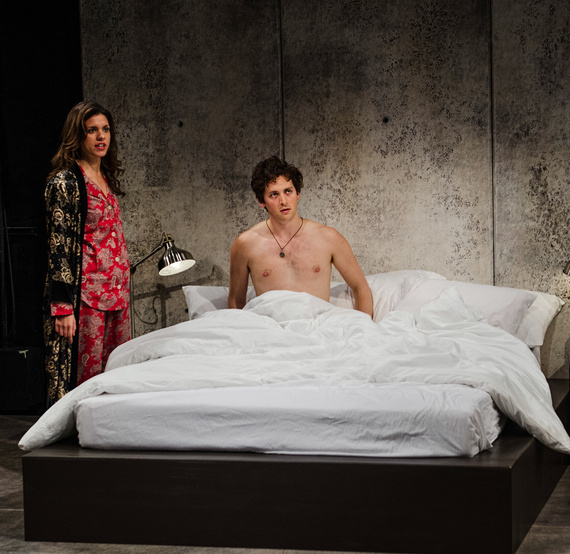 Then, things get really awkward, funny and interesting as the three novice swingers attempt to discuss their way through something very unfamiliar and far more complicated than it appeared on the surface. Throughout the first half of Threesome, we learn much more about the three character's history and how they got into what becomes a far more complex and political (both individually and culturally) situation.
As the show only has three characters, each actor really has to be fully present at all times. There's no hiding of anything (both figuratively and literally as clothing and body image become more of an issue as the show progresses) as the characters delve deeper into their past and present motivation.
In Act Two, everything changes as Doug works on a photo shoot of Leila for her forthcoming book. Only then does the audience begin to see the full-blown issues of politics and gender bias emerge as the whole story materializes.
This is a show that is both entertaining and thought provoking - leaving the audience talking about many different issues as they walk out the door. It is beautifully portrayed by the three actors who ease the audience through a complex journey of exploration and insight.
Calling all HuffPost superfans!
Sign up for membership to become a founding member and help shape HuffPost's next chapter