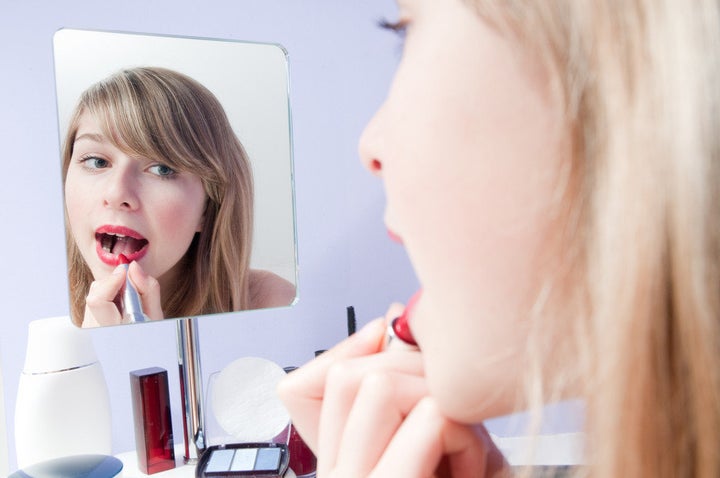 There comes a time in every junkie's life when they must make a drastic change. Mine came when I peered into a trash bag that I had forced myself to fill with high-end luxury beauty products. Chanel, Dior, Yves Saint Laurent -- Oh, my! I admit I had to fight the urge to reach back in... maybe just one more eyelid contour or cheek highlight before I said goodbye forever... I wondered if there was a cosmetic rehab I could join? After all, these products had been my friends. They'd helped me feel confident after breakups, refreshed after sleepless nights, and pretty when I felt out of shape. I didn't want our relationship to end, but I knew it was toxic.
I decided to quit my addiction to toxic cosmetics in search of cleaner, more naturally formulated ingredients cold turkey. I rid my home, purse, and car, of any products that didn't specifically say they did NOT contain harsh chemicals. Out went my beloved Chanel lipstick (reported to contain high levels of lead), my favorite Bobby Brown Bronzer (yup, phthalates), my deodorant (aluminum), so on and so on...
For some reason, it didn't occur to me until a few years ago, that while I was eating clean (even macrobiotic at times), I was lathering my skin with potentially harmful parabens, phthalates, sulfates, lead and thousands of various chemicals. Our skin is our largest organ; anything we put on it has the potential to absorb into our blood stream. If you haven't read anything on the subject, I suggest this article by the VP for Research at The Environmental Working Group called "Why This Matters- Cosmetics and Your Health."
While I felt relieved that my liver and kidneys would be able to function better, my dull complexion and lackluster smile almost caused a relapse back to my old chemical-filled beauty bar. I called my sister and, like any good sponsor, she reminded me of the importance of my plan (and the fact that we digest one to two pounds of lipstick in our lifetime) then led me to the natural grocery store. I was sad to say, while healthier, I was underwhelmed. Some of the makeup collections left my skin looking matte and actually made me appear older, highlighting lines instead of diminishing them! Others seemed to disappear within an hour or two, requiring repeated reapplication.
I'm happy to say that in the end this addict's recovery ends well. I've been clean now for over two years. After trying out various products, I've finally found brands that work as well or better than the ones laced with toxic ingredients. The brands I've found keep a luxury product look and feel, which, let's be honest, is one of the best parts of the makeup experience. I want my makeup to be housed in beautiful packaging, transport me with inspiring brand messages, as well as have great efficacy. I put these cosmetics on my skin daily. It's an intimate relationship, one I want to be able to rely on. Every season, I'm happy to report, I notice more brands testing the non-toxic waters with new products. Here are some of the best available:
1. Aveda. I've been a fan of this brand for years, but didn't realize it doesn't contain synthetic ingredients. After calling the headquarters, they assured me that ALL of their products are derived from plant-based sources. I was happy to know that I could return to my favorite Rosemary Mint shampoo and Botanical Kinetics Hydrating lotion and have successfully added several of their cosmetics (my current obsession is their Petal Essence Face Accent) to my regimen. Aveda's staff is highly knowledgeable and the company is known for having one of the best in-store experiences. Prices range from $8 to $77.
2. Naked Princess. A relatively new cosmetic line with THE BEST clean lip gloss on the market. Beautifully packaged with a wide array of lip plumping colors in eight shades of nude, and a sweet taste make this lip gloss a necessity in my book. Their luxury lip & body products, many of which are housed in keepsake packaging, are safe for sensitive skin, and remind me of my favorite high-end brand names, sans the chemicals and guilt. I hope this brand widens its line to include more color cosmetics! Naked Shine Lip Gloss & Objet d'Love Lip Treatment are their best sellers. Available online and at various boutiques and luxury hotel spas. Prices range $22 to $56.
3. Tarte Cosmetics. This natural line is one of the best cosmetic lines I've tried. Its highlighters, bronzers, and blushes are amazing and Lights, Camera, Lashes! Mascara is one of the few that don't sting my eyes and leaves lashes looking full and plump. Best sellers are their Tarte Cheek Stain, Maracujca Blush and Glow Brightening Luminizer. Also available at Sephora. Prices range from $16-$65.
4. Korres. An all-natural line from Greece offers some of the finest in clean makeup. Their skin-perfecting primers are super lightweight and never make me break out. And, their Lip Butter Glaze is a delicious way to get supple, kissable lips that shine. Ladies on the go must try Pomegranate Cleansing Wipes to remove eye and face makeup in one-step. I now use whenever I travel (or when tired/lazy). Can also be found at Sephora. Prices range from $14-$62.
5. Mineral Fusion. These minerals are on a mission to actually work! Foundations, powders and bronzers that leave your skin glowing, not matte and dull like so many other mineral-based products. Flawless coverage, age-defying ingredients, and slick packaging almost makes you forget you can purchase this line in a natural grocery store. I use their Sheer Tint with UV protection daily for light, dewy coverage. Finish with Hydration Mist to set foundation or to hydrate skin throughout the day. Available at many Whole Foods Markets. Prices range from $9-$30.
Clean luxury makeup is becoming more in demand, which is leading to safer cosmetics that rival any of the less healthy brands. I hope that these independent brands' commitment to less toxic products will inspire top luxury lines to formulate cleaner cosmetics. I realize it typically costs a company more to formulate without the use of toxic chemicals (they stabilize and preserve makeup), which is why I hope if more people join me in choosing paraben and phthalate free products, major luxury brands will take note. Like many women, I'm always on the lookout for new safe and amazing cosmetics.
What are your favorite paraben-free/phthalate-free or natural beauty products?
Shannnon Bindler is a freelance Style Editor for Reign, an online lifestyle magazine, funded by Naked Princess. Reign is an open editorial platform and curates editorially independent content.