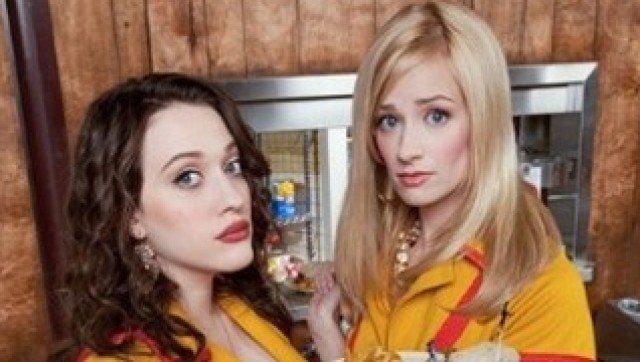 Since I have the salary of an intern, my budget for shopping is minimal. I don't know how I survive, let alone look fabulous on what I earn. But believe me when I say I look fabulous. How do I do it? One word: thrifting. Although I love Beacon's Closet and Allan & Suzi's, my favorite vintage shops in NYC, the place that has gotten me the most amazing things for dirt cheap (and tons of compliments) is the Internet.
I started shopping online when I was thirteen because I had a severe phobia of sales clerks, no driver's license and eccentric tastes that were not satisfied by Mandee's or Conway. When I discovered eBay it was life-changing. Before then I had had to beg my mom to take me to the Hot Topic in Westchester where I would blow a month's allowance on seriously overpriced Nirvana T-shirts and fishnet tops. But on eBay I could find cheap, unique vintage pieces that felt much more me than anything I ever found at retail stores.
What ensued was a series of totally cringe-worthy fashion mistakes, but at least they were ten-dollar mistakes, rather than hundred-dollar mistakes. And at the time I was having so much fun in my tacky polyester dresses and '80s prints. The great thing about shopping on eBay was that it gave me the freedom to try different things and explore my creativity through clothes. I was able to go beyond the trends that stores were selling me and figure out what I liked.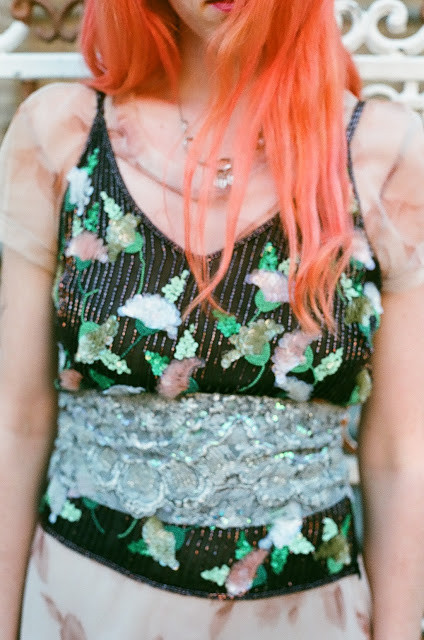 One of my favorite eBay finds, an Ashish top that I scored for $10
When I found Etsy my life changed again ... seriously, cue Aladdin's "A Whole New World." Not only is the site more attractive and less vast (yeah, I'll pass on the automobiles, eBay), it's very much a community. You can form "circles" which are basically like finding your lunch table in high school -- they're made up of people who are into the same things you are. You can even look at their favorites.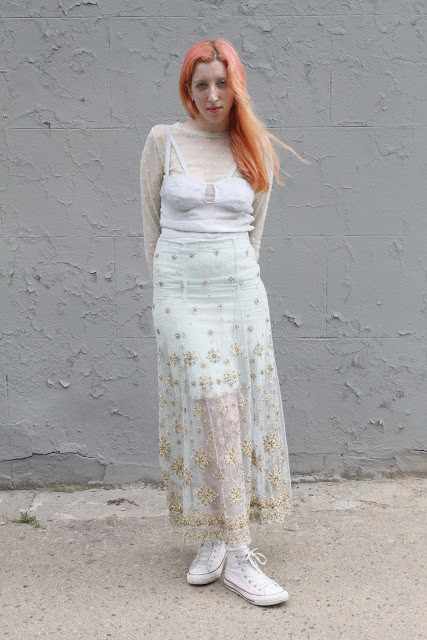 I got a stunning Indian wedding dress on Etsy. Here I am wearing the bottom half.
So, if you're like me and have anxiety problems, or like to do things from the comfort of your own couch, or handling pit-stained vintage clothes in person gives you the creeps you should try shopping online. But if you're still hesitant take a look at my list of things to watch out for:
1. Know your measurements. Since I was totally in the throes of body dysmorphic disorder/teenage insanity when I first started buying clothes on eBay I never knew my size and bought anything that I liked. BIG MISTAKE. I ended up with a child size skort and lots and lots of size large clothing that would need a ton of tailoring that I couldn't afford. I was pretty lazy about it and didn't measure myself for years, but when I did it made all the difference.
2. Develop search terms that work for you. I often look up designers' names that I like. For example: Rodarte, Jean Paul Gaultier and Opening Ceremony. Or types of clothing and descriptions, like "avant-garde," "psychedelic print" or "cutouts."
3. Always ask for price reductions. These are not corporations, they're just regular people trying to sell stuff in their closets. If something is a little out of your price range, be real with them, and see if you can work something out.
4. Really think about whether something deserves a spot in your closet. Sometimes the joy of stumbling upon something is so thrilling that you just have to have it even if deep down you know you'll never wear it.
5. Discuss your possible purchases with a friend, family member or some other tell-it-like-it-is person in your life. I have a million Facebook messages with my best friend about things we've contemplated buying. I find that she knows me better than I do and will tell me if she thinks I'll wear something or not. It's also a great way to let people know what you want for Christmas.
6. Pay attention to the fine print. Note return policies and descriptions of items especially when cuts, holes and stains are involved.
8. WARNING online shopping can get totally addictive. Set a time limit for yourself and stick to it.