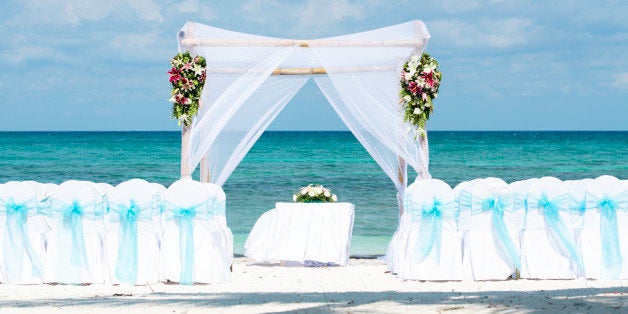 I'm currently up to my eyeballs in planning my own wedding. In fact, as of today, I'm just thirty-two days away from the big day! After we got engaged, picking a venue was the very first thing my fiancé and I tackled on our massive to-do list. We started there because we knew we had to figure out where our shindig was happening before we could start to put all the other pieces into place.
The process of finding a venue actually reminded me a lot of a classic childhood story you may have heard before. It's called Goldilocks and the Three Bears. The future husband and I saw venues that were toooo expensive. Then we saw venues that required toooo much work. Finally, we found one that's juuuust right. Now, let me explain what we learned along the way.
How do you start the hunt for the perfect venue?
First, you have to decide if you want an all-in-one venue that can handle your ceremony and reception or if you prefer separate locations for each part of the wedding. Since I have a lot of out-of-towners coming in, I narrowed my search to venues that could host both.
Next it's time to decide what parts of town you're willing to consider. Once you've got that sorted, do some web searching to find venues in those areas. Then, send inquiries via venue websites to request pricing information. If you already have a ballpark idea of what your total venue budget is, you'll be able to eliminate options that fall outside your price range right away.
Once you've narrowed it down to a handful of venues you want to see, reach out to each one and schedule an in-person appointment to tour space. If you're organized, you can maximize your time by booking a few tours in one day.
Think about the place, but also consider the people:
As you begin to tour venues, make it a point to consider your guest's needs. For example, if you know a family member needs wheelchair accessibility, keep that in mind as you walk through each location. If you're not sure if a specific venue will work, ask questions to make sure you can accommodate your guests. Now on to the people you'll be working with...
Along with each tour comes an event manager. Though I hadn't initially considered the staff playing a large role in my venue decision, they ultimately ended up having a huge impact. Some of the coordinators I met were awesome and were totally on top of things. Others seemed like they'd be difficult to work with right off the bat.
Remember, the person you're talking to is someone that you're going to be dealing with as you plan one of the biggest days of your life. To make things less stressful, try to make sure they're helpful, easy to communicate with and fun to work with.
Don't let hard to decode pricing screw up your budget:
At the end of each venue tour, you'll go over a price sheet - and that's where things get really complicated. Why? Because each location presents their pricing differently.
Some venues include food and drink in their price per person cost. Others have a line item for each individual charge - down the cake cutting fee. A few even make up random package names that are associated with a total price but have no detail as to what's actually included. After a few venues, your head will be spinning and you'll be begging for somebody (anybody!) to regulate the industry pricing structure. Trust me.
To make sense of it all, you need to sit down with your calculator and pretty folders full of budget sheets to figure out your real cost. To do so, take the total cost and divide it by the number of guests you're planning to host to get a true per-person dollar amount. As you compare venues, make sure you note what is or isn't included. For example, if your venue doesn't provide food and you want a meal, that's an added per-person cost that you need to keep that in mind. By doing some math and creating a direct comparison, you'll be able to fully understand what you're getting yourself (and your credit card) into.
It's a marathon, not a sprint:
Finding the perfect venue definitely takes some time, but that's okay because it's such a critical part of your day. On our hunt, we saw some venues that took our breath away (both the location and the price tag) and some that were uninspiring (like the one where you might have to share a reception space with another wedding - ew.). All in all, we looked at twelve venues and had one that we were basically sold on. Then, we looked at one more and everything changed... which leads me to my next piece of advice; you have to find the balance between inclusions and affordability.
The venue we almost booked was a great price. But, it would have cost a fortune to pull off all the details. The big pro was they allowed you to bring your own booze, which can really save money if you buy your alcohol at a warehouse store like Costco or Sam's Club. However... it was also "bring your own everything else"; food, cake, décor, linens, chairs - all of it. We would have had to hire a full-on coordinator to pull it off. And they don't come cheap!
So how do you know when you've found "the one?"
The venue we picked did everything right to fall into the sweet spot. Even though it initially appeared to be more expensive than the bring your own everything "affordable" option, all in, it worked out to be a better deal. And, it still worked out to be less than half the cost of the all-inclusive venues we looked at. We love the space, and more importantly, we love the event manager. She's great to work with and made it evident right away that she's happy to help any way she can. We have total confidence that the staff will do a great job managing our big day - and the sanity savings that come along with that confidence definitely counts for something!
Ultimately, our venue eats up about half of our total wedding budget. However, the cost includes space for the ceremony and reception, on-site food and bar service and cash credits for cake, floral, linens and other third party services with preferred vendors. Last but certainly not least, we get a 'day of' coordinator, which means no extra expense for a planner (yay!). All in all, we feel like we're getting a very fair deal and we're very happy with our choice.
The moral of the story:
This post isn't necessarily meant to serve as advice on what type of venue you should choose. That's a personal decision that will be different for every couple. It's simply meant to provide some advice on how to manage the venue selection process and a few tips on what major things to consider. Once you see multiple venues and you're able to weigh the pros, cons and costs, it will become clear which one is the perfect fit for your budget and for your vision of your big day.
Stay tuned for my next post on how to pick the perfect budget-friendly vendors for your wedding!