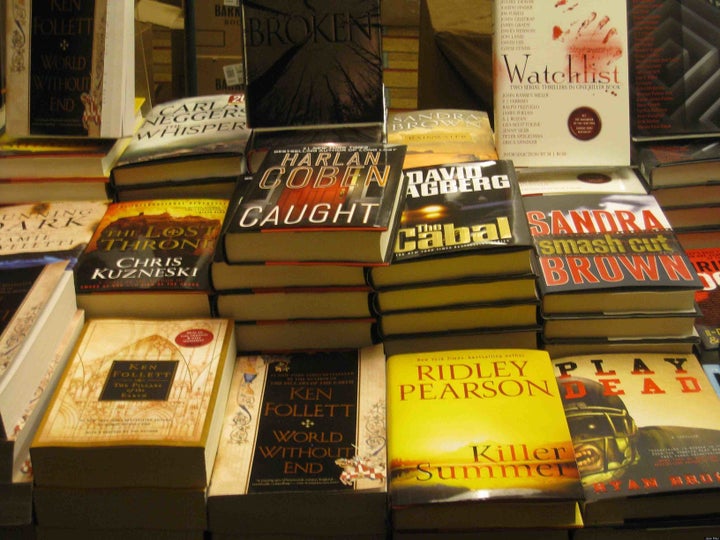 Back in 2006, in the sweltering heat of the Phoenix desert (actually the Arizona Biltmore), a conference was born. Put together with the mission statement of promoting thriller writers and their stories, in all permutations, the organization of International Thriller Writers (ITW) made ThrillerFest a smashing success right out of the gate. Now, four years later, ThrillerFest has turned five years old and encompasses everything that is right about the publishing industry. I'm not saying this because I write in this genre, or because I've loved Thrillers since I was a kid, but because if you spend time at ThrillerFest no matter what piece of the puzzle you are--be it author, fan, editor, agent, publisher or critic--you will find writers who are penning some of the most riveting books in the world, publishers who ache in their love for good storytellers, fans who line up to meet the writers of some of the most entertaining and relevant reads in the world, and attendees who harbor no pretensions whatsoever. There are no 'literati' at ThrillerFest--we are all book lovers. We love to read. We love books that keep us turning pages. We love series characters that we can welcome back into our lives like old friends. We love intriguing plots that are ripped from the headlines, stories that just might have a little too much of a ring of truth to them. We love these books unabashedly, unashamedly. This is our mecca.
The seeds of ThrillerFest were planted by two legends in the field: David Morrell and Gayle Lynds. Morrell, who created the iconic John Rambo in First Blood (yes, there was life before Stallone) and Lynds (author of The Last Spymaster and The Book of Spies) along with the contributions of numerous other authors and professionals, have grown International Thriller Writers into one of the largest and most successful writing and publishing organizations in the world. With over 1,000 members, and over a dozen books either published or in the pipeline (including Thriller, Thriller 2, Watchlist, The Chopin Manuscript and First Thrills) International Thriller Writers boasts a membership that has sold nearly two billion copies worldwide. Yes, billion. Its membership lists a 'who's who' of the crime writing world: James Patterson. David Baldacci. Lisa Scottoline. Sandra Brown. Brad Meltzer. Ken Follett. Clive Cussler. Men and women who have created some of the most beloved characters and stories in modern fiction.
ThrillerFest not only caters to the mega-powers, however, but makes every effort to actively promote its up-and-coming stars. On Saturday, July 10th, ThrillerFest hosted its annual 'Debut Authors Breakfast'. Open to any registered attendee, this breakfast showcased nearly twenty authors whose debut novels have already caused a stir. After learning about talented newcomers, just a few hours later you could hear bestsellers interviewing bestsellers, as World Without End and Pillars of the Earth author Ken Follett was interviewed by international bestselling author Steve Berry, while just next door Douglas Preston was chatted up by David Morrell. I had the pleasure of sitting in on a chat session featuring Sandra Brown and Clive Cussler. Everywhere you turn are authors whose fans number not in the thousands, but millions. And these authors don't simply appear on panels and then retreat to air-conditioned rooms for an afternoon of SpectraVision--they're wandering the halls, browsing the bookstore, sitting in on panels themselves.
It's safe to say that if a vortex opened up and swallowed New York's Grand Hyatt hotel at around 8:00 on the night of July 10th, the publishing world would be thrown into chaos and all the hang-wringing about ebooks would be a moot point. Gathered in the Hyatt ballroom for the annual Thriller awards banquet were hundreds of the biggest authors in the world, along with their editors, agents and publishers (I was fortunate enough to be a Thriller award nominee last year). Taking home the conference's grand prizes were Twist Phelan for Best Short Story ("A Stab in the Heart"), Tom Piccirilli for Best Paperback original (The Coldest Mile), Jamie Freveletti for Best First Novel (Running From the Devil), and Lisa Gardner for Best Hardcover Novel (The Neighbor). Black Hawk Down author Mark Bowden won the first True Thriller award, and Ken Follett was recognized as the 2010 ThrillerMaster. The night ranged from humorous (author John Gilstrap being presented with piece of fossilized poop for winning the 'Worst Amazon Review' award--"The glue boogers in the binding were more captivating than Gilstrap's torpid prose.") to emotional (Linda Fairstein, recipient of the 'Silver Bullet' award for outstanding charitable contributions, could not be in attendance due to the fragile health of her husband).
And to top it off, it was announced that in the fall, ITW and the USO would be teaming up to send four authors--Steve Berry, David Morrell, Douglas Preston and James Rollins--overseas to visit our troops in the Persian Gulf.
Thriller writers aren't often reviewed in theNew York Times. They aren't featured very often on NPR. They don't get many fawning profiles in The Paris Review, are ignored by The New Yorker, and don't get into silly literary feuds centered around who has lived longer in Park Slope. But they are the most generous writers you can imagine. They go out of their way to appreciate their fans and to boost new authors. If there is competition, it is friendly, encouraging. At the end of the night, you'll find them all in the bar, because for the most part they're simply a pleasure to be around. I look forward to ThrillerFest every year because once you strip the publishing and literary world of any pretense or snobbishness, you'll find an oasis of people who simply love to tell and read stories. And if stories are the pillar that the publishing industry is built upon, ThrillerFest is their cathedral.
JASON PINTER is the bestselling author of five thriller novels (the most recent of which are The Fury and The Darkness), which have been nominated for numerous awards and optioned to be a major motion picture. His first novel for young readers, Zeke Bartholomew: Superspy!, will be released in the summer of 2011. Visit him at http//:www.jasonpinter.com.
Related
Popular in the Community