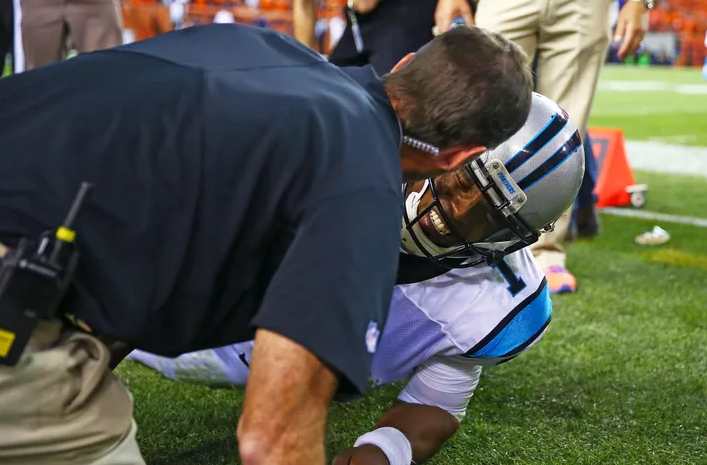 Questions about the league's concussion protocol upstaged a night that should have been a celebration of the NFL's season kickoff.
In the closing seconds of Carolina's Thursday night loss to the Denver Broncos, Panthers quarterback Cam Newton took a vicious shot to the head from safety Darian Stewart. Clearly affected by the blow, Newton stayed in the game without as much as a cursory glance from the independent neurological consultants that are on the sideline during each game to evaluate players for possible concussions.
Newton would go on to finish the game, but a question looms. Why wasn't he checked for a possible head injury?
Flash back to the first quarter. Broncos linebacker Brandon Marshall suffered a helmet-to-helmet collision when tackling Panthers running back Fozzy Whitaker. He was immediately removed from the game and taken back to the locker room to be evaluated by an independent neurologist as part of the league's concussion protocol. But where was that protocol in the closing seconds when the hit Newton took seemed much more vicious than the one Marshall had suffered earlier in the game?
A passing comment made by NBC's Cris Collinsworth may shed some light.
As Marshall was being led off the field, Collinsworth implied that team physicians, not independent neurological consultants, had final say as to whether or not a player has suffered a severe enough head injury to be removed from the game.
While the last hit may have been the most egregious, Newton took a total of four hits to the head during Thursday night's game, including a nasty one by Broncos linebacker Von Miller in the third quarter in addition to the one he would later receive from Stewart. Officials penalized Denver a grand total of one time for those hits, almost all of which were flag-worthy. The more concerning issue, however, is that there is no evidence that Newton was even considered for concussion protocol following any of the hits.
Having been previously embroiled in a high-profile lawsuit against former NFL players, the league has gone out of its way to portray itself as a champion of player safety. But on a night when the league was at the forefront of the public eye, its failure to protect one of its biggest stars casts a grim shadow on whether or not the NFL's so-called "concussion protocol" has any real teeth to it.
Was Newton slow to be evaluated, especially in the closing seconds, because he is a star quarterback? Because the game hung in the balance?
In the Panthers post-game press conference, Newton commented on the hits to his head.
"They asked me questions, but nothing too serious," he said.
Newton went on to clarify that nobody asked him any questions until after the game had ended.
While we may never have answers to those questions, what we do know is that Newton was clearly showing some ill effects after being hit in the head for the fourth and final time. The question then becomes whether or not he was put in further danger by not being pulled from the game—a scenario that the league's concussion protocol was allegedly put in place to prevent. Further, if the independent neurological consultants don't have any real say as to whether or not a player is pulled from a game, what point is there to having them at all?
On a night that was to have been a test of Newton's wherewithal—his ability to come back after a gut-wrenching defeat at the hands of the Broncos in Super Bowl 50—the focus has now, for better or worse, been put on Newton because of questions surrounding the league's seemingly arbitrary (or worse, selective) application of its concussion protocol.
Calling all HuffPost superfans!
Sign up for membership to become a founding member and help shape HuffPost's next chapter