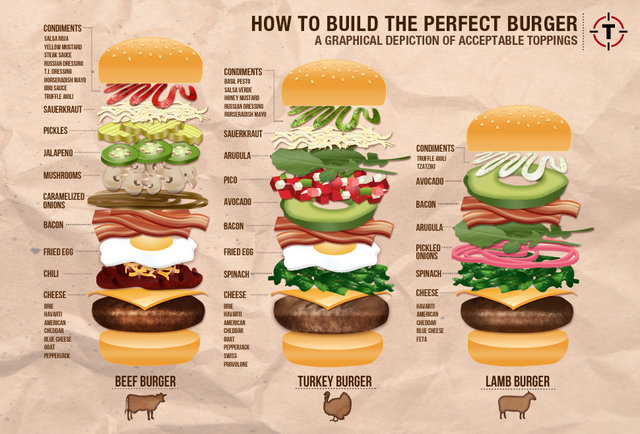 Let's build a burger. Bacon: duh. Cheese: of course, but what kind exactly? After that, things get even more confusing, especially when dealing with different types of meat for your base. A fried egg goes great on beef, but it'll be your face if you try it on lamb. Love avocado? Hope you love turkey burgers, too.
Which is why we called in Larry Perdido from Austin's Hopdoddy, makers of one of the 33 best burgers in the entire country, which also happens to be the only one in Texas worth waiting an hour for. He spilled out his extreme burger knowledge to help us construct this graphic laying out exactly which toppings, cheeses, and condiments match best with beef, turkey, and lamb patties.
Of course, everything's up to the eater's personal preferences; this is meant to act simply as a guide... one that tells you when those personal preferences are totally insane, WEIRDO!!!