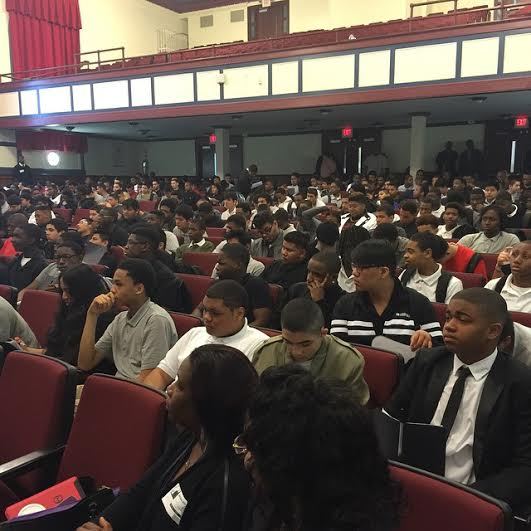 The ultimate deception is that young men of color are doomed to prisons, gangs and the like. However, there are many well-educated young men who have hopes, dreams and are seeing record achievement that typically go unnoticed in mainstream media.
Just this past June I had the opportunity to participate in the graduation ceremony of two schools -- Globe Institute of Technology in New York City and Frederick Douglass Academy III located in the Bronx, New York under the leadership of Principal Rahesha Harrison. I attended both events with hopes of inspiring the graduating class but left being fully charged and powered up by two young men who academically held strong GPAs and were the student body speakers.
Although the two differed in many ways, they both had a sense of purpose and a commitment to be change agents in a society that historically has devalued their sense of self-worth and well-being. These young men were steadfast in their speeches and implored their fellow classmates to not allow society to define them by the color of their skin or their past circumstances. Both held strong to their faith that guides them to believe; they were born to be great!
Both students held a sense of connectedness to their family and community and were extremely grateful to their support system that ranged from family to professors.
The truths is, young men of color who are excelling rarely if ever make the front page of the local newspaper nor do local community organizations building up the next generation, yet they have answered the call to make a difference.
One community initiative in particular, Sons of Someone (SOS) in New Jersey does not subscribe to the negative images of young men of color. In fact they are working diligently to uplift and empower them to be contributors to their community and society as a whole.
According to the Founder Natasha Davis, SOS was created with a primary mission to provide direction and leadership to young males ages 10-21. After seeing the great work the team at SOS was doing for the young men in the community, Mrs. Davis was appointed to launch and spearhead President Obama's My Brother's Keeper initiative in her town.
The My Brother's Keeper initiative, which was announced by the president in his 2014 State of the Union address, is an initiative to help young men of color facing especially tough odds stay on track to reach their full potential.
This past April, Ms. Davis along with her team greeted over 400 male students, community leaders, police officers, local businesses and governmental agencies at a local New Jersey High School to host a My Brother's Keeper Male summit. It was a huge success!
Mrs. Davis believes that there is a strong bridge between the issues boys in urban settings face and ways in which SOS and My Brother's Keeper can help.
She hopes to allow boys to have access to and connect with positive role models as well as have access to opportunities in a safe environment that will allow them to explore, learn and develop. She desires to have these young men prepared to take on college, have strong work ethics, and become responsible husbands, fathers, friends and citizens. And lastly, to give them a voice and leadership skills that will allow them to pay it forward and make a positive difference in their communities.
In addition to her male mentorship program, she also has a female program called Someone's Daughter Inc. that offers weekly site based mentorship in 5 cities throughout New Jersey. Mrs. Davis says "What I do is genuinely for the betterment of my community with no personal agenda attached. So what I would want for my legacy to be is very simple, that I made a difference."
While we will never dismiss the atrocities and barriers that have attempted to diminish the spirit of young men of color, we must remember to acknowledge those who are forging ahead against all odds as well as their supporters who have answered the age old adage "Am I My Brother's Keeper? Yes I Am!
Calling all HuffPost superfans!
Sign up for membership to become a founding member and help shape HuffPost's next chapter