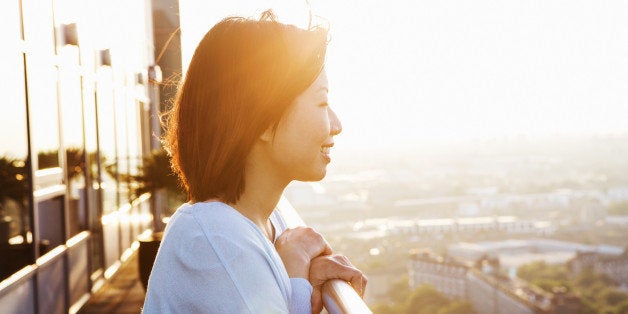 When was the last time you listened to the sweet sound of silence? When was the last time you decided to close the door and just let yourself be, with nowhere to go and nothing to do?
Arianna Huffington gave a talk last week in Philadelphia promoting her 14th book, Thrive, in which she implores us to slow down and make the time to renew ourselves. After years of international productivity, over drive, sleep deprivation and now at the height of her success, Huffington is convinced that too many of us have shrunk ourselves down to to-do lists and are overly focused on power and money as the markers of success rather than internal aliveness.
As an executive coach and psychotherapist, I work with the burnout and disillusionment that Arianna talks about. Too many people in our culture are wearing their long hours at work as badges of honor, believing that climbing the corporate ladder will lead to fulfillment and that what they produce is the measure of who they are. I, too, have been guilty of feeling like the barometer of my goodness is how much time I put into my work. When I was in college, I took pride in how many hours a day I read, as if the hours spent were a reflection of my moral superiority over my classmates who were playing frisbee on the quad. Only years later did I identify my learning differences that make my reading slower than other people, and that my time with my head in the books was more about my slow brain rather than my greater intellectual prowess. That was too bad; I lost out on a lot of fun.
Huffington points out that we currently live in two worlds that exist simultaneously: burnout and "mindfulness" -- the negative results of overdrive and the need for stress reduction. The good news, as I see it, is the current popularization of mindfulness. What is mindfulness? Mindfulness is about being in the present, not the past or future. It's about being attentive to what is here and now as opposed to there and then and increasing our awareness of behaviors, thoughts and feelings that detour us from the present. Mindfulness is now everywhere. We have mindful eating, mindful addiction recovery, mindful parenting and mindfulness stress reduction programs that are showing up everywhere.
Mindfulness is a good antidote to our super extroversion, our attention to the blinking of electronic devices and our sense that we need to be available at every moment to some shiny object. I'm thrilled that Huffington, perhaps the most influential woman of our time, is spreading the word. While many of us in the health professions have been attending to stress reduction for years, when the call to reexamine our definitions of success and to focus inward comes from Arianna Huffington, people may listen.
Success, Arianna said, is how we bring our gifts and talents to what we do. The poet Rumi said it this way, "Let the beauty of what you love be what you do." Realistically, we can't all live by Rumi's invitation or Huffington's wide range of opportunities for managing stress, but we can recognize that most of us are overextended between work and family demands and need to reexamine the values that motivate us.
As I was Listening to Arianna speak last week, I recalled the first line of James Joyce's Dubliners, "Mr. Duffy lived a short distance from his body." I felt grateful that the power house that is Arianna Huffington is speaking out to wake us up, reminding us to turn inward and find a way back to our authentic selves.
Related