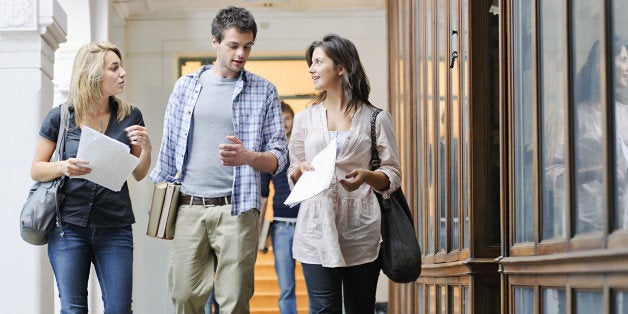 The first year of college is a huge adjustment, especially so if you have ADHD. Making new friends, studying new curriculum and adapting to your new surroundings take time and effort. For incoming freshmen, whether you are getting set to enter a massive state university with 45,000 students or a small liberal arts college with 2,500, having strategies and techniques for staying focused and on top or your game are vital to success.
In my free guide for teens and young adults with ADHD -- Embracing Your ADHD -- I write a great deal about what it takes to thrive with ADHD. For teens and young adults with ADHD -- ADDYTeens -- it takes a bit more work and planning to manage your studies and new social situations while keeping your cool.

If you are like me, you are feeling excited and anxious about going to college. It's a huge opportunity, and yet you may now wonder if you will be a very small fish in a very big pond. I felt the same way and for those of you who are new to my blog, you can read about my experiences at Freshman orientation and my recommendations on how to make your summer break very effective.
Looking back on my first year, like any incoming freshman, I had to learn through trial and error. What works and what doesn't. Which paper is more important? Which assignment do I tackle first? Do I spend my weekend hanging out with friends or attending a guest speaker's lecture? As a freshman, each week can be a different "ball game." Here are my top five tips that worked well for me through my first nine months of college.

1. When you work you work, and when you play you play.
In college, you are in charge of yourself and your time. You have less class time than high school, and more unstructured time to study and prepare for exams and papers. As I add it up, when I set aside my class time, I had over 14 hours every day to study, sleep, hangout with friends, go into town, etc. You will have no rules, so you must decide your schedule.
Sounds great? Yes, however, in order to stay focused on school, boundaries need to be set to separate the fun time from work time. Give your work the attention it deserves. Use your calendar to block out hours for each assignment, task, reading, etc. This is your "work time." The rest is "play time" for working out, having fun, goofing off, dancing to music, etc.
During work time, you work. Do not think about missing out on all the fun your friends are having on a Wednesday afternoon. You need to run your own race. While your friends are using their time for play, you are chiseling your work load down and saving "play" for another time.
When it's play time, you play. Allow yourself time to be yourself, decompress, enjoy your new environment and engage with friends. During play time, enjoy and do not feel guilty that you are not studying. Remember, success in college requires balance and ADDYTeens can't be productive 24/7. Use your time wisely.
2. The library is your friend.
All colleges pride themselves on their libraries, typically with good reason. Thousands of resources, including online databases, librarians, books and lectures are at your fingertips and should be taken full advantage off. Not only does the library offer help for any class, but it offers a quiet and serene environment to study and focus on your work.
ADDYTeens, bringing work back to your dorm, apartment or house makes it very difficult to focus. You will need to put forth great effort for ultimate success so finding a good quiet place to focus on your work is a priority. Take the time to check out your campus library, the staff and its resources. Embracing Your ADHD provides a great number of fun and easy study techniques, productive habits you can learn, and helpful ways to stay focused.
3. Eat healthy and shape up!
When you are stressed with work, school and social life, it can be hard to eat well and find the time to hit the gym. But it's not impossible. Maintain a balanced and active lifestyle and be aware of the food your cafeteria provides. Junk food is easy for grab-and-go, but it's never the best source of energy. Store some healthier snacks in your backpack to munch on when you need a pick-me-up.
I personally love health bars, apples or pretzels. Having snacks on hand will save you time and give you back the energy you need for your day. In addition to quick snacks, exercising a little each day will keep you sharp and in shape! Join a pick-up soccer game, have a walk around campus or do a quick 30 minute run. Any of these will do the trick and will bring you into contact with new people and places. Then you can cool off, shower down and get back to work. Trust me, it's always smart to give your body and brain a break from the books.
4. Connect with your teachers in person! (No matter how large your school is.)
The first week of school is a tornado of information, assignment and expectations and each teacher gives out their own dose. College professors are often brilliant and intimidating, but they are also very supportive. Professors know first hand how specifically challenging freshman year is for most and are typically eager to help. Primarily, professors give support during their office hours, via telephone and emails. Often they provide additional web resources that can and do help their students.
Be sure to take full advantage of office hours to connect up with your instructors in person as often as possible. They set your grades, so they need to know who you are, and what your specific needs are. While many people may misunderstand your ADHD, you need to make sure your Professors are not among them.
Professors are busy people so their time is not meant to be wasted. Take note of their offices hours and schedule an appointment whenever you feel lost in the class, confused about course material or just want to chat about the latest news. Professors invite you to their office only for one reason - to create a better relationship with you in the mix of all their students.
For ADDYTeens at big universities, this tip is even more important. Professors teaching 500 students will not have the slightest clue who you are if you do not present yourself to them in person. Introduce yourself with a handshake, sit down and use your scheduled time to chat about class content and your goals for this semester or quarter. Professors teach to educate and really try to support their students, so why not take advantage?
5. Connect with your classmates outside of class.
New school, new friends. Each class you take will host a whole new group of students who ultimately have the same goal as you: to succeed in the class and have fun! Besides the heavy course load and daunting homework, college is wonderful to start great friendships that can last your whole life. Why not achieve both together?
Whoever you connect with in class, invite them study for an exam or quiz or have lunch or dinner. Linking together with peers outside of the classroom allows your assignments to be exciting and definitely takes off a little pressure.
Your school will have a department specifically for students with learning differences. There are college counselors and advisers to guide you through your freshman year. Make sure you visit and take advantage of these great resources and recognize that you are not the only student with ADHD. At my school - University of Puget Sound - I use these resources all the time and they know me as Grace. Make sure they know your first name too.

As you read this, recognize how important it will be to maintain determination and flexibility and also know and fully utilize your school's resources to ensure you do not get lost in the crowd and fall behind. Think of entering college as a new start. With new beginnings come new responsibilities. Start your freshman year with enthusiasm and use these few helpful tips.
Have fun, but never forget that your studies are most important. Organize and collect yourself, get to the library, concentrate on assignments and explore during your play time. College will be a blast if make sure to start off smartly.
Related
Popular in the Community