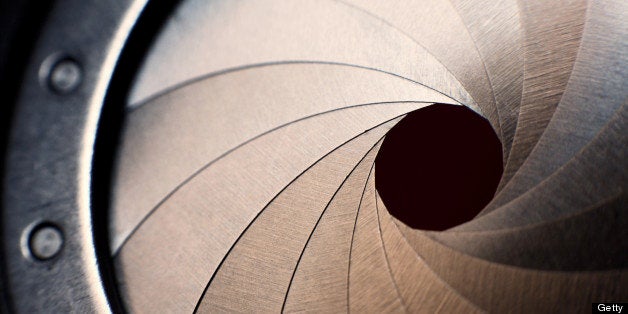 To earn a living, Arthur Kaye has been a bookseller, book reviewer and an executive recruiter. He spends most of his time in and around NYC where he does all sorts of New York-ish sorts of things: Concerts, shows, clubs, readings, ice skating in Bryant Park and people watching.
Once he was a thief and a liar, so he wrote some fiction. Now he prowls the streets of Manhattan taking pictures of unsuspecting tourists and suspicious local residents.
In Kaye's most recent project, he collaborated with Unbearable Books to produce photographs for PEN Award Winner, Steve Dalachinsky's revised and expanded book of poems, A Superintendent's Eyes.
Lisa Chau: How did you get involved in the project?

Arthur Kaye: About three or four years ago I got into a conversation with Ron Kolm, who is a poet, novelist and editor, one of the founding members of a literary movement, The Unbearables, at Posman Books in Grand Central Terminal, where he was working. I was acquainted with Ron for some time, going back to his years working at Coliseum Books, a store I often shopped in. Both of us worked at the Strand Bookstore many years ago, but our tenures there didn't overlap.
The conversation was about the worst book I'd ever read. Coincidentally, Ron and several others of The Unbearables had recently published "The Unbearables present The Worst Book I Ever Read," a massive and delightful anthology of essays, poems, stories and graphics related to that subject. From that conversation, I began showing up with my camera at readings featuring The Unbearables or promoting the book, taking photos of both the readers and the audience and putting them on my blog.
About a year and a half ago, Ron asked me if I wanted to work with Steve on the book. I'd gotten to know Steve by then, and if you dig through my blog, you'll find both pictures of him and a few words about his poetry and his reading style. It wouldn't be an exaggeration to say I was flattered by the request and felt honored to work with Steve. I don't know if the idea of working with me came first from Ron or from Steve, but it didn't matter.
We met for several sessions early in the winter of 2012 to discuss what Steve wanted and continued meeting as Steve guided me through what he envisioned for the book, and I got the pictures taken, edited and ready for publication. I read through a copy of the original edition, and then through the revised edition, and from that developed my ideas about how the photos should look. But it's Steve's book, and I wanted my photos to complement his writing. I hope I achieved that.
LC: Tell me about the project. . .

AK: Steve Dalachinsky is a highly regarded, award-winning poet who lives downtown in NYC. He was for some years the superintendent of a tenement on Spring Street, in SoHo. From that time, he wrote poems not only about the experience but relating to and derived from it. Really, they are urban poems, and even when they are about the duties of the super, be it taking out the garbage, dealing with broken down tenants in broken down apartments, shoveling snow, or whatever, they all express aspects of the urban experience from someone who has to work and live inside the city.
About 13 years ago a small press published the original edition of A Superintendent's Eyes. Since then they closed their doors and the book went out of print. It's pretty hard to find now. I searched online a few days ago and only saw one copy for sale from a rare book dealer in NYC.
Ron Kolm, one of the executive editors of Unbearable Books, and possibly Jim Feast, the other exec. editor, wanted to see the book back into print. Steve, over the years, had expanded the original manuscript with new material. The photographs are part of the book and are not meant to be illustrations but rather illustrative. I hope that makes sense. The photos enhance what is already a terrific collection of pieces.
LC: What did you find most challenging about producing photos for the book?

AK: The most difficult thing for me was working toward the small yet very important things that Steve captured in his writing -- a cracked tile, the depth of the light in the stairwell or the darkness in the basement, the light from a window looking out on the air shaft behind a half-drawn curtain. It's funny, now that I think about it, but Steve makes a tenement and the streets of his neighborhood into a universe, but it's a claustrophobic place, and getting the photos to express that closed in, closeted feeling was difficult. And the photos are all greyscale. It's been ten or more years since I shot that much b&w, and that was all out-of doors.
LC: Which is your favorite poem in book and why?

AK: You can't make me pick a favorite because every time I open the book and try to pick, I read one after the other and I hear Steve reading, and you don't know this because you haven't heard him read, but when he reads it's like a sheet fed letterpress. There's a rhythm that is rock steady with the power of the electric motor that drives the type into the paper with 6000 lbs. of pressure, and those letters, the words become embossed in my brain. And if I pick one out, it is only the one I just read. Look at No. 54 -- Pros and Cons and be struck by the irony of the narrator's voice; read Lester and its episodes are like a spike hammered into your hand. No. I can't pick a favorite, I can say the writing hangs together and if my photos work it's because I had Steve's writing and his and Yuko, his wife's, support.
LC: Which is your favorite photo in the book and why?

AK: That's a tough one since I wouldn't have put it in if I didn't like it a lot. There are four I will single out but I don't know if I can tell you why.
Both covers first of all. Then there's a photo of the stair well looking up toward the skylight and the photo of the window in the living room of Steve and Yuko's apartment.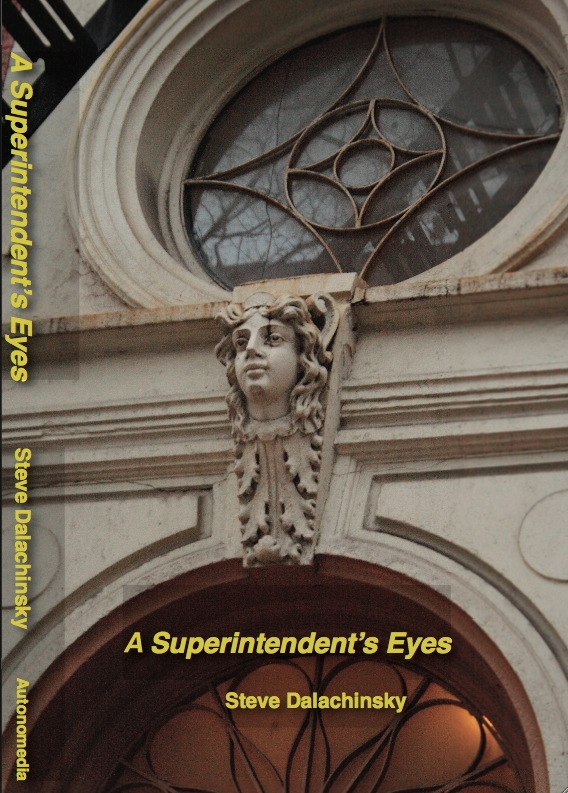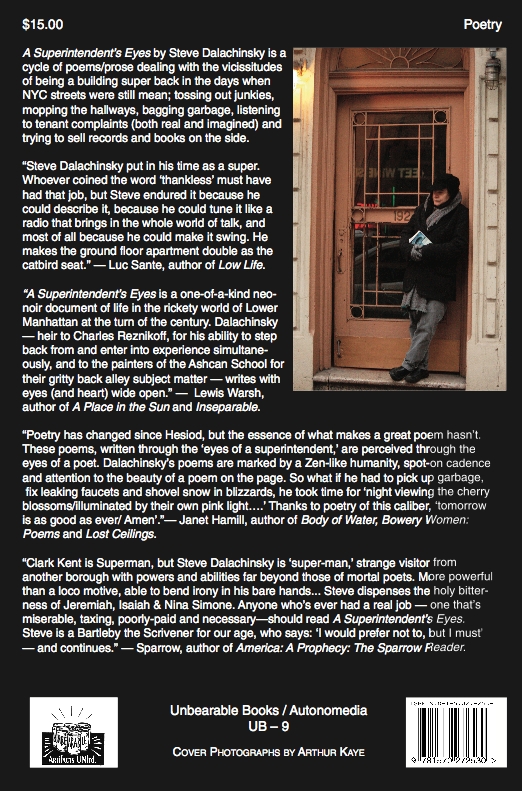 LC: What are your thoughts on the literary subculture in NY?

AK: Despite the difficulties of earning a living and remaining creative, there are people in all five boroughs and the surrounding areas who are in touch with each other, whose views overlap and intersect, who put on readings, hold open-mics, create chapbooks and assembled magazines and somehow keep small press literary publications alive both in print and on-line. All of the arts are part of it. It's a culture of the arts that includes writers, musicians, visual artists, film- and video-artists, performance artists, actors, teachers, publishers and their audience. They are like a colloid whose particles are in constant motion. And as pessimistic as I'd want to be because in 21st century America, poets are prophets without profits, when I go to a reading or a gallery I see all sorts of people, the young, the old and everything in-between. To get a feel for the literary scene, come downtown on New Year's Day and attend any of the marathon readings on the lower east side. They are well attended and the artists reading their works are diverse in genre, style and quality.
LC: Who are your literary inspirations?

AK: Richard Halliburton; Thomas Pynchon; Mark Twain; Homer and Cervantes. I don't know if anyone reads Halliburton anymore, but his "Book of Wonders," which I read when I was in the 5th or 6th grade, helped to open this boy's eyes to breadth of our world and the depth of history. I read Pynchon's first two novels in HS and their black absurdity held up a mirror to the world I saw around me. From Homer and Cervantes I learned the joys of being told a great story by a great story-teller and learned that more than anything else, great literature is about telling. And from Twain, that there's no greater thing than to have a sense of humor and be able to express it.
LC: Who are your inspirations in photography?

AK: I can't say any photographer really influenced what I do with my photography now but from the photography of Joel Meyerson , Aaron Suskind, Henri Cartier-Bresson and Bernice Abbott in particular but not in any order, I learned about looking at photos. Now, when I look at photography, I look to see, even feel the photographer's aesthetic and decide if I like it.
LC: Any good stories from your 14 years working at the Strand?

AK: I don't think about those years that much. It was a long time ago. But I'll give up one particular incident that's an excellent example of how insane it could be to work there during the holiday shopping season.
A woman I'd never seen before came storming up to me -- I was a manager in one of the retail departments at that time -- angry because the clerk wouldn't help her.
I asked what was wrong. She said she wanted to buy something for her uncle but couldn't find anything. She said she asked the clerk to help her but he refused.
I asked the clerk what happened. He said she wanted something but had no idea what.
I asked her what her uncle liked. She looked puzzled and asked why it mattered. I said that if I recommended something, I would at least want to know it might appeal to him. She said she didn't know, and then thinking about it said "he likes green things."
I told the clerk to go the section with oversized books and pull off a particular gift book we had in stock that was mostly photos of golf courses. He brought it back. I slipped the dust jacket off to show her the silky green cloth cover. She took it and that was that.
Arthur Kaye's blog is located at http://www.jommelli.org
Lisa Chau has been published in US News and Forbes on the topics of professional development, social media and leadership. She has taught at MIT, and guest lectured MBA and undergraduate courses in e-business Strategy at Baruch College and NYU's New School. She currently lives in Manhattan and works as a private consultant focused on social media and cross-platform marketing.
Lisa has been involved with Web 2.0 since graduate school at Dartmouth College, where she completed an independent study on blogging. She was subsequently highlighted as a woman blogger in Wellesley Magazine, published by her undergraduate alma mater.

Calling all HuffPost superfans!
Sign up for membership to become a founding member and help shape HuffPost's next chapter