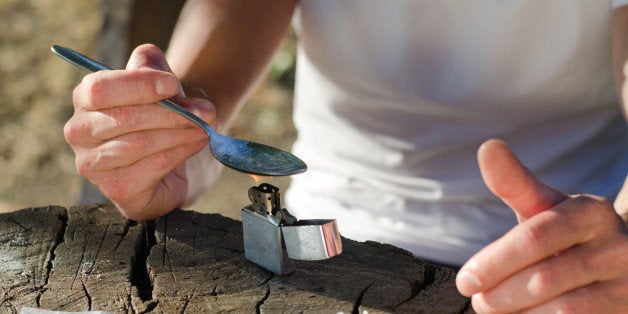 The Centers for Disease Control and Prevention recently released a staggering and tragic statistic: Heroin overdose deaths tripled from 2010 to 2013.
These numbers are shocking, but they unfortunately come as no surprise to the communities across the U.S. that have been torn apart by drug abuse and deaths from overdose. Addiction to opioids including heroin and prescription pills like Vicodin and OxyContin is an epidemic sweeping our nation.
This epidemic is hurting millions of Americans who are struggling with or have lost a loved one to the disease of addiction. I share this pain. I felt it personally when I lost my son, who was just 25 years old at the time, to the crippling disease of addiction. I feel this pain every day.
After my son's passing, I refocused my life to lessening the pain and stigma associated with this disease in our communities. I founded Shatterproof in the hopes of turning a story of tragedy into one of hope. There's a lack of resources for Americans struggling with addiction, and that's what I set out to change. Along the way I found that sound public policy is critical to providing a support system that can protect our children and save lives within our communities.
Recently I wrote about the various activities in President Obama's administration when it comes to policies aimed at stemming addiction. While these are promising developments, much more activity has occurred at the state level.
Shatterproof recently made what we believe to be the largest financial commitment to state-level advocacy in the fight against addiction. This is an exciting time for our organization as we organize with states and local communities who are hard at work to change how our society views and treats addiction. We're currently focusing on enacting laws in four states that we believe will save lives: Connecticut, Florida, Kentucky and West Virginia.
Many states have already tackled the growing issue of drug overdose through a twin set of laws that will save thousands of lives. The first law makes available the medication, naloxone, an antidote to opioid overdose, to first responders, emergency personnel and individuals at risk of experiencing or witnessing an overdose. This FDA-approved, non-addictive medication takes mere seconds to save a life, but only if those who can administer it have access to it at the emergency scene.
The second law, often called a "911/Good Samaritan" law, provides protections for the persons witnessing or experiencing the overdose from arrest, charges or prosecution for drug and alcohol crimes if someone calls 911. All too often people hesitate or fail to make that critical call for emergency assistance out of fear of what might happen when law enforcement shows up.
It is critical that the states enact this pair of laws, for emergency first responders using naloxone or other methods are not able to save a life if those witnessing an overdose fail to call 911. There are five critical protections that are vital to encourage bystanders to make that 911 call and, in turn, save lives the most lives possible:
1. No arrest, charge or prosecution for possession of a controlled substance.
2. No arrest, charge or prosecution for possession of paraphernalia.
3. No arrest, charge or prosecution for alcohol consumption by minors.
4. No arrest, charge or prosecution for providing or enabling alcohol consumption by minors.
5. No charge or prosecution for those who are on probation, pretrial release, parole, furlough or in the violation of restraining orders.
These are smart public policies that take a commonsense approach to prevent drug overdoses and give people a second chance at life and treatment. Since 2007, twenty one states and the District of Columbia have enacted Good Samaritan measures that protect the 911 caller from charges and arrest, but have yet to become law in some states that need them most. For example, states that don't have this law include West Virginia and Kentucky which have the highest and third highest drug overdose mortality rates in the U.S., respectively.
The good news is Shatterproof is involved in these states that are seeing progress on these critical laws. We applaud West Virginia for signing naloxone access into law this week, and are hopefully for the lawmakers hard at work to make sure ultimately both Good Samaritan and naloxone access laws are enacted in Kentucky, West Virginia, and Florida.
I'm encouraged and believe that, together, we can continue to achieve policy change in these states and across the country. Community leaders and lawmakers can find common ground around the goal of protecting our children from addiction. This is an incredibly important cause affecting millions of Americans in every region, every state, every city and every community. The passage of naloxone access and Good Samaritan laws will bring us one step closer to the ultimate finish line - ending the disease of addiction once and for all.
Calling all HuffPost superfans!
Sign up for membership to become a founding member and help shape HuffPost's next chapter