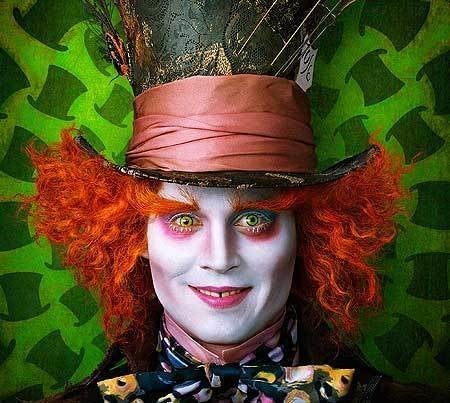 Tim Burton's up-coming film, Alice in Wonderland asks the question, "What if Alice was older and she went back?" Which got me thinking: what if we all returned to a magical time in our childhoods? Would we discover our true selves?
As the subway rumbled past my old neighborhood, I traveled down the rabbit hole to when my twin sister, Heidi and I first performed at the infamous disco club Studio 54--at age eight.
"This could be your big break! We might get off food stamps," I remember Mother cheering in our railroad flat apartment. She had found an ad in Back Stage that paid more than her last job as a maid. New York performance artist Gina Wendkos (now Hollywood screenwriter: Coyote Ugly, Princess Diaries, and the up-coming Chasing Harry Winston ) sought five young girls to perform as live Alice in Wonderland inspired dolls and promised fifty bucks a night.
After our audition at Gina's loft, she said the gig was ours and that Bianca Jagger rode on a white horse onto Studio 54's dance floor and how Andy Warhol, Truman Capote, Elton John, Halston, Cher, Calvin Klein, Mikhail Baryshnikov, Brooke Shields, and Elizabeth Taylor partied till dawn under a giant painted moon.
"As long as my girls are not drinking and smoking we'll have no problems," Mother said. "We're Nazarene's."
Gina stared at Mother blankly.
A week later, my family entered Studio 54 for our 9 p.m. - 4 a.m. shift. A bouncer took us, three other girls, and their stage mother's to the basement. Heidi and I were given frilly dresses and bows to put in our hair. Gina told the mother's to stay downstairs.
We were led upstairs to the parquet dance floor, and danced next to the strobe-lit columns that descended from the ceiling. Shirtless bartenders underneath the balcony set up vodka bottles around a diamond-shaped bar. Heidi remarked that we were in Sodom and Gomorra and wanted to leave, but Mother had convinced her that she was an example for Christ. I was happy to boogie under the same mirror ball as everyone else; the black and white, gay and straight, uptown and downtown, the powerful and the powerless.
Then we were brought into another strobe-lit chamber, a foyer connected to the club. While the exotic jostled outside, my fellow adolescent pig-tailed and puffy-party-dressed co-workers waited for props. Within a few minutes we were outfitted with assorted contraptions and directed to project varying degrees of distress. Heidi whimpered while she was tied to a giant spool of thread. I let out theatrical cries of "Help me!" while I pulled at my dress which was nailed to the floor with a five-foot pencil.
The mechanical floor tilted up and a blond girl bound to a giant hanger struggled to get free. When the floor went down, a third girl clung to a giant bed. Another was trapped in a car-sized mousetrap. A giant girl's face with a sly smile, the "doll's" owner, was projected on a big screen, peering at us, delivering taunts at us through a loud speaker. As the partygoers gained entrance by bribery, being a 'face', or flashing the doormen, they passed through our living installation, reveling in our carefully orchestrated tableau.
At 2 a.m., Francisco Scavullo, Cosmo photographer and of the young Brooke Shields, announced he'd immortalize us and set up a shoot. I felt special to be trapped in wonderland. Drag queens wearing G-strings with feathers glued to the back, sashayed and stopped to pet my bangs, pick up my limbs, dab my red stained lips, take pieces of me. Club goers crawled next to Heidi wearing dog collars, waiting in vain for her to say something. Some glared at us like we had out-done their weirdness; others whispered we were being exploited. I never quiet understood the latter, I just hoped someone would hand me a business card with film director etched in gold. Then my family would be on our way to living in a penthouse apartment and dining at Beefsteak Charlie's.
Needless to say, we never become stars. But for a few nights, I had Andy Warhol's fifteen minutes of fame, allowing me to escape and develop a separate self that existed slightly to the side of the real me. As long as I pretended to be Alice in Wonderland, I didn't have to confront my food stamp situation or rodent infested tenement dwelling. For a brief moment, I lived in a world of Mad Hatters, Good and Evil Queens, and other Alice's.
As the subway approached my stop, instead of hearing the conductor mumble, "Times Square," I heard, "Next Stop Wonderland."
My childhood had prepared me for anything, even Johnny Depp with orange hair staring back at me on a billboard.