See your child as you know they can and will be.
I remember a friend's uncle telling me a story about his youth. He was the youngest of seven children. He was a very hyper, yet bright, child. He told me as a child he was crazy, he never stopped moving, running around and getting into lots of trouble in school. He said that he always knew his mother loved him exactly as he was. She would always say that he was going to grow up to be a highly successful man. He fulfilled her vision by becoming a wonderful lawyer and family man with three sons of his own. Instead of pointing out his faults, his mother focused on the good things about him. He still credits his success in life to her ongoing belief in and unquestioning love for him.
We become what we believe. Our thoughts are powerful. Thoughts become things. Well, this is also true in how we see our children. How we see them contributes to who they become. Parents have tremendous power to affect through their thoughts the outcome of their children's lives.
What perspective do you use to see your children? Are your children shy, or just keen observers of the world around them? Do they break the rules in school, or are they creative inventors who think outside the box? Are they bad kids, or are they bright and bored?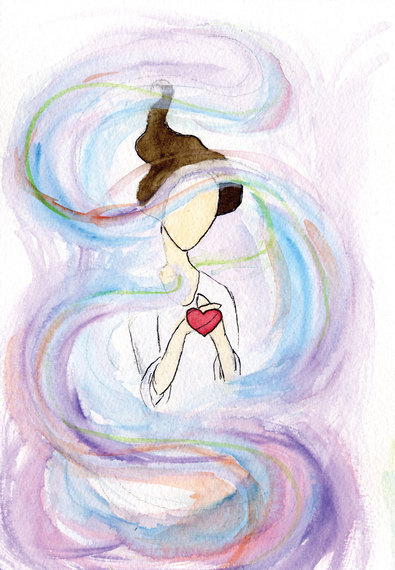 ©Kathy Walsh
Let's look through the looking glass of love and appreciation for their natural gifts and see them, as you know they can and will be. When my daughter Kayle was a teenager, she had a lot of friends, many of them boys. They all came to our house to hang out. I always saw them through the lens of love and I believe that they felt it. Instead of awkward teenagers, I saw the wonderful people I knew they were going to be. One mother came up to me in town and said, I don't know how you did it, but you always saw my son as a great kid. We were not so sure, but your belief in him helped us get through the rough times and now he is amazing. I don't know how I did it, either, but I was truly able to see these kids as amazing, successful adults.
Now, when I visit my daughters in New York City I often get together with their friends and they have become the beautiful adults I knew they would. They still keep in touch with me and they know they are loved just as they are.
When I was younger, my grandmother lived with us. She always told me, "You can be anything you want to be," and I believed her. I have thought of those words often in my life when I set out on a new journey or try to accomplish something that looks to hard. Those words that my grandmother said to me left a lasting impression on me. She believed in me and I knew it!
It is a great idea to do a "mindfulness check in." What are your thoughts about your child? Are you allowing conventional thought to be your barometer? Let's create some words around all the wonderful things your child has going for them. Let's see and visualize your child as you know they can and will be as an adult. Let's wrap that visual in a rainbow light. Find some language that you are comfortable with to express the gratitude that you have for their special gifts and personality.
And remember that thoughts become things and words are powerful tools. Like my grandmother said to me, "you can be anything you want to be." Create your own mantra about your child and let them know how you believe in them. Look through the looking glass of love and you will be surprised what you see.