Moaddamiyeh has been an early hotspot for anti-Assad demonstrations and the following government oppression. The town has endured the siege of the Assad regime since the end of 2012, and it is one of the towns hit by chemical weapons in August 2013. Despite all the violence, these activists believe in the principle of peaceful. And after five years of the Syrian revolution, their stories and experiences must be heard, their words reflect their struggles and hopes. Ten stories will be told through their voices.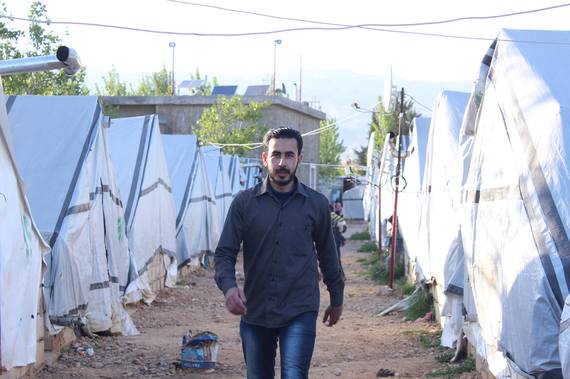 Abdulrahamn when he was volunteering in the Syrian refugees camps in Lebanon 2014. Photo: Private
Like any normal young guy in Syria, Abdulrahman had his dreams and ambitions. He was only 19 when the Syrian revolution started. Abdulrahman was very shocked while watching the news about the demonstrations in Tunisia and Egypt. At the time he thought that things are really hard in many other Arab countries, but in Syria this would be impossible. When he heard about the first demonstration in Moaddamiyeh, he didn't believe it, so he went there to check out himself.
"I was standing there and looking at them. I was in a complete shock, but the demonstration didn't last for a long time until the intelligence forces came to throw gas bombs and to hit and arrest the demonstrators. I saw my friend who fell to the ground after he got severely affected by the gas, I refused to stand on the side and rushed to hold him and helped him to leave before they could get him and arrest him. And at that moment I knew I wanted to be part of this and support my fellows and friends against the oppression."
Abdulrahman went back home thinking about why such a simple demonstration needed such an aggressive response and why things are much harder in Syria and he planned not to tell his parents that he was in the revolution scene. He felt that they would freak out like any other Syrian parents who raised their children with a long not-to-do list. Starting with politics and ending with even complaining about the traffic jam in public.
"I had good experience with designing programs besides being a first year law student and my university was in Beirut. I was on holiday at that period of time but then decided not to go back to my university until the situation was stable again in Syria and I thought that maximum we will demonstrate for two months and then we will overthrow the regime."
People at the beginning were optimistic about the Assad's leaving soon, but things turned to be much more complicated in the Syrian situation. Abdulrahman later on participated in less demonstration due to the pressure from by his parents, so he needed to work in another supporting role, helping with graphic design for internet posters and banners to be printed.
"My first design was making Assad photos looks like Hitler because they are both the same! I was publishing my art works online using a fake name. Later, in one of the demonstrations the regime forces shot three demonstrators and dozens got injured. I saw the blood spots on the street and I was traumatised. Ten minutes ago, these guys were full of life and we were chanting together and now they were killed and they will not be here anymore. On that day, the demonstration was huge and it was very peaceful and friendly. I went back home after helping out with rescuing the injured people. My T-shirt was bloodstained and my mom started to cry hysterically when she saw me entering the house. She was trying to reach me on the phone when she was heard the shooting but I never picked up her calls. I didn't cry or talk and I locked myself in my room for couple of days and later I produced a design of Syria's flag leaking blood."
The anti regime demonstrations were growing in all of Syria. So, Abdulrahman was expanding his connections and worked with designers and activists from different areas. He also supported other activists in Moaddamiyeh with information encryption and safe internet surfing.
In 2012, Moaddamiyeh witnessed two brutal massacres, which were committed by Assad's forces. Abdulrahman and his family saw the first massacres and during the second one they left their house to go to their relatives' home. They returned after the regime's forces left, only to see that their house was totally damaged. All the furniture, the doors and everything had been damaged. That led them to take their decision to leave Syria and flee to Lebanon. After days of arguing and struggling, Abdulrahman accepted his family pressure and they left Syria. Abdulrahman thought he will go with them to Lebanon and then go back to Syria without their permission, but unfortunately his plan didn't work out because the crossings were closed later to Moaddamiyeh and the siege started at the end of 2012.
In Lebanon Abdulrahman and his family lived in a village close to the Lebanese-Syrian borders and he didn't stop supporting his fellows back in Moaddamiyeh online or in any other way in which he was able to help. He was designing posters according to the events in Syria and supporting advocacy campaigns by publishing them on social networks and producing graphic materials. He also was a co-founder for a campaign dedicated to the memory of the martyrs that were killed in Moaddamiyeh. Designing posters with their photos and producing short video reports about them. Abdulrahman was required by the Lebanese authorities to renew his residency by departing the country and then checking back in at the borders, which was something he wasn't able to do for two reasons, the first one that he ran the risk of being arrested for his activism and the second one that he is wanted for military service in Syria. He therefore didn't have any choice but to stay at home trying to hide from the Lebanese police, because he would otherwise immediately be deported to Syria if he was caught in the street without a legal residency.
Abdulrahman was trying and trying to find a way to return to Moaddamiyeh because he found the living conditions in Lebanon impossible to bear. Finally, after one year and five months Abdulrahman was able to go back to his hometown after the crossing was open for a brief period of time.
"It was really dangerous to take the risk and go back to but really I had nothing to lose. At least, I feel I'll be living here with dignity and if I died, I will also die with my dignity in tact. But, in Lebanon I had three choices, which were living with humiliation, being arrested with humiliation or dying with humiliation."
When Abdulrahman first came back to Moaddamiyeh, it was a little bit hard to cope with the situation and to live without the basic life resources such as electricity and internet. But, he developed some ways to get through the situation.
"There isn't a straightforward solution to dealing with the problems we are facing under the siege, but we are trying to do our best to deal with the daily struggles, make it a little bit easier."
He is now volunteering with a local charity to support the families and early childhood education under the siege. When I asked him about the news outside Moaddamiyeh he said:
"I guess we are the news so we don't care about watching the news because we are witnessing it live. Sometimes one of us might have a poor connection to the internet and he might catch a few scraps of news, so he will come over to the volunteers' office and tell us about it. Despite everything, I'm really happy to be here, living in my family's house and helping people and whenever I'm tired I just need to remember the smiles on the faces of the kids I'm working with to get all my strength back again."
Abdulrahman hopes now that he could find ways that might help him to provide all the different kinds of support needed for all the families who are living under siege. Recently he got a notebook with a locker and he started to write his diary under the siege and he hope that one day his stories will be published somewhere so people in other parts of the world will be able to know one day -hopefully- the truth of what is going in Syria.
"Writing the siege diary is making me feel better when I'm upset. There is a saying which says »Powerful people write history«. So, I'm trying to write it! Maybe one day we can prevent Assad's family from faking the history of Syria, which we are living currently. Everybody living in Syria should write their story. It doesn't cost anything but a pen and diary book. We are making history and we should write history."
REAL LIFE. REAL NEWS. REAL VOICES.
Help us tell more of the stories that matter from voices that too often remain unheard.