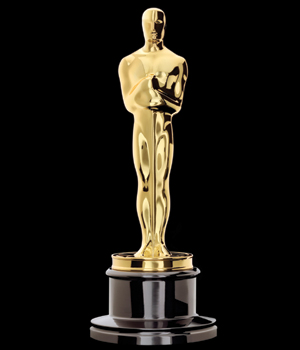 We all love the Oscars, right? The glitz, the glamour, the fashion!! Helena Bonham Carter's inevitable Worst Dressed Winner! Let's face it, once we get past the red carpet swooning over Brad Pitt, the dresses and the Botox it's kind of long and drawn out. I always have to Tivo it because I miss the end. Furthermore, I'm not 100% sold on this year's hosts. I love me some Anne Hathaway and James Franco, but as the hosts? Hmm, we shall see.
To make Hollywood's Biggest Night Of The Year just as exciting for you, why not throw a little soiree? Hey, who doesn't love a little cheesy themed shindig once in awhile? We're going to make this simple, fun and inexpensive. One item I highly recommend you buy is something called the Sound Bar by Coby Electronics. It provides easy 3D surround sound -- no wires, no speaker, just 400 watts of amazing sound for under $100. No need to run out and get a $1,000 home theater kit, this does it all and you can buy it at several major retailers. I love it and you will, too.
1. Red Carpet Arrival
Ok, so you might not be able to swing a red carpet. But you could use a red tablecloth or find an inexpensive red doormat just for some added humor. Reuse something you have tucked away from Christmas. When your guests arrive, open the door taking a picture of them (with flash on) just like an overzealous paparazzi a la TMZ. Then, you can post the pics on Facebook and embarrass them the next day as they nurse their hangover. I'm such a good friend, aren't I?
2. Food
For food, we are doing a minimal spread of finger foods and hors d'ouvres. The awards start later, so you're off the hook for dinner, woohoo! Besides, the stars haven't eaten in days, why should we? Keep it simple... fruit, cheese, simple finger foods you can get at Trader Joe's or Costco. You don't have time to cook, you need to look fabulous darling! All Clad makes this killer portable induction top that will keep your food warm in the room where you're watching the awards... so much cooler than Sternos and you'll have it forever.
Serve popcorn in shiny gold bags you can pick up at Party City. Desserts could be Oscar themed cookies if you're crafty like that (I'm not) or just individual little elegant cookies. Easy. Wonderland Bakery in LA and Eleni's in NY are my go to places for any themed cookies. Amazing!
3. Cocktails!
Stick to one drink, The Oscartini! Make your fave Martini. I like mine with Exclusiv Vodka, pomegranate juice, Cointreau and a spritz of Diet Sprite. You can use any martini recipe, really. The way you make it special is by rimming the glasses with edible gold sparkling sugar! You can get it at most craft stores. So cute! Get the idea?
4. Take Some Action
Just like The Superbowl is more fun when you gamble (oh, it's not??) The Oscars will be much more fun if you do a betting pool. You can download an Oscar Pool Sheet here at
http://www.chiff.com/art/movies/oscar-pool-sheet.htm and give one to every guest upon their arrival. You can bet money or have some prizes to give away. It's just about the thrill of the win. Money helps, though.
One day it could be you standing at that podium. You just never know.
XO
Courtney

Check your local TV listings for more of Courtney Cachet's style and design ideas. You can catch her frequent appearances on NBC nationwide where she dishes out all the latest in home and lifestyle! Keep up with her onFacebook and get it on the conversation.