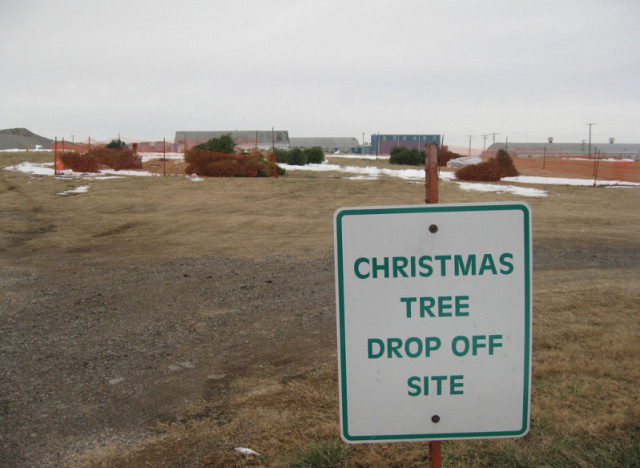 Flickr Photo by Summer
You wake up on the 26th with wrapping paper everywhere, pine needles spotting the ground and a droopy tree that looks worse for the wear - but, is it time to take it down? You look outside, see a road that looks more like a Christmas tree graveyard and think: I can leave it up for one more day. Then one day turns to two, which turns to three, and before you know it it's Valentine's Day! Sound familiar?
It's inevitable that the Christmas tree has got to go, but it's always a dreaded task. It means the holiday is officially over, and we don't know a single person who likes to admit that. But, when does leaving the Christmas tree up move beyond nostalgia into craziness? That's what we're hear to answer, because it's not only about holiday cheer, but legitimate hazards as well.
According to religious guidelines, you are not supposed to take your tree down until Jan 7th, or the day of the epiphany when the three wise men came to visit the baby Jesus. However, sometimes leaving your tree up for the 12 days of Christmas is not an option.
A fresh tree that is set in water and still retaining moisture can be left up for as long as it remains that way, but when the needles start falling off, you need to reevaluate.
According to the National Fire Prevention Association, Christmas tree fires are uncommon, but when they do occur, are extremely serious. One out of every eighteen reported Christmas tree fires results in death, which is a very high percentage, especially when compared to the normal ratio of one death per 141 home fires.
But, there are a few simple safety tips you can follow to ensure this doesn't happen:
1. Cut 2-inches from the base of the trunk before placing it in a tree stand.
2. Water daily.
3. Keep your tree at least three feet away from heat sources like the fireplace, radiators or heat vents.
4. Do not use light strings with exposed or broken down wires, or loose bulb connections.
5. Never decorate with candles.
6. Turn the tree off before going to bed.
As far as taking the Christmas tree down, the NFPA recommends removing the tree as soon as it looses its smell and begins dropping needles. When your tree no longer retains moisture, it becomes a fire hazard.
If you water daily, a tree should remain fresh for at least three weeks, so depending on when you put it up, start looking for signs of drying out about 2-3 weeks later.
And if you want to recycle your tree, here's a how-to guide.
Now the big question: What if you have an artificial tree? It's not as clear-cut. But, we like to take ours down on New Years' day, when there's bound to be friends and family around to lend a hand.