One of the best ways to achieve a polished, designer look in your living room is through a well styled sofa. And sofa styling is all about about the throw pillows! If you're looking to turn your regular sofa into a chic, polished seat, we've got a few tips and tricks.
1. QUIT WITH THE MATCHING
Whoever said that throw pillows should come in matching pairs was wrong. A sofa with just a pair of matching accent pillows looks lonely.
For a full and luxurious look, place four to five throw pillows across your sofa. Mix up the shapes and sizes to really fill the couch out.
3. LAYER COLOR AND PATTERN
Layering different shades and patterns is a favorite decorator trick. Don't be shy about mixing prints with other prints. A good rule: pick two different prints in the same color family to anchor your pillow selections.
Just as important as layering colors and patterns, choosing accent pillows with varied textures will elevate your sofa to a luxurious level. Combine textures like fur or leather with velvet and linen.
Want to see the difference? We took this bland sofa with two matching accent pillows, which came from the manufacturer, and transformed the look completely.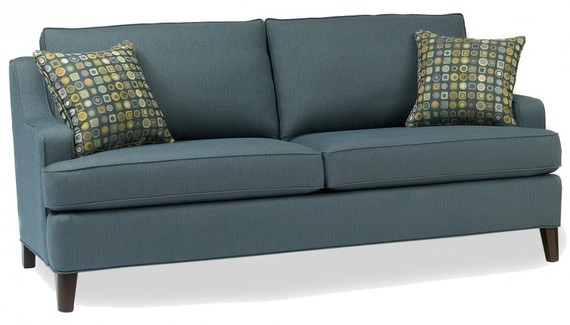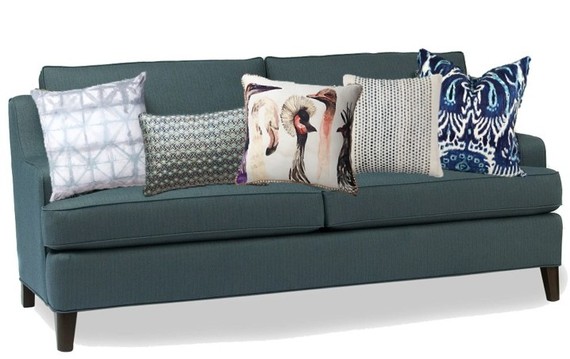 Instead of a blah sofa that was far too muted, we used the accent pillows to lighten up the sofa while adding multiple points of interest. With blue as our accent color, we chose a series of pillows in varying shades. Each pillow is special on its own, with a pattern or texture that defines it. The second pillow to the left is embroidered with gold thread. And the whimsical middle pillow brings in warmth with a dab of purple and peachy tones. With five special throw pillows, this sofa is transformed into a more modern piece with a designer look.
One more tip! If you have a bunch of old pillows laying around, you can use them as inserts for new covers. And keep in mind, when you're buying accent pillows you don't have to buy your inserts from the same store. Pillows are standard sizes, so get in touch with your inner coupon queen and just look for plump inserts in the sizes you need at less expensive prices--no one will know you saved bit.
Related