"My motto is: more good times." ~ Jack Nicholson
Ever the idea man, my husband suggested I share something pertinent each Thursday when the rest of the social media world buzzes with nostalgia.
I love viewing old photos and sharing in other people's celebrations of yesteryear, but hadn't considered joining in as a Throwback Thursday participant.
In an odd coincidence, I was prompted this morning to post one of my Maura4u videos. The video was filmed back in April when I visited historic Salisbury, North Carolina. In it, I stood before a mural in the city's square to reflect upon being stuck in the past.
Admiring the images on the mural, I was reminded of a Bible passage I'd read many years before.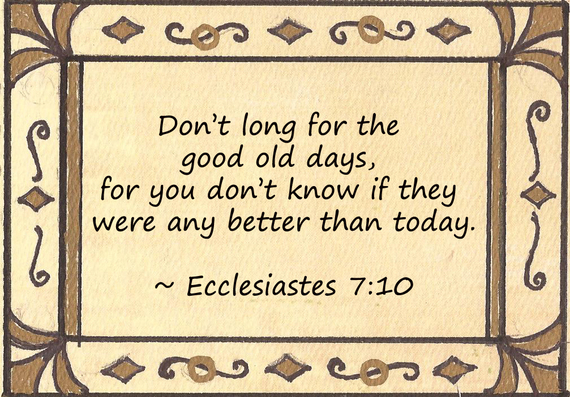 I felt offended when initially reading this seemingly negative pronouncement. Why wouldn't we want to remember the good old days? But upon closer reflection, I realized the ancient adage was conveying a profound message.
The scripture didn't disparage happy memories; instead, it cautioned readers not to allow past experiences to obscure good memories that can be created today.
Many of us look wistfully at the past and are often tempted to lament that times and circumstances have changed. We extol fond memories like birthday parties, childhood toys, classic TV sitcoms or dodge ball games on the school ground.
As a case in point, I am reminded today of a childhood experience dining out with family and ordering my very own Shirley Temple. Named after the child star and movie legend of the 1930s, the Shirley Temple mimicked an adult cocktail but with ingredients that could safely be consumed by pint-sized patrons.
Served in a fashionable glass, the Shirley Temple was a bartender's mix of ginger ale, grenadine syrup and (for every kid who could negotiate well) at least two, extra-sweet maraschino cherries. Sipping on one of those kiddy cocktails was great fun and made me feel extra special.
What little girl wouldn't relish sitting atop a bar stool and wearing a party dress while a live jazz ensemble played Nat King Cole's Unforgettable, Perry Como's Catch a Falling Star or Frank Sinatra's Summer Wind?
For a few magical moments, I sipped away at that Shirley Temple and pretended to be a bona-fide adult.
But much as I would love to recreate golden moments, I doubt I'd like to return permanently to my past. Why? Because there were plenty of other elements connected to youth that aren't worth revisiting.
For example, I don't want to have to plead again for a later bedtime; labor over Chemistry or Algebra homework; endure the awkwardness of adolescence or pay my dues again to the corporate world. All of these were strengthening exercises but, once acquired, they need not always be repeated.
Looking back on the past is a beautiful thing, especially when we can appreciate memories that are good, happy and celebratory. But today can be beautiful, too, as we consider the present opportunities and possibilities that life affords us.
I've recounted youthful recollections and often shared them with my daughter. With a smile and a bit of a jab, she has reminded me that she has already heard my stories. Most of my tales she can easily recite by heart.
I don't regret my repetitions. To the contrary, I'm happy to have enriched my daughter with wonderful reflections from my past.
But a few years ago, for my daughter's sake as well as my own, I decided it was time to create some new memories. I wanted my present life to provide additional content to an already acquired repertoire of pleasant stories.
Yes, my personal odometer is racking up miles. But I still have time to create more moments to reminisce about on future Throwback Thursdays.
And how about you? Can you heed the ancient scribe's wisdom or appreciate the Jack Nicholson motto promoting more good times?
Wherever you are in life, may you treasure your past. And after you do, I hope you create a few more memories to celebrate on future Throwback Thursdays, too!

REAL LIFE. REAL NEWS. REAL VOICES.
Help us tell more of the stories that matter from voices that too often remain unheard.