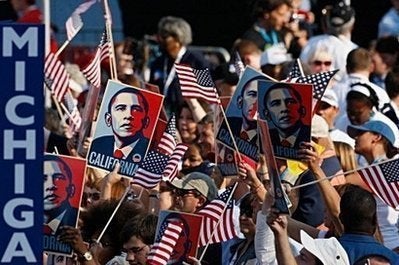 "The campaign says the flags were recovered from Invesco Field after the Democrats concluded their convention there," Fox News reported, "and they are going to be used as part of the warm-up ceremonies before McCain takes the stage" for a rally in Colorado Springs, Col.
But according to a senior official involved in organizing the Democratic convention, the McCain camp is simply lying about the flags.
"All of the flags at Invesco were picked up and put in bags and into storage, along with the unused flags and campaign signs. The flags were going to be donated, and the signs were going to be sent out to be used elsewhere," the official said, speaking anonymously since he was not authorized to talk to the press.
Fox News' Carl Cameron and Bonney Kapp reported that they had "been told" that "a vendor at Invesco Field found the flags, which were going to be thrown out, and turned them over to the McCain campaign."
The Democratic convention official says that's not true.
"It's pretty reprehensible on their part," he said. "Someone made an assumption, took the flags, and essentially lied about what was going to happen to them. I mean, c'mon, we were never ever going to throw out flags."
Emails to three McCain spokespersons inquiring where the flags were found and how the McCain campaign obtained them were not returned.
UPDATE: DNC spokeswoman Karen Finney issues a statement: "American flags were proudly waved by the 75,000 people who joined Barack Obama at the Democratic Convention. John McCain should applaud that, but instead his supporters wrongfully took leftover bundles of our flags from the stadium to play a cheap political stunt calling into question our patriotism. On the same day he agrees to join Barack Obama at Ground Zero on September 11, John McCain attacks the patriotism of Obama supporters who so proudly waved the American flag at our historic event in Denver just days ago."
UPDATE II: Another statement from the Democratic National Convention Committee: "Stories circulating about flags at the Democratic National Convention are false. We distributed more than 125,000 American made flags at the Convention - the flags removed from Invesco field were intended for other events and taken without permission. It's disappointing that someone would take American flags without authorization and then falsely describe how they were being used. We have the utmost respect for the American flag, and it's sad to see them being used for a cheap political stunt."