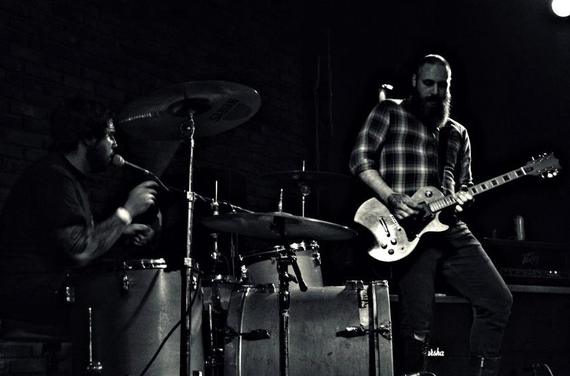 There are days when I find cool rock bands. If I'm lucky, I get to see these same bands play a show.
On this day, I was completely blessed that this band, Thundercougarfalconhawk, agreed to talk with me in person at the Spitfire Saloon. I will admit that it took me a week to memorize their name. It can be done.
Thundercougarfalconhawk is a two-piece rock band that consists of King Sebastian and Greggie Caskets. King Sebastian is the drummer and lead singer. It's not easy to be the drummer and lead singer; however, King Sebastian makes it look so easy, like anyone could do it.
When people say that someone is a beast on the guitar, I think they have Greggie Caskets in mind, even if they don't know it yet. I have faith that they will soon. The bartender said that I would recognize because he is tall and looks a bit like Rasputin. So I imagine that Rasputin with a guitar might be a pretty accurate description. He was hypnotizing on stage.
They will be having a new album, "How to Abandon Your Ghost," out soon. Until then, you can find their music on Bandcamp or on their Facebook page. I highly recommend seeing their live show. My plan for the summer is to go see as many of their shows as I can. For now, I'll be listening to their CD for all of eternity.
Do you think you need more band members or are you satisfied with being a duo?
KS: We'll never get another band member. We entertained that idea for about a year. I like being able to
GC: It would definitely change our sound if we added more people.
KS; I feel like that drafts a little bit of our uniqueness. It's a two-piece band. There are other two piece bands playing blues. But we're not the Black Keys or The White Stripes. We have a different sound. We're a little bit heavier. We like the classics. We like Sabbath and White Zombie. So no, I don't think we'll ever add to the band.
Have you guys quit your day jobs yet?
KS: Every day I want to. Every day about an hour before I get out of there, I think "Maybe I just won't show up tomorrow because I just want to write music." That is our dream. To quit our day jobs for this.
GC: I think if we made the same amount of money being in a band that we make doing our day jobs, then we would quit our day jobs.
KS: Then it's just non-stop towards the music. Then we would be producing at a rate we haven't even seen before. If we could spend all of our days, working on music instead of getting together just for practice. If we would spend your waking hours working on it, it's already our baby but that we molded into becoming like that superior athlete. Like since they were born, you put a football in their hand and now they are a quarterback.
The draft is going on so I'm football heavy.
Do you have a homebase or a go-to bar?
KS: This is the one. We practice two floors up from where we are right now.
GC: He lives right down the street. I live across the street.
KS: Yeah, he lives across the street. I live about ten minutes walking distance. It's the greatest. Now we know everyone that works here.
GC: Every January, they change it to a metal bar. They change the jukebox to just metal music.
KS: It's run by cool people. They have great people working here.
HP: We don't have a homebase anymore.
KS: Bring it to the Spitfire. You will be welcome.
How long have you been drumming & singing?
Just since we started this band. I've been playing drums since I was about seven. I never thought to drum and sing. I've drummed in other bands before. I've tried to be the singer but it's hard to start the band and say "Hey, I can sing. I just need everyone else to play all of the instruments and do all of the work.
When did you start playing the guitar?
When I was about 12 so like 14 or 15 years. I'm still trying to become the best.
Do you feel like you are feared and respected? (At this point, I started to laugh.)
GC: Not when you ask me like that. (laughing) I think it's because of my height and weight. I don't think has anything to do with my guitar playing by any means.
KS: Your sense of modesty is showing, man. I think it's known around Cleveland that he is one of the best guitar players around. I think it's obvious when he plays. I think he plays better than some people can breathe. I think this dude was born to be on stage playing guitar.
GC: I agree with him about the same thing about him, as far as his playing drums and singing. I don't see how it's possible.
KS: I think the work on stage shows that we're both putting in 100%. He's modest but I'll say hands down that he's the best guitar in Cleveland. That's only because we haven't played many out of town shows. But I'll guarantee nobody is stepping up to the plate with Greggie Caskets.
How did the heaviest two piece band on the planet come into being?
KS: We were trying to find a five piece thrash band.
GC: We were at work together and talking. He was like, "I want to start a band, kind of rock and roll and thrashy and I want to sing. I told him I already have 35 songs written. He was like, "Perfect."
KS: We were at Greg's house. We were supposed to have practice and no one else showed up. I was like "You know I drum. Let's just jam." We wrote a song that night that we still play today.
Why do we need anyone else? We can still do this. We can still have fun and play music that we like The music that we're playing now, I like better than the music that we'd be playing in the thrash band. We can do whatever we want in this band.
GC: I can see myself being 45 and playing blues rock rather than being 45 and playing in a thrash band.
KS: This is what we love. We're best friends and we have the same ideas. He comes at me with a riff that is the best riff since the last one he played. I come at him with lyrics and he's always happy.
GC: Your lyrics are outstanding.
KS: Thank you bro. They're are nothing without the riffs.
KS: It's Roth. But really it's the Van Halen brothers. The bands not called Roth. It's not called Hagar. It's called Van Halen for a reason.
Popular in the Community