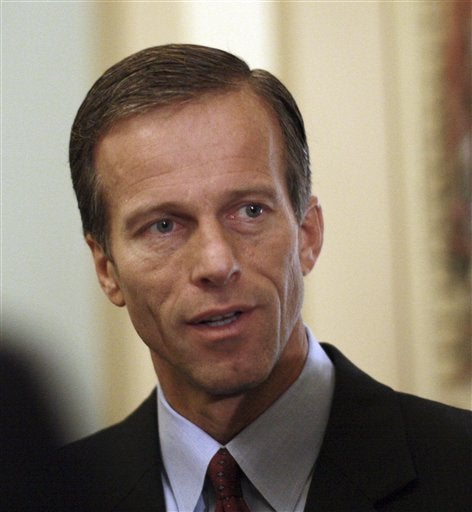 Last week Sen. John Thune (R-S.D.) introduced an amendment that would have prohibited the Treasury Department from recycling bailout dollars repaid by firms participating in a sub-program of the Troubled Asset Relief Program. The Senate voted the measure down, 48-47, but Thune may do some recycling of his own.
"Senator Thune hopes to bring this up again and that even though it failed, it was a very narrow vote and no one should be taking a one-vote margin as authorization to act counter to the intent of Congress," writes Thune spokesman Kyle Downey in an email to the Huffington Post.
The law that created the TARP says that any revenues from the sale of a bailed-out bank's troubled assets should go to the reduction of the public debt. But the Treasury Department says that principal repaid by banks participating in the Capital Purchase Program is fair game.
Rep. Brad Sherman (D-Calif.) was the first to question the legality of the Treasury's plan to recycle bailout dollars. "If you look at the law, it's pretty clear any money returned from these banks goes into the general fund of the United States and not a revolving bank bailout fund," said Sherman in an interview with the Huffington Post. The law is clear that revenues from the sale of troubled assets should go back to the taxpayer, but it's silent on repaid principal.
Treasury Secretary Tim Geithner said at an April hearing that the department expected to get back $25 from CPP participants. On Saturday, a government source put the number at $35 billion.
Treasury spokeswoman Stephanie Cutter told the Huffington Post that the law says "Repaid CPP (which is the money that all the banks have) is put back into the TARP pool of funds" and that only dividends from CPP investments go back to the taxpayer.
"This is precisely why Senator Thune introduced his amendment," Downey wrote.
But Thune's failed amendment may have provided a bit of backdoor justification for recycling. After last week's Senate vote, Majority Leader Harry Reid (Nev.) said that, in light of the vote, bailout recycling should be allowed.
Calling all HuffPost superfans!
Sign up for membership to become a founding member and help shape HuffPost's next chapter