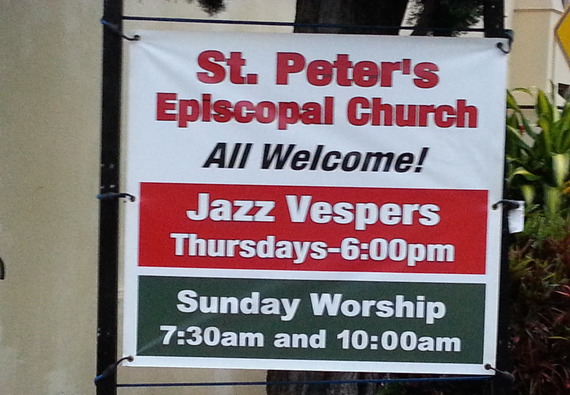 We missed the big sign, but two home-made banners hung from the gates of St. Peter's Episcopal Church in downtown Honolulu, proclaiming JAZZ VESPERS TONIGHT got our attention as we drove past. We were headed to the Pacific Club just down the road, so we kept going, vowing to return. At ten minutes to 6p.m. we found ourselves walking past Dog the Bounty Hunter's office to the church, where we were greeted warmly by two parishioners. We were invited to help ourselves from a tray of cold drinks that stood waiting for drop-ins like us, and we were also told that we could stay for soup and salad afterwards.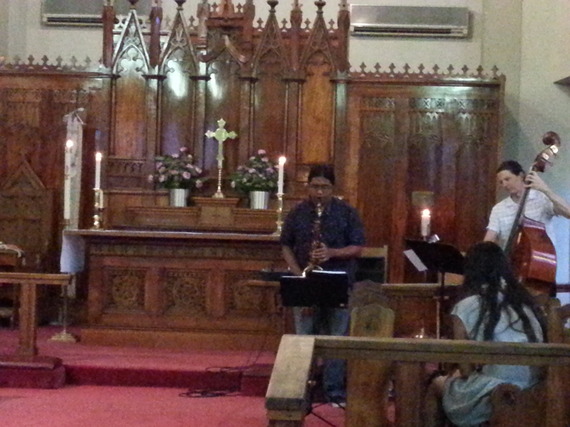 From sacred music to Rogers and Hammerstein, George Harrison, Pearl Jam and Reggie Padilla.
Inside, with the evening light still streaming in through stained glass windows, we were invited to listen, to meditate, to join in prayer or simply sit in silence. And then we were given the gift of music: Reggie Padilla (tenor sax), Jon Hawes (bass), Dan Del Negro (piano) and Starr Kalahiki (vocal). From the opening "Gloria" by Starr Kalahiki to the beautiful Padilla composition that ended the hour, the music, psalms and brief readings led us beside still waters. In the warm glow of that intimate space, it was easy to shut out the busyness of the day and the brokenness of the world and find stillness. Or as Rev. Diane Martinson said in closing, we were given a little respite in which to "look and perceive, listen and understand, love and be grateful."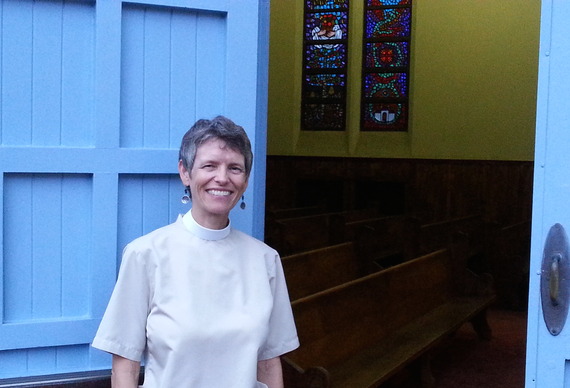 Pastor Diane Martinson, Rector of St. Peter's Episcopal Church on Queeen Emma St. offers a warm welcome to all.
Jazz Vespers will continue every Thursday from 6-6.45p.m. at St. Peter's Episcopal Church, Queen Emma St., Honolulu. And they really mean it when they say: "Stay for soup and salad."
Calling all HuffPost superfans!
Sign up for membership to become a founding member and help shape HuffPost's next chapter