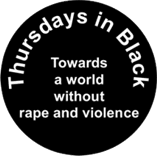 I am among the countless women moved by the recent news deluge about flagrant predators to resurrect memories, sometimes long buried and sometimes fresh and unvarnished. For me the central question it provokes is how (not whether) we can, collectively, do better to bring about change.
Thursdays in Black could help: we (women and men) can wear something black one day a week as a symbol of common purpose, as a reminder of pain and grief, but above all to demonstrate a continuing determination to act.
Thursdays in Black is a global movement but it is not as widely known and celebrated as it should be. It has many mothers and a long history. Thursdays in Black looks to the brave Argentinian women (Madres de la Plaza de Mayo) who in the 1970s, protested the disappearance of their children during a brutal regime. In other parts of the world: Israel, Rwanda, Bosnia, South Africa and elsewhere, women dressing in black has called out violence against women in its many forms. The movement is above all a testimony to women's resilience and commitment to unite and help their fellows resist such violations.
The World Council of Churches (WCC – the Geneva based global organization, with hundreds of Protestant and Orthodox Christian members) has stoked the fires of the campaign for decades, calling for Zero Tolerance of violence against women. WCC's Churches Decade of Churches in Solidarity with Women (1988-1998) drew on stories of women's suffering and action in widely different situations, using the power of symbolism through the color black. The WCC involvement in this campaign reflects the hope (if not conviction) that religious communities and leaders can and should take on a special responsibility for action to end the many forms of violence against women.
Fulata Moyo is a passionate spokesperson from her WCC "pulpit", calling on us never to forget these issues. She is fearless in her blunt talk about sex and power and descriptions of her own experience. Fulata carries a sack of buttons for Thursdays in Black wherever she travels and encourages everyone to join the movement.
Fulata is among those who see churches and religious institutions more broadly as carrying a heavy weight of responsibility to act on violence against women.
Sadly, unambiguous religious leadership on these issues is far from the norm. There are inspiring examples of leadership and creative programs to raise awareness and to address topics like redefining masculinity to reflect twenty-first century realities. But there is often a deafening silence on the topic or overly nuanced and qualified approaches.
Hesitations seem to turn around arguments that "it's complicated". The backdrop is that discussions about sexuality in most religious settings tend to be fraught. We hear debates about how harassment, assault, rape, and domestic violence should be defined, and how and whether they are related. There's an undercurrent of hints or even forthright assertions (women's supposed hypersexuality, for example, not to speak of dress) that women share or even bear responsibility for inviting harassment and violence. Teachings about gender roles come into play, above all ancient cultural but also religiously encouraged traditions of women's subordination.
Yes, there are complications. But abuse of power and use of violence involving women violate every basic principle of decent behavior, whether in terms of the community or in individual relationships.
More honest discussions, including storytelling and honest reflections are needed. This has special importance within religious communities given the common unease and hesitation to take on issues like domestic violence. Changing norms is a collective process and surely religious institutions belong at the forefront.
Thursdays in Black, with its roots in common purpose, resilience, and core values of equality, compassion, and caring, puts the ethical issues at the center. It's a campaign worth pursuing.
Related
Popular in the Community