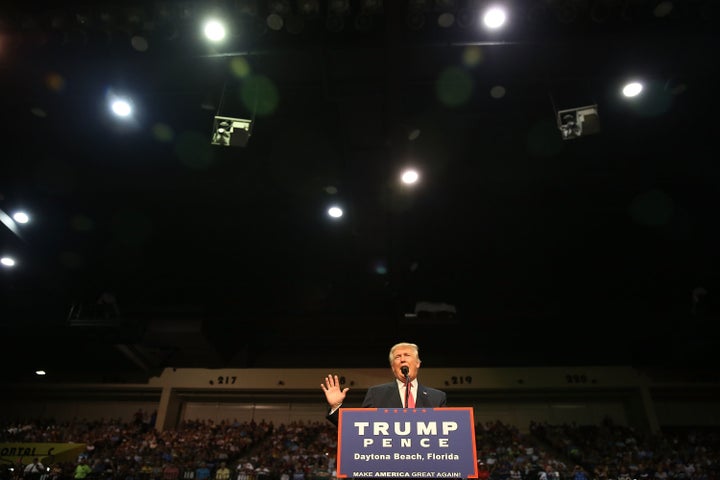 TOP STORIES
AMID PARTY CHAOS AND NUKE COMMENTS, TRUMP POSTS HUGE FUNDRAISING NUMBERS Donald Trump asked three times why the U.S. couldn't use nuclear weapons in a meeting with a foreign policy expert, according to MSNBC's Joe Scarborough. Trump may have revealed newly learned intelligence information in discussing an Iran video at a rally. Mike Pence split from the top of the ticket yesterday when he said he supported Paul Ryan's reelection bid. And the GOP is reaching a"new level of panic" over the divisions growing in the party. Yet on the fundraising front, Trump has made up some serious ground through a swell of small donations. [Jonathan Cohn, HuffPost]
D.C. OFFICER FOR SUBWAY SYSTEM ARRESTED FOR TRYING TO HELP ISIS Nicholas Young was a metro transit officer for 13 years, seven of which he was watched by the FBI for suspicious activity. [WaPo]
LONDON KNIFE ATTACK LEAVES FIVE INJURED, ONE AMERICAN WOMAN DEAD Authorities have ruled out terrorism as a motive for now, pointing instead to the 19-year-old attacker's mental state. London haddeployed 600 armed police officers mere hours before the attack across the city. [Reuters]
'WIKILEAKS' MOTIVATIONS AREN'T WHAT YOU THINK' "WikiLeaks makes editorial decisions like any other media outlet. Those decisions generally reflect the priorities of [Julian] Assange, who is a determined critic of Clinton and the U.S.-led global order and argues WikiLeaks tells the unvarnished truth about the world. And a Huffington Post review found that overwhelming majority of the primary source documents WikiLeaks has published are embarrassing to the U.S., not other world powers such as China and Russia." [HuffPost]
$400 MILLION CASH PAYMENT TO IRAN AT SAME TIME AS HOSTAGE SWAP DRAWS SCRUTINY "Senior Justice Department officials objected to sending a plane loaded with cash to Tehran at the same time that Iran released four imprisoned Americans, but their objections were overruled by the State Department, according to people familiar with the discussions." [WSJ | Paywall]
OBAMA HITS SECOND TERM APPROVAL RATINGS HIGH At least 54 percent of the country approves of the job the president is doing. The poll comes the day after President Barack Obama commuted the drug sentences for 214 federal inmates, many of whom were imprisoned as low-level drug offenders. [CNN]
THE ONGOING SEXUAL ABUSE IN COMPETITIVE GYMNASTICS USA Today investigates how the Olympic gymnastics pipeline favors coaches instead of gymnasts in abuse cases. [USA Today]
For more video news from The Huffington Post, check out this morning's newsbrief. 
WHAT'S BREWING
WELCOME TO ONE OF THE MOST HUMANE PRISONS IN THE WORLD "Treat people like dirt, and they will be dirt. Treat them like human beings, and they will act like human beings." [HuffPost]
WHEN YOUR OLYMPIC COACH IS ALSO YOUR HUSBAND Meet Hungarian swimming star Katinka Hosszu and her hubby, Shane Tusup. [NYT]
ALL THE DETAILS ABOUT BRITNEY SPEARS' NEW ALBUM Not that we're worthy. [HuffPost]
JONAH HILL IS LIKE ALL OF US Except for that part where he accidentally emailed Drake his nutrition diary. [HuffPost]
A NEW TWIST IN THE 'BECKY WITH THE GOOD HAIR' DRAMA Could it have not been about Jay Z after all? [Vanity Fair]
IN CASE YOU DIDN'T HAVE ENOUGH TO WORRY ABOUT Brain malware could be the next thing for hackers. [Mashable]
WHAT'S WORKING 
SENATORS JOIN FIGHT FOR EQUAL PAY FOR WOMEN'S SOCCER STARS "Two U.S. senators on Wednesday renewed their efforts to scrutinize why players on the U.S. women's national soccer team earn less than their male counterparts, just hours before the USWNT begins its run at a fourth consecutive Olympic gold medal." [HuffPost]
For more, sign up for the What's Working newsletter.
BEFORE YOU GO
REAL LIFE. REAL NEWS. REAL VOICES.
Help us tell more of the stories that matter from voices that too often remain unheard.