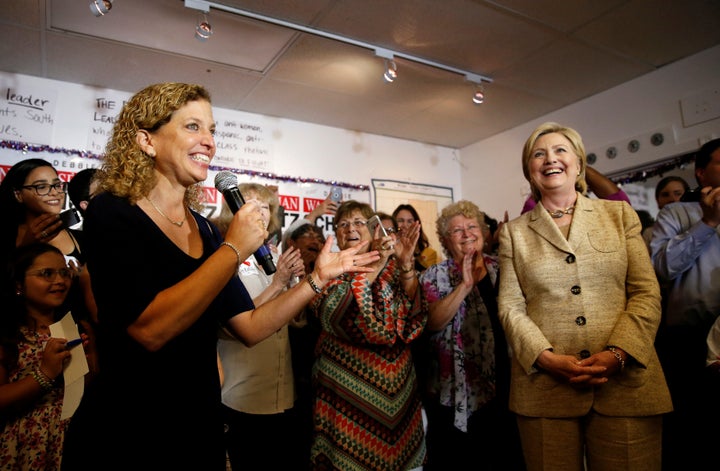 TOP STORIES
DNC HACK MORE EXTENSIVE THAN THOUGHT A hundred of party officials' personal accounts may have been breached, along with the Democratic Governors Association's. [NYT]
ANOTHER GOLDEN HAUL FOR USA SWIMMING Katie Ledeckyovercame a second deficit as the 4X200-meter freestyle relay anchor to bring home yet another gold. Here's why we can't overlook Ryan Lochte'sincredible Olympic record. Ratings are down 20 percent for this year's Olympics. Here's what to watch for tonight ― if you're not tuning into thewomen's gymnastics individual all-around final and the last race betweenMichael Phelps and Lochte, you're missing out. And follow along with HuffPost's latest Olympics coverage. [Steven Hoffer, HuffPost]
MARIJUANA WON'T BE RESCHEDULED But the Drug Enforcement Agency will open research opportunities. [Reuters]
'BULLIED BY THE BADGE' "In an era when educators are increasingly fearful of mass shootings, police officers in many schools are becoming the new disciplinarians, arresting students for incidents that once merited a call home or a visit to the principal's office." [Kyle Spencer, HuffPost]
'HOW THE ARAB WORLD CAME APART' This five-part New York Times investigation meticulously traces "the catastrophe that has fractured the Arab world since the invasion of Iraq 13 years ago, leading to the rise of ISIS and the global refugee crisis." [NYT]
THE DEA SEIZED $209 MILLION IN CASH IN AIRPORTS OVER THE PAST DECADE By tracking suspected Americans' travel records who might be ferrying large sums of cash for drug traffickers. [USA Today]
THE 12 SENATE RACES TO WATCH THIS NOVEMBER From Florida to Colorado. [WSJ | Paywall]
For more video news from The Huffington Post, check out this morning's newsbrief. 
WHAT'S BREWING
WHOLESOME MEMES ARE A THING NOW Maybe there is hope for humanity. [Select All]
WE CAN'T GET OVER HOW AWESOME THE CAST SEEMS FOR THE ALL-WOMEN REBOOT OF 'OCEAN'S 11' Rihanna, Mindy Kaling, Anne Hathaway and Sandra Bullock? Is this a dream? [HuffPost]
YOU CAN NOW MESSAGE BARRY O ON FACEBOOK Yes, that would be President Barack Obama. [HuffPost]
TURNS OUT AMERICA HAS A THING FOR TRUE CRIME TV The case of JonBenet Ramsey is coming to CBS as a docuseries. [HuffPost]
ALL YOUR CAMPFIRE DREAMS ARE ABOUT TO COME TRUE The Girl Scouts are unveiling not one but two S'mores cookies. [HuffPost]
MATTHEW ZOLLER SEITZ TALKS 'TV'S SERIAL-DRAMA SLUMP' "Every revolution has casualties. In this one, it's the hour-long, serialized drama that unveils its story over multiple seasons, and that fueled the so-called Golden Age of serious-minded, scripted TV; a form that, until recently, moved the needle on TV as an art form and dominated the cultural conversation. When discussing the serial drama in 2016, you can feel a sense of fatigue settling in." [Vulture]
WHAT'S WORKING 
CHEAPER FOOD TO GO? SIGN US UP "Too Good To Go, an app operating in the UK, allows users to order leftover food at a discount from restaurants, according to the website. The goal is to help curb waste from establishments that typically toss out perfectly edible food at the end of the day." [HuffPost]
For more, sign up for the What's Working newsletter.
BEFORE YOU GO
Calling all HuffPost superfans!
Sign up for membership to become a founding member and help shape HuffPost's next chapter