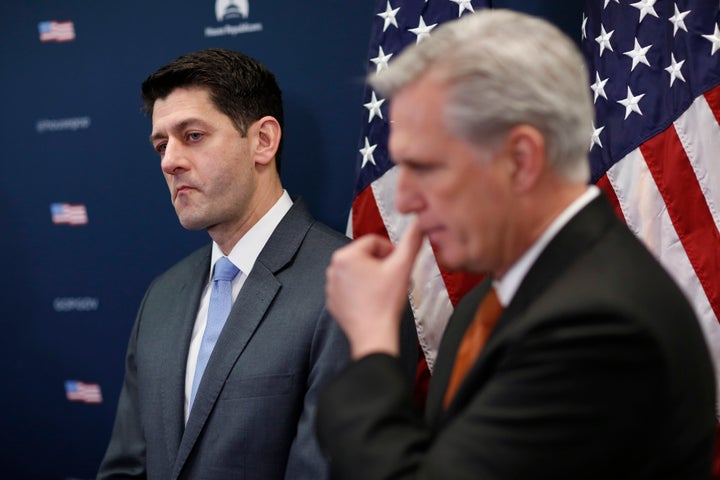 TOP STORIES 
(And want to get The Morning Email each weekday? Sign up here.)
Thursday, March 8
Hi there! Eliot Nelson here filling in for Lauren Weber while she's on vacation. Lauren will be back next Monday!
CONGRESSIONAL REPUBLICANS PREPARING DO-NOTHING AGENDA FOR 2018 Some GOP members of Congress are expressing frustration with the agenda laid out by Majority Leader Kevin McCarthy (R-Calif), which consists mostly of required spending bills and "show" votes like the introduction of a balanced budget amendment and "implausible" IRS reform. [HuffPost] [Tweet | Share on Facebook]
TRUMP TO ENACT TARIFFS TODAY The barriers on foreign steel and aluminum will not be applied at first to imports from Canada and Mexico. Over 100 Republican members of Congress have urged President Donald Trump to not enact the measures. [NYT]
TRUMP'S LAWYER GOT RESTRAINING ORDER AGAINST STORMY DANIELS Michael Cohen requested the order to block Stephanie Clifford (aka Stormy Daniels) from disclosing "confidential information," according to the nondisclosure agreement she signed shortly before the 2016 presidential election. [HuffPost]
FLORIDA LEGISLATURE PASSES BILL ALLOWING GUNS IN SCHOOLS The legislation passed the Florida House 67-50 and would allow certain school officials to carry concealed firearms. Gov. Rick Scott (R) has not said whether he will veto the bill. [HuffPost]
WHAT'S BREWING
LOOKING BACK AT THE WEST VIRGINIA TEACHERS' STRIKE Their success came despite being in a state with very few protections for unions. [HuffPost]
BEST BUY GEEK SQUAD ACTED AS FBI INFORMANTS While the employees only handed over customer information when they found child pornography, the news raises Fourth Amendment concerns. [HuffPost]
TRUMP CAMPAIGN PAYING TRUMP TOWER MILLIONS FOR BARELY-USED OFFICES The getting is good for President Trump. [HuffPost]
FLORIDA LAWMAKERS SAYS MANY SCHOOL SHOOTERS ARE DEMOCRATS "It's interesting that so many of these people that commit the mass murders end up being Democrats. But the media doesn't talk about that either," Rep. Claudia Tenney (R-N.Y.) said during a radio interview. [HuffPost]
WHY STEEL TARIFFS FAILED LAST TIME They hurt more industries than they helped. [Politico] 
BEFORE YOU GO
REAL LIFE. REAL NEWS. REAL VOICES.
Help us tell more of the stories that matter from voices that too often remain unheard.