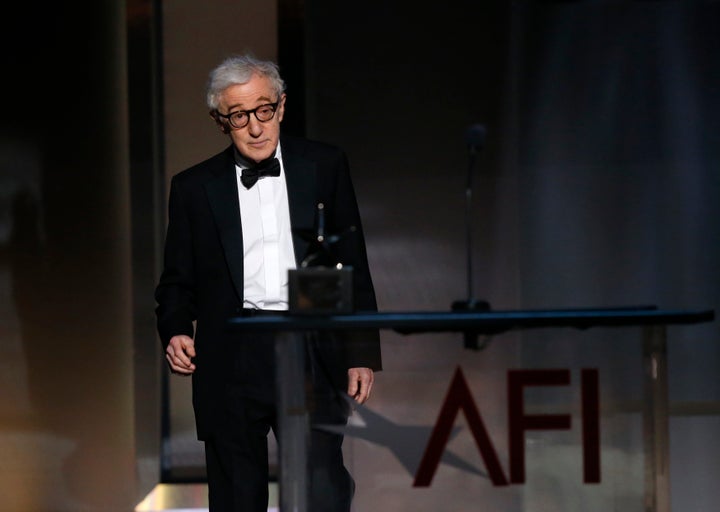 TOP STORIES
(And want to get The Morning Email each weekday? Sign up here.)
I'm heading out to Los Angeles this morning to wrap up reporting for my USC Health Journalism fellowship, so my colleague Ariel Edwards-Levy will be filling in for me tomorrow! The Morning Email then will return Tuesday after the holiday weekend.
MIRA SORVINO'S OPEN LETTER TO DYLAN FARROW "It is difficult to sever ties and denounce your heroes, your benefactors, whom you fondly admired and felt a debt of gratitude toward for your entire career's existence. To decide, although they may be fantastically talented and helped you enormously, that you believe they have done things for which there can be no excuse. But that is where we stand today." [HuffPost] [Tweet | Share on Facebook]
MISSOURI GOV. ERIC GREITENS ADMITS AFFAIR, DENIES BLACKMAIL CLAIMS The governor and his wife confirmed that he had engaged in an affair before being elected governor, but denied he blackmailed the woman involved with a compromising photo of her he took without consent. [HuffPost]
MOIRA DONEGAN OUTS HERSELF AS THE CREATOR OF THE MEN IN MEDIA ACCUSED OF SEXUAL MISCONDUCT LIST Donegan went public amid rumors that Harper's Magazine was about to out her as the woman who created the originally private document that "sent shockwaves through the media when it was first circulated in October." Read what she had to say about how the creation of the spreadsheet changed her life in her own words. [HuffPost]
A NEW YORK STATE SENATOR HAS BEEN ACCUSED OF SEXUAL MISCONDUCT "In an exclusive interview with HuffPost, 30-year-old Erica Vladimer said Democratic New York state Sen. Jeff Klein 'shoved his tongue' down her throat at a bar [in 2015]. A month after the incident, Vladimer says she left her job working for Klein." New York Gov. Andrew Cuomo has called for an investigation. [HuffPost]
SOUTHERN CALIFORNIA MUDSLIDE DEATH TOLL RISES TO AT LEAST 17 With an additional 13 still missing. These photos capture the brutal devastation of the national disaster, which looks "like a World War I battlefield." [HuffPost]
ELIZABETH WARREN WANTS COMPANIES THAT EXPOSE YOUR DATA TO PAY UP Under her legislation, Equifax would have had to pay $1.5 billion for last year's breach. [HuffPost]
HOW REPUBLICANS HAVE DRASTICALLY RAMPED UP THEIR ATTACKS ON THE RUSSIA PROBE In 2018. [HuffPost]
SHEPARD SMITH HAD A BRUTAL FACT-CHECKING SEGMENT FOR TRUMP ON THE RUSSIA INVESTIGATION "He's not a dictator. He's not a king," Fox News' Smith said. "He can't change the libel laws. That's preposterous." Meanwhile, Anderson Cooper had his own field day with Trump's latest media claim. And Chris Cuomo and Kellyanne Conway sparred over whether anyone in the White House talks about Hillary Clinton. [HuffPost]
THESE PHOTOS OF THE EMPTY GROCERY STORE SHELVES IN VENEZUELA Speak to the dire economic crisis that caused a run on groceries over the weekend. [HuffPost]
WHAT'S BREWING
YOUTUBE FINALLY PUNISHES LOGAN PAUL FOR THAT WILDLY INSENSITIVE SUICIDE VIDEO "YouTube on Wednesday announced that it will drop Paul's YouTube channels, which have a combined subscriber count of more than 20 million, from its Google Preferred program." [HuffPost]
WHY YOU LIKE TO RETURN TO THE SAME VACATION SPOT, YEAR AFTER YEAR We're looking at you, Seaside, Florida. [HuffPost]
SERENA WILLIAMS COVERING VOGUE WITH HER BABY DAUGHTER Might be the most adorable thing you see today. [HuffPost]
DIET COKE IS GOING AFTER THE MILLENNIALS NOW  Pro tip ― avoid the mistake Pepsi made. [HuffPost]
MARGOT ROBBIE JUST WANTED TO HAVE A CHILL HONEYMOON And then Ellen and Barack Obama just had to show up. [HuffPost]
THE TRUE STORY OF HISTORY'S LONGEST KAYAK JOURNEY "With Germany in tatters, his small business bankrupt, Oskar Speck got into his kayak in 1932 for what would become an epic, seven-and-a-half-year paddle—30,000 miles, packed with hero's welcomes and near-death escapes, all the way to Australia. But as Speck battled sharks, hostile locals, and malaria, Hitler rose to power and W.W. II began." [Vanity Fair]
THE NEW YORK TIMES HAS ANNOUNCED WHO SNAGGED THE MOST ENVIABLE JOB IN JOURNALISM RIGHT NOW Meet the person headed to 52 spots worldwide in 52 weeks. [HuffPost]
BEFORE YOU GO
REAL LIFE. REAL NEWS. REAL VOICES.
Help us tell more of the stories that matter from voices that too often remain unheard.