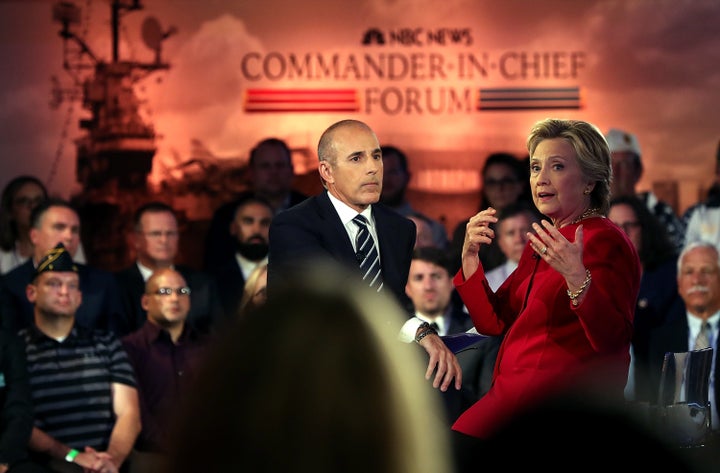 TOP STORIES
MATT LAUER UNDER FIRE FOR NOT CHALLENGING TRUMP ON IRAQ WAR STATEMENTS He failed the moderator test after not challenging Donald Trump's version of his status as an opponent of the Iraq War, according to media reporter Michael Calderone. And here's everything else you missed at last night's presidential forum. [Jessica Schulberg, HuffPost]
PRESIDENT BARACK OBAMA BELIEVES HIS CLIMATE CHANGE WORK MAY BE THE MOST IMPORTANT OF HIS PRESIDENCY "What makes climate change difficult is that it is not an instantaneous catastrophic event," he said. "It's a slow-moving issue that, on a day-to-day basis, people don't experience and don't see." [NYT]
RYAN LOCHTE REPORTEDLY SUSPENDED FOR 10 MONTHS For his behavior in Rio. The three other swimmers involved in the scandal also face suspensions. [Reuters]
IS IVANKA FOR REAL? Examining the enigma that is Ivanka Trump. [Hannah Seligson, HuffPost]
RUSSIAN JET GETS WITHIN 10 FEET OF AMERICAN SPY PLANE Which is rather close. [Reuters]
TRUMP LIFTS MEDIA BLACKLIST Even for HuffPost. [Dave Jamieson, HuffPost]
COULD THE PALESTINIAN PRESIDENT HAVE ALSO WORKED FOR THE KBG? New documents suggest Mahmoud Abbas may have served as a Soviet agent. [NYT]
For more video news from The Huffington Post, check out this morning's newsbrief. 
WHAT'S BREWING
SAY GOODBYE TO THE HEADPHONE JACK Here's everything you need to know about the iPhone announcement yesterday, and why people are saying Apple has lost its "dazzle." [HuffPost]
ALY RAISMAN IS COMING BACK ... AGAIN The Olympic gymnast announced plans to return in 2020. She would be the first U.S. gymnast since Dominique Dawes to compete in three consecutive games. [Team USA]
INSIDE THE KYRGYZSTAN BRIDE KIDNAPPING CRISIS "Type the phrase 'Kyrgyzstan bride kidnapping' into YouTube and you can witness the brutality of the practice in any number of videos online showing groups of young men grabbing women in broad daylight, packing them into cars and driving away." [HuffPost]
WHAT IT'S REALLY LIKE TO BE A CORRECTIONAL OFFICER FOR WOMEN INMATES "Society has turned their backs on these people, and they've given them to us. We are their last resort." [The Atlantic]
THIS DISNEY PRINCESS IS DESIGNED WITH A MORE 'REALISTIC' BODY Just another reason to look forward to meeting "Moana" this November. [BuzzFeed]
THIS MIGHT BE THE MOST USEFUL NEW YORK TIMES ARTICLE EVER It tells you how to game the grocery store lines. [NYT]
WHAT'S WORKING 
WHERE YOUR CLOTHES COME FROM "Last year Morgan released 'The True Cost,' a documentary about the fashion industry's disastrous human and environmental consequences, including the staggering waste that results from an industry increasingly bent on producing cheap, low-quality, disposable clothes." [HuffPost] 
For more, sign up for the What's Working newsletter.
BEFORE YOU GO
Calling all HuffPost superfans!
Sign up for membership to become a founding member and help shape HuffPost's next chapter