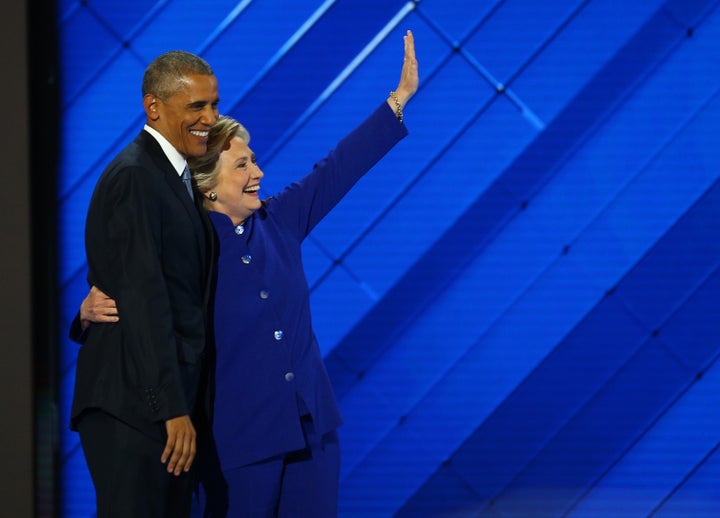 TOP STORIES
OBAMA MAKES THE CASE FOR HOPE IN HILLARY "President Barack Obama on Wednesday night told Americans they face a stark choice in November -- an unusual election that has raised 'fundamental' questions 'about who we are as a people,' and pitted one of the most qualified candidates in history, Hillary Clinton, against an untrustworthy con man, Donald Trump." Don't miss Vice President Joe Biden's speech either. Take a look at why The New York Times argues this year's DNC was made for TV, while the RNC was made for Twitter. And here's what towatch for today. [Jonathan Cohn, HuffPost]
TRUMP: 'I HOPE' RUSSIA HACKED CLINTON'S EMAIL SERVERS Republican leaders and Russian experts are horrified by the GOP nominee's statements, with some arguing it endangers national security and others tossing out the word treason. And here's a chart mapping out the trail of stolen emails, from Russia to WikiLeaks. [Christina Wilkie, HuffPost]
MORE BAD NEWS ABOUT LOCAL ZIKA TRANSMISSION POTENTIAL IN THE U.S. Two more cases are being investigated in South Florida. [Reuters]
THE CAPTAIN OF MISSING FLIGHT MH370 HAD PROGRAMMED A ROUTE IN A HOME FLIGHT SIMULATOR That ended in the Indian Ocean. [CNN]
U.S. SECURES INTELLIGENCE WINDFALL ON ISIS "The United States is poring over a vast trove of new intelligence about Islamic State fighters who have flowed into Syria and Iraq and some who then returned to their home countries, information that American officials say could help fight militants on the battlefield and prevent potential plotters from slipping into Europe." [NYT]
GARY JOHNSON COULD BE A THIRD PARTY CANDIDATE FOR THE AGES According to HuffPost Pollster, he's averaging 9 percent nationally. [Janie Valencia and Natalie Jackson, HuffPost]
RONALD REAGAN'S WOULD-BE ASSASSIN IS HEADED HOME "John Hinckley Jr., who wounded U.S. President Ronald Reagan and three other people in a 1981 assassination attempt prompted by his mental illness, should be freed after 35 years and released to live with his mother, a federal judge ruled on Wednesday." For a look back at how close Reagan came to dying, take a look at The Washingtonian masterpiece from 1981. And here's what his daughter had to say about Hinckley's release. [Reuters]
For more video news from The Huffington Post, check out this morning's newsbrief. 
WHAT'S BREWING
WE WON'T LIE, WE TEARED UP At the first "Gilmore Girls" revival trailer. Now the countdown begins -- just 119 days to go. [HuffPost]
SOMETHING'S UP AT STARBUCKS Buzzfeed investigates why the lines have gotten so long this summer. [Buzzfeed]
INSIDE FACEBOOK'S VIRTUAL REALITY PLAN "The spread of video has taken thrilling and sometimes shocking turns, and VR will likely build on that in ways we don't yet understand: Imagine Facebook Live at a riot, but in fully immersive form." [Bloomberg]
IT'S TOTALLY NORMAL TO HAVE AN IN-HOME GUILLOTINE If you're Jared Leto. [HuffPost]
IN HOLLYWOOD IS AGEIST NEWS Ellen Pompeo says she stuck around on "Grey's Anatomy" as she knew she was too old in her 30s to hit it big in Hollywood. [HuffPost]
NOT TO GET YOUR HOPES UP But a season five of "Arrested Development" is looking more and more likely. [Entertainment Weekly]
WHAT'S WORKING 
BEFORE YOU GO
REAL LIFE. REAL NEWS. REAL VOICES.
Help us tell more of the stories that matter from voices that too often remain unheard.