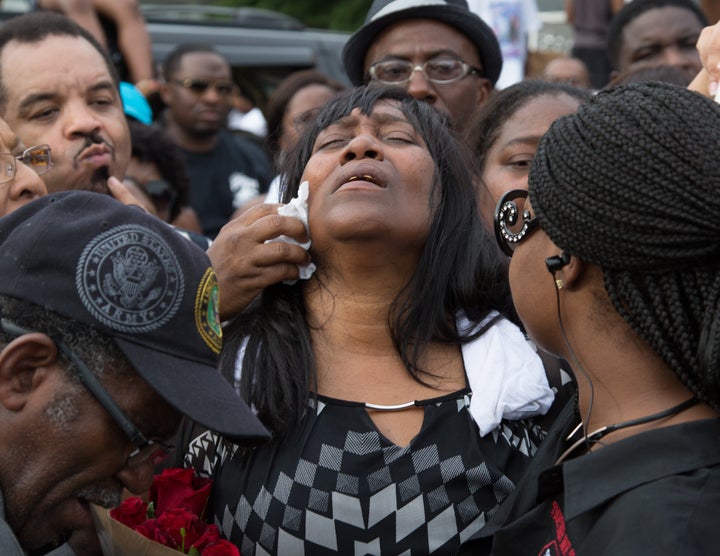 TOP STORIES
POLICE FATALLY SHOOT MAN IN ST. PAUL IN CAR His girlfriend broadcasted the tragic aftermath on Facebook live. [Carla Herreria, HuffPost]
THE DEPARTMENT OF JUSTICE TO INVESTIGATE ALTON STERLING'S DEATH New video of Sterling's final moments confirms hewas not holding a gun. And here are 13 painful facts about Sterling's life. [Julia Craven, HuffPost]
20 VETERANS KILLED THEMSELVES A DAY In 2014. [USA Today]
COULD A GOP CONVENTION COUP HAPPEN? "[Donald] Trump's intraparty foes, led by a group of rogue delegates, are waging an intense behind-the-scenes effort to push the Republican National Convention's Rules Committee for a vote on freeing delegates to back whomever they wish, rather than being bound to Mr. Trump." [WSJ | Paywall]
GRETCHEN CARLSON FILES SEXUAL HARASSMENT LAWSUIT AGAINST ROGER AILES Fox is conducting an internal review of the network's CEO and chairman, who has vehemently denied the allegations. Other Fox sources are reporting Carlson wasn't alone. Here's footage of Carlson being objectified on air, as well as Carlson's full complaint. [Michael Calderone, HuffPost]
DWAYNE WADE HEADS TO THE BULLS He's going home to Chicago after 13 years with the Miami Heat. [Sports Illustrated]
'THE BIG-BANK BLOODBATH' "Big banks are nearly half a trillion dollars in the hole. Since the start of 2016, 20 of the world's bigger banks have lost a quarter of their combined market value." [WSJ | Paywall]
For more video news from The Huffington Post, check out this morning's newsbrief.
WHAT'S BREWING
SNAPCHAT AS YOU KNOW IT IS GONE You can now save stories and snaps. Let that news sink in for a minute. Not everyone is so happy about it. [HuffPost]
TWITTER GOT INTO THE LIVESTREAM SPORTS GAME With Wimbledon. [The Next Web]
RUSSELL WILSON AND CIARA TIED THE KNOT In a castle no less. [HuffPost]
WINTER IS LASTING MORE THAN 10 MONTHS Bad news, "Game of Thrones" fans ― the show won't be back in March or April. [Hitfix]
SYRIAN WEDDINGS ARE MISSING THE GROOMS "At unions these days, brides often stand alone on the dais ― their grooms in the distant lands of Europe, the Gulf or Turkey." [WSJ | Paywall]
ARE YOU A MULTITASKER? Apparently you are "literally draining the energy reserves of your brain." [Quartz]
WHAT'S WORKING
TURNING AIR INTO FUEL "Scientists are sucking up carbon dioxide directly from the atmosphere ― and turning it into fuel. A growing crop of companies, including Carbon Engineering, the Bill Gates-funded Canadian firm behind the Squamish plant, are banking on this direct air capture technology being a potential solution to the planet's climate woes." [HuffPost]
For more, sign up for the What's Working newsletter.
BEFORE YOU GO
Popular in the Community