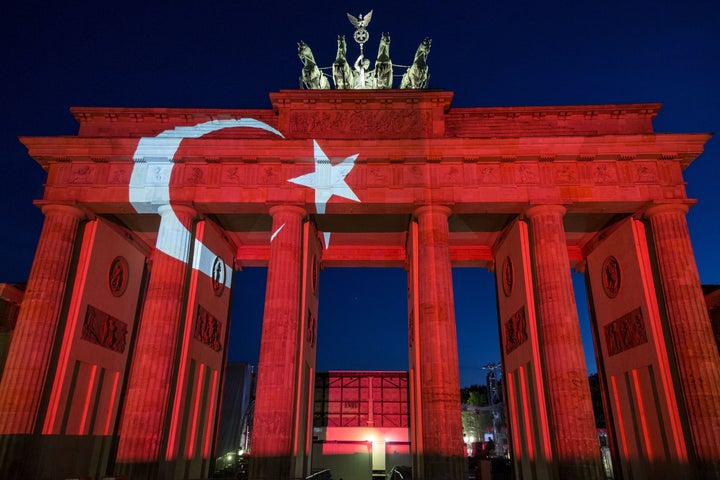 TOP STORIES
13 DETAINED FOR ISTANBUL BOMBING The three bombers were from Russia, Uzbekistan and Kyrgyzstan, according to a Turkish official. Here's why experts believe this recent attack is retribution forTurkey's role in the fight against ISIS. And meet the newlyweds who didn't think they'd escape the attack alive. [Reuters] 
BREXIT FALLOUT: BORIS JOHNSON RULES OUT RUN FOR PRIME MINISTER The former London mayor was seen as the favorite to succeed David Cameron. Justice Secretary Michael Gove announced he was throwing his hat in the ring before Johnson's withdrawal. [Reuters] 
THESE TWO BOYS WERE BORN ON THE SAME DAY IN THE SAME VILLAGE And yet their lives will be dramatically different. A report from Madagascar on how chronic malnutrition damages the bodies and brains of 1 in 4 children worldwide. [Lauren Weber, HuffPost]
THE SENATE PASSED AN EMERGENCY MEASURE TO BAIL OUT PUERTO RICO Two days before it would have defaulted. [Laura Barron-Lopez, HuffPost]
MITCH MCCONNELL SAYS DONALD TRUMP ISN'T CREDIBLE ENOUGH TO BE PRESIDENT YET The Senate Majority Leader hedgedwhen talking about the GOP candidate, while Utah Sen. Mike Lee said he would need reassurances Trump would not abuse the constitution. [Nick Visser, HuffPost]
QUESTIONS AFTER MARINE TRAINEE'S DEATH "The death of a young Muslim-American recruit at boot camp is at the heart of an investigation gripping the U.S. Marine Corps, and raising serious questions about practices at its vaunted, 101-year-old training facility at Parris Island, S.C." [WSJ | Paywall]
D.C. TO GET NEW NAME IF IT WINS STATEHOOD How does New Columbia sound? [WaPo]
A LOOK AT THE DROUGHT 'CRIPPLING RURAL INDIA' The parched land is prompting a rash of suicides in Bundelkhand. [HuffPost]
For more video news from The Huffington Post, check out this morning's newsbrief.
WHAT'S BREWING
YOU'RE ABOUT TO SEE A LOT MORE OF YOUR FRIENDS IN YOUR FACEBOOK FEED Facebook announced it is tweaking its algorithm to highlight your friends over media outlets. [HuffPost]
BAD NEWS, COOKIE DOUGH EATERS An E. Coli outbreak is spreading through bad flour that people are eating in raw cookie dough. So hands off the good stuff. [HuffPost]
YOU AREN'T WRONG Your rent check is devouring your paycheck. [HuffPost]
THE BRALETTE TAKEOVER "Victoria's Secret has powered years of growth with images of busty models at more than 1,000 largely mall-based stores and a selection of padded bras retailing at prices up to $60. But many young consumers now prefer more authentic marketing and garments that resemble crop tops, with simple sizing and prices around $20." [WSJ | Paywall]
THE SCARF PROTECTING CELEBRITIES FROM THE PAPARAZZI Or vampires from getting their photos taken. One of the two. [Buzzfeed]
THE ACADEMY FINALLY EXPANDS "Following multiple years of the #OscarsSoWhite controversy, the Academy of Motion Picture Arts and Sciences has invited a record 683 new members to join ... of the 683 possible members, 46 percent were women and 41 percent were people of color." [HuffPost]
DID YOU ALSO THINK THE COMPOSER FOR "GAME OF THRONES" DESERVES AN EMMY? Talking to the genius himself, Ramin Djawadi, about the breathtakingly haunting music that made the finale. [HuffPost]
WHAT'S WORKING 
BEFORE YOU GO
Calling all HuffPost superfans!
Sign up for membership to become a founding member and help shape HuffPost's next chapter