"Beautiful sins, like beautiful things, are the privilege of the rich", -- Oscar Wilde was right. I'm drinking my morning coffee now and meditating on beautiful thoughts.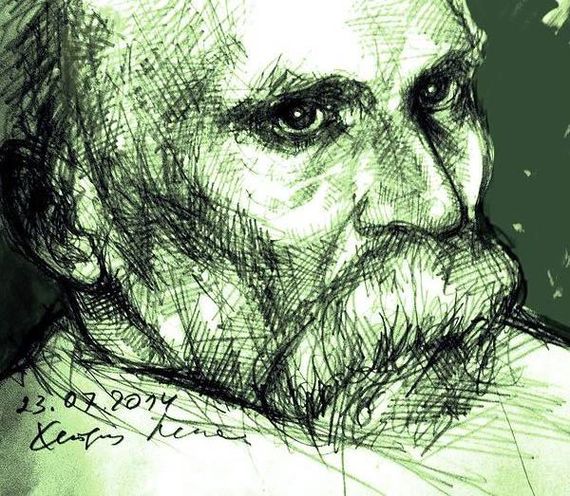 Friedrich Nietzsche by Lena Hades, 2014. Photo Credit: Lena Hades
Beautiful thoughts cost nothing and they are privilege of the poor. Beautiful thoughts of poor dreamers are absolutely indispensable to a social stability. Masses immersed in beautiful dreams are not inclined to do revolutions. One of the most beautiful dreams of the poor is the patriotism. The nationalism is also a sweet daydream bonbon, every one that eats it sees oneself beautiful and powerful and superior godlike. "Superior godlike" ... Not only the nationalists, but also Nietzscheans consider themselves superior godlike too. Ridiculous. "Dem Wurme gleich ich, der den Staub durchwühlt Den, wie er sich im Staube nährend lebt,Des Wandrers Tritt vernichtet and begräbt""I'm like the worm that burrows through the dust,That in the dust in which it lived and fed,Is crushed and buried by a wanderer's tread" You, Nietzscheans, do you consider yourselves more intelligent than Goethe's Faust who sold his soul to the Devil? You, clumsy innocent pretenders, do you seriously think that your cheap souls are worthy of His highest attention? But He has no time for sixpenny sales. He is interested only in luxury purchases of precious souls, cheap ones will be thrown away into waste bins of Samsara. By the way, I am not Nietzschean. I have created Thus spoke Zarathustra oil painting cycle intending to reach my only goal - to learn Nietzsche's book Thus spoke Zarathustra by heart. It was my caprice and a fulfilment of the Nietzsche's desire to be learnt by heart. Because "he that writeth in blood and proverbs doth not want to be read, but learnt by heart". I've done it!
Support HuffPost
The Stakes Have Never Been Higher
Related
Popular in the Community