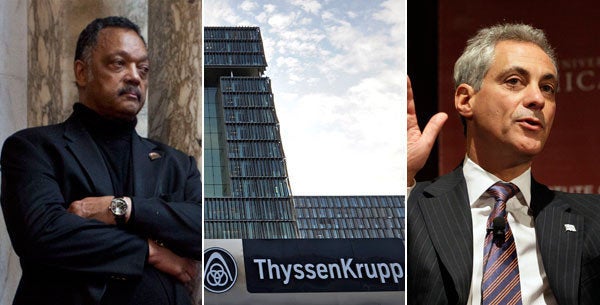 A top official at a German manufacturing company issued an apology Tuesday after African American employees at its suburban Chicago office said they were "routinely" discriminated against by supervisors.
The apology comes less than a week after Mayor Rahm Emanuel announced that the company, ThyssenKrupp A.G., will open its North American regional headquarters in Chicago. The move is expected to bring about 100 jobs to the city at first, and grow from there.
"ThyssenKrupp's decision to locate their North American headquarters in Chicago is a testament to the world-class business environment the city offers," Mayor Emanuel said in a statement. "By combining transportation, infrastructure, and the best workforce in the world, Chicago is a destination for the greatest companies around the globe, and ThyssenKrupp is a perfect example of this."
Another supervisor applied brown makeup to his face to make his skin tone darker during a skit at a sales conference in Indianapolis, according to the report, which concluded that there was "substantial evidence" that Reese, who worked in the Westchester office, was harassed because of his race.

Though the supervisor later claimed he was impersonating a rapper of Asian descent from the musical group Linkin Park, the skin-darkening showed the company "fosters an environment of accepted racial intolerance," the report states.
Emanuel called the alleged behavior "reprehensible," and asked that the company address the issue "immediately and substantively," the Chicago Sun-Times reports.
"We have had to realize that mistakes were made," ThyssenKrupp CEO Rich Hussey said in a statement, according to the Sun-Times. "For example, the use of epithets to describe a tool to service elevators or disparaging remarks about [black] neighborhoods. ... We realize that we need to take further measures to prevent the repetition of this type of behavior….We will dedicate whatever time and resources are necessary to further education our workforce on the lawful and appropriate treatment of all employees, including the engagement of experts to assist in this education."
Jackson said he was glad the company admitted to wrongdoing, but hopes they will extend their minority hiring and compensate victims of workplace harassment.
Popular in the Community