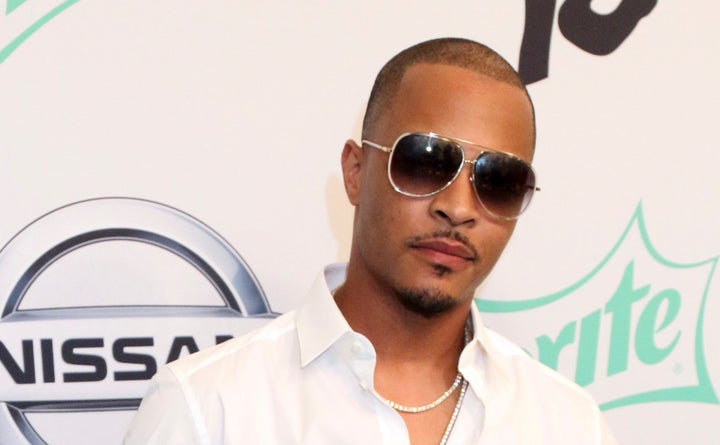 The Atlanta rapper aired out all of his grievances with the "Ye" artist after West's meeting with the president at the Oval Office on Thursday. All. Of. Them.
On Instagram, T.I. wrote a lengthy caption accompanying a video clip of the meeting, in which West can be heard expressing his love for President Trump, saying, "I love this guy." The clip also shows him embracing the president from behind the Resolute desk.
T.I., who has publicly accused Trump of emboldening white supremacists, called West's actions "repulsive" and "disgraceful." He also used racially loaded slavery references to describe "The Life of Pablo" rapper.
"I refuse to associate myself with something so vile, weak , [and] inconsiderate to the effect this has on the greater good of ALL OUR PEOPLE!!!!" he wrote.
Clearly, West's meeting at the Oval Office was the tipping point for T.I. The Atlanta native prefaced his scathing Instagram remarks about West by noting that he had previously made a point to "not jump to any premature conclusions" about West.
Indeed, although T.I. has publicly criticized the messaging behind West's recent political rants, previously he had made a point to not write him off.
Back in May, T.I was asked about West's now-infamous visit to the TMZ newsroom in which he suggested that slavery "sounds like a choice." T.I. insisted that he did not believe West's intentions were "malicious," though he made it clear he disagreed with his comments.
T.I., who has been outspoken on issues like police brutality, also collaborated with West on a song called "Ye Vs. The People" back in April, in which West debates T.I. on his case for his admiration of Trump.
But now it seems T.I.'s approach to West and his controversial comments has changed. On Instagram, he said that West put his "soul on auction" during the White House visit. He added, "I'm ashamed to have ever been associated with you." He also called West a "puppet."
"I've reached my limits," T.I. wrote. "This is my stop, I'm officially DONE!!!!"
Popular in the Community