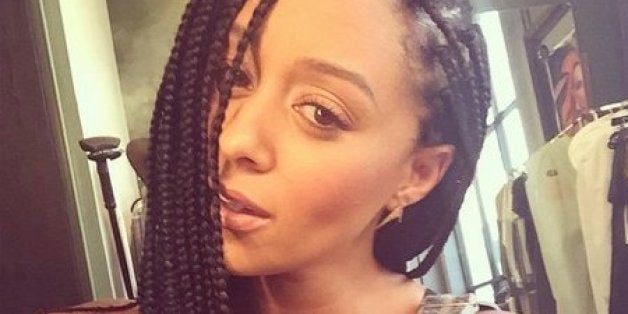 If you aren't following Tia Mowry on Instagram, we suggest you do so immediately. Yes, that Tia Mowry. The former star -- who was one half of the dynamic duo from our favorite 90's sitcom "Sister, Sister" -- is all grown up and serving some seriously sensational style.
While we'll never stop loving the matchy-matchy looks Tia and her twin sister Tamera Mowry-Housley served up each week, we're thrilled that Tia has fabulously forged a personal style that deserves its own spotlight.
We're particularly impressed with how Tia, who is married to fellow actor Cory Hardrict and the mother to her 3-year-old son Cree, has managed to seamlessly transition from teen TV star to red carpet style star. Her penchant for teaming classic fashion pieces with edgier finds is inspiring -- and we love how she rocks "Poetic Justice" braids one day and mesmerizes us with her halo of curls the next day.
It was only right that we reach out to the "Instant Mom" actress to get the scoop on this awesome style transformation. She not only dished about creating her own look, but she also shared advice on online shopping, and how melting a green tea ice cube on her face every morning keeps her skin fresh and flawless. Seriously.
HuffPost Style: You've spent most of your young adult life in the industry being labeled as a "twin" thanks to "Sister, Sister." Why is it so important that you maintain a sense of individuality and how does your style illustrate that?
Tia Mowry: I think it's really important for me to maintain my individuality mainly because I am an individual. Society tends to always make multiples-- whether it's twins or triplets or whatever -- one person. And it's not always fair. I encourage multiples to embrace their individual uniqueness, because just as you are an amazing unit together that can only happen when you are strong individually.
HPS: So, that means you and Tamera have completely different styles, right?
TM: Totally. I think the older you get -- whether you're a twin or not -- you tend to learn more about yourself. And you start to not care about what people think. You start to become more of yourself and be happy with that. When you're younger it's all about conformity and being easily influenced -- especially in terms of fashion. You just follow the tends. Whatever is hot at the moment you want to get it. You basically just want to be doing what everyone else is doing. But as you get older those things aren't as important. I can see it with my sister and I -- as we get older we now have our own families and our own careers, so I think we are definitely heading in two different paths in regards to fashion. She [Tamera] takes more of a conservative approach, but I'm more of a risk-taker.
HPS: Is there one outfit you've worn that you feel has been your "I'm coming out" or "I've arrived" look?

TM: I definitely do! It would have to be the look I wore to the "Selma" movie premiere. I've always wanted to do braids but was nervous about what others might think about them. People are so used to seeing me have that girl-next-door approach to fashion. I was like "No. This is what I want to do. This is what I want to try." And I just really fell in love with the Stone Cold Fox tuxedo dress that I wore. And it's mine, I own it. I borrow [clothes] here and there, but most of the time I'm buying the things that I love. So, I felt like the look was really me and that it was really crazy, sexy, cool. I had a lot of fun in that outfit!
HPS: Do you use a fashion stylist?
TM: I do work with a stylist and she's amazing! But what's so cool about this stylist is this is the first stylist that I've worked with that hasn't tried to conform me into what she thinks is great. She is all about collaboration. And it's not just about the red carpet, it's about everyday life and how I express myself through fashion.
HPS: Where are your favorite places to shop?
TM: I love to shop online, and I say that because it's not so limiting. I was able to get this bomb-ass Balenciaga jacket from Italy and I didn't have to go to Italy to get it because I just ordered it online. I also ordered a Balmain blazer from Paris. And as far as specific sites that I love -- I love One Teaspoon, which is a denim line that I'm obsessed with and it's from Australia. I have these awesome overalls, and jean shorts and leather shorts from them. Another great site is Valley Eyewear. I used to be afraid of online shopping but I'm not anymore. I also love American Apparel and Zara, because I love mixing and matching designer pieces with more affordable items.
HPS: Do you have any fashion addictions?
TM: I'm definitely addicted to shoes. I love boots, I love high heels, I love flats. One of my favorite pair of shoes right now are my
Mara & Mine shoes with skeleton feet on them. I'm starting to pick pieces that are great investments -- stuff that I will have for a very long time that are different, eclectic and unique.
HPS: Who are your fashion and beauty inspirations?
TM: I really, really like Nicole Richie and the only reason why I always bring her up is because I'm impressed with her style evolution. This is someone that came onto the scene that people didn't necessarily view as a style icon and she completely switched up the game. And I like how she takes risks with fashion. She can make purple of blue hair look unbelievable -- and wear it to a fashion gala and make it chic, sexy and glamorous. I also love Rihanna. I like how daring she is and I like how she approaches fashion like "this is who I am, either you like it or not." She's a fashion killa! I admire that.
HPS: Are there any fashion trends from your "Sister, Sister" days that you still wear now?
TM: Yup! I still rock plaid and flannel, which are still very much in style. Also Dr. Martens and overalls. I'm a huge fan of overalls.
HPS: What advice do you have for mothers trying to maintain their personal style while also juggling so much responsibility?
TM: After I had Cree was the beginning of my style evolution, because I wasn't the same person. After you have a child you change, you mature and what you thought was important no longer is. You also learn more about your weaknesses and strengths. And I think for me my strength was embodying being a woman. Embodying and embracing a woman's sexiness, strength and power. When you have a child -- whether it's natural, c-section or giving birth in a tub -- you learn a lot about your body. Once you become a mother it's like "I am woman, hear me roar!" and fashion is a part of that because it's a part of expressing who I am -- it's a part of expressing and showing my personality without saying a word.
HPS: What's in your purse right now? Are there any interesting items that you always have?
TM: I always have a pair of Valley eyeglasses. I've learned to bring a phone charger with me, because my phone is always dying. I have my iPhone 6. I have my Paramount Studios ID badge, since that's where I film my show. I have my wallet. And oh my god, I have a bra. Don't ask me how that got in there. How embarrassing! I also have hand sanitizer. And I always carrying red lipstick. Everyone that knows me, knows that red lipstick is my staple. My favorite are the Matte lipsticks by M.A.C Cosmetics.
HPS: Your skin always looks so healthy and radiant. Do you have any homemade beauty secrets?
TM: I do! It's ice. A makeup artist that I was working with a long time ago told me about this. You make green tea ice cubes or orange juice ice cubes or you can even just use regular ice cubes. But the trick is to melt one ice cube over your face in the morning -- by rubbing it around like you're giving yourself a facial. People are always complimenting me on my skin and that's basically all I do. It hydrates your skin and you're getting those natural anti-oxidants from the tea. The cold then tightens your skin. It feels like you've just had a facelift! I also drink loads of water. And I love Argan oil -- it does me wonders. I use Josie Maran. She's very expensive but there are more affordable alternatives. But the oil just brings the elasticity back to your face and the glow -- that J.Lo glow that you want.
HPS: We love how women are really embracing their curls these days. How do you maintain your curly tresses?
TM: I work with Kim Kimble, who is an amazing hairstylist, and I owe my hair growth to her. Basically she told me to co-wash my hair every single day, because it will stimulate my hair to grow. Basically, after I wash it and when it's still wet I put Moroccanoil or Argan oil in my hair and then I'll go ahead and use a product by DevaCurl.
HPS: Our boss Arianna Huffington is big on thriving -- or creating a life of well-being, wisdom, and wonder. How do you thrive?
TM: How I thrive is very simple. My son bought my perspective back to focusing on and appreciating the simple things in life. It's about just being with my family -- whether that's waking up in bed next to my husband under the comforter and just hugging or walking down the street and holding my son's hand. Just appreciating that he's there to hold my hand. I have a quote that I live by: "Where there is appreciation all things flow." So, I'm just very grateful that I can grab my son's hand and be with my husband. I also thrive by taking care of myself, which means making sure that I stay healthy, workout and eat healthy. It's basically just giving back to myself. It's ok to focus on yourself and take care of yourself -- that way you can take care of the loved ones around you as well.
HPS: Last but not least, how would you finish this sentence: "I feel the most beautiful when...
This interview has been edited and condensed for clarity.

Related
Before You Go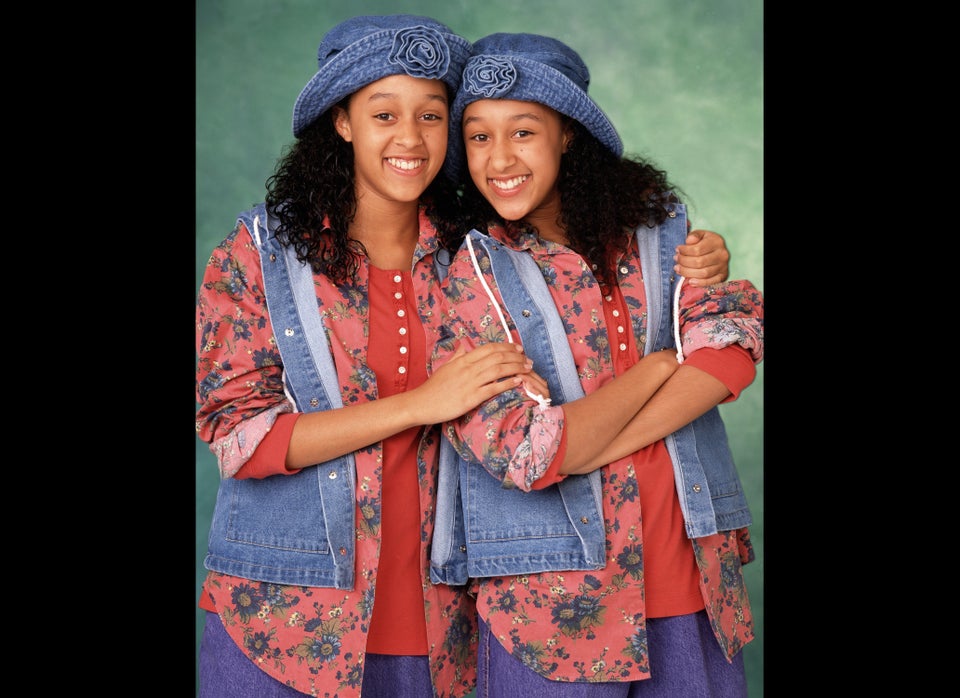 Tia & Tamera Mowry's Style Evolution