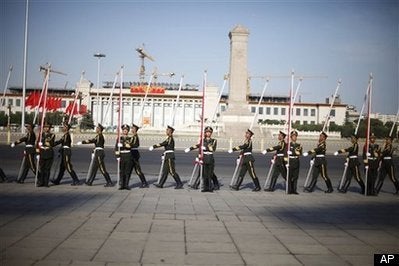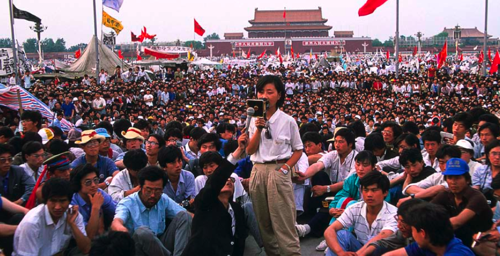 Chai Ling speaks at the Tiananmen Square protests in 1989.
Two decades ago, the Chinese government's crackdown in Tiananmen Square left hundreds of my fellow students dead. Since then a new generation has grown up in China, and many of them are kept in the dark about what happened on this day in China's history.
To me it seems like just yesterday. I began that day with great hope and anticipation for a new China, but it ended as a day of unspeakable sorrow. Now, 23 years have passed. Many things have changed: people grew older, and some key Communist Party leaders from 1989 have passed away. But many people -- whether they say this openly or not -- know that this chapter of China's history has not closed yet.
How will this chapter be written? How will the story end? The world still watches China with great interest, as the recent cases of Chen Guangcheng and Bo Xilai proved. For the past 23 years, I too, have tried to understand the meaning of Tiananmen. I vividly recall that last hour: standing at Tiananmen Square, watching in disbelief as a disaster unfolded around us.
As I was writing A Heart for Freedom, I finally understood. There could only be two futures for China: an outcome of continued fear, or a destiny that opens the door to true freedom -- and forgiveness.
In the Hebrew scriptures, King David's son Absalom rebelled and took the throne from his own father by force. Even in the face of this betrayal, David forgave his son. He told his generals that they should show mercy if they overcame the rebel army and captured the wayward son: "For my sake, deal gently with young Absalom." (2 Samuel 18) But when Absalom was found alone and vulnerable, the generals chose to ignore David and kill Absalom -- thus continuing the pattern of violence.
I know that those responsible for oppression in China will also find themselves vulnerable one day, just like Absalom did. And so the question stands: When that day comes, will China continue with a pattern of harsh retribution, or a will it begin a path of grace, mercy and compassion?
You may wonder how China's seemingly immovable leadership will ever be vulnerable. The answer is: it is human, it has always been vulnerable, and it is more vulnerable now than ever before.
There is little true security in China, even for leaders. Power, money and military or police forces can give a few people temporary wealth and stability, but these things cannot provide lasting security.
In 1989, the number two leader Zhao Ziyang lost all his power and freedom for disagreeing with Deng Xiaoping's decision to use force against students at Tiananmen. Later, so did a strong hardliner who initially supported the move: former Beijing mayor Chen Xitong was sentenced to 16 years in jail. And now Bo Xilai has fallen from grace. These leaders may have looked invincible from the outside, but they lost everything. As Chen Xitong confessed recently in a Chinese interview, "In all those high level political battles, each side is trying to outdo the other side by being more cunning, more malicious, and more brutal."
The system in China suppresses humanity and compassion. It imprisoned and persecuted Chen Guangcheng, a blind attorney, for advocating on behalf of 130,000 women who underwent forced abortions and forced sterilizations. The climate of fear and self-preservation can affect all levels of society. A woman named Mei Shunping testified last month that two of the five forced abortions she suffered in China came after her co-workers reported her pregnancies to officials. Last fall, over a dozen people walked right past a dying toddler after she was run over by a van in a street.
This is the atmosphere that we students wanted to see end at Tiananmen. It is painful for me to remember what happened on that June 4th, 1989, when I witnessed the death of a dream. I still mourn for what "could have been." And for a long time, I battled bitterness and anger whenever I thought of the leaders who chose to take a path of destruction that day.
But then I was confronted with the example of Jesus. He loved women, children, the poor and the oppressed in a way that was radically countercultural -- and he called me to do the same.
He also forgave the very people who ridiculed him and nailed him to a cross: "Father, forgive them, for they know not what they do." (Luke 24:34)
And again, he called me to do the same.
Because of Jesus, I forgive them. I forgive Deng Xiaoping and Li Peng. I forgive the soldiers who stormed Tiananmen Square in 1989. I forgive the current leadership of China, who continue to suppress freedom and enforce the brutal One Child Policy.
I pray that a culture of grace will arise in China, giving all people dignity and humanity. I pray that the China's current leaders will follow Jesus and act with mercy and compassion. I pray that those who have suffered under oppression will not seek vengeance -- like King David's soldiers did when they killed Absalom -- but have the courage to forgive. Forgiveness does not justify wrong, but rather yields the power of judgment to God.
I understand such forgiveness is countercultural. Yet it is only a small reflection of the forgiveness that Jesus gave, and I was filled with peace when I followed him in forgiving. When forgiveness arises, a lasting peace can finally reign.
Chai Ling is the founder of All Girls Allowed, a humanitarian organization inspired by the love of Jesus to restore life, value and dignity to girls and mothers in China and to reveal the injustice of the One-Child Policy. She is the author of A Heart for Freedom, and was twice nominated for the Nobel Peace Prize following her role as a leader of the Tiananmen Square student movement in 1989.
Related
Popular in the Community