On June 4, 1989, thousands of Chinese troops stormed Beijing's Tiananmen Square, violently ending a peaceful student-led protest that had been calling for freedom and democratic reform.
Tanks rumbled through the streets as soldiers fired on unarmed protesters in an attempt to disperse the outraged crowd. Hundreds, if not thousands, of demonstrators were killed in the assault.
According to a New York Times report from that fateful day, many protesters risked their lives to resist the army's attack. ''As doctors, we often see deaths,'' a doctor at a local hospital told the Times that day. ''But we've never seen such a tragedy like this. Every room in the hospital is covered with blood."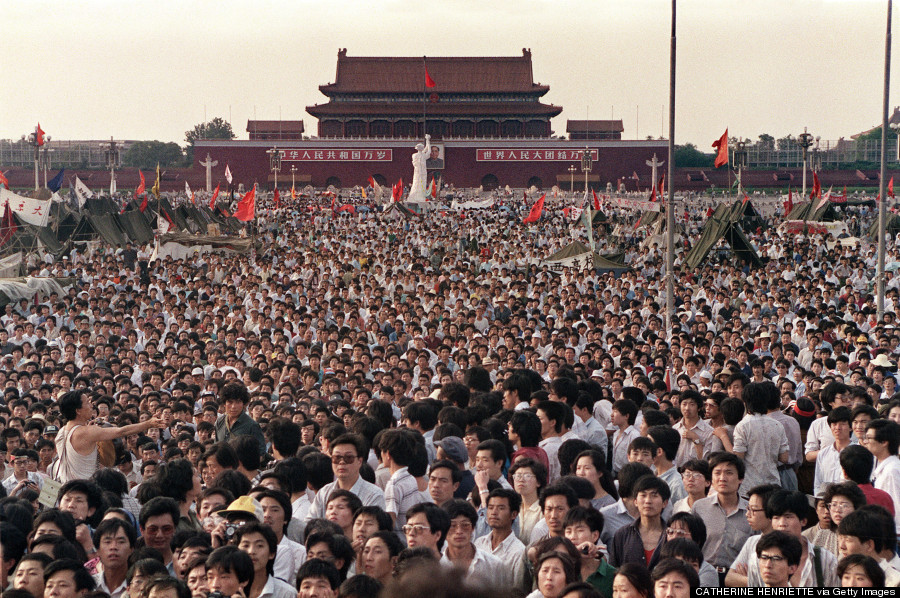 This June 2, 1989 photo shows hundreds of thousands of Chinese gathered around a 10-meter replica of the Statue of Liberty, called the Goddess of Democracy, in Tiananmen Square. A student pro-democracy protester flashes victory signs to the crowd near Tiananmen Square on June 3, 1989 in Beijing. Civilians hold rocks as they stand on a government armored vehicle near Chang'an Boulevard in Beijing, early June 4, 1989. The bodies of dead civilians lie among mangled bicycles near Beijing's Tiananmen Square, June 4, 1989.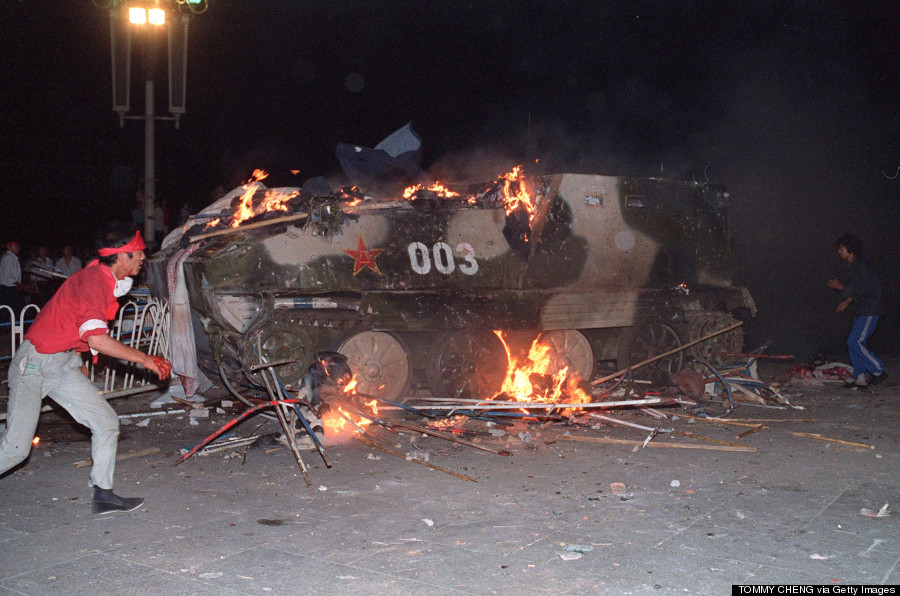 This June 4, 1989 photo shows an armored personnel carrier in flames as students set it on fire near Tiananmen Square. Chinese troops and tanks gathered in Beijing, June 5, 1989, one day after the military crackdown that ended a seven week pro-democracy demonstration on Tiananmen Square. In this iconic June 5, 1989 photograph, a Chinese man stands alone to block a line of tanks heading east from Tiananmen Square.
REAL LIFE. REAL NEWS. REAL VOICES.
Help us tell more of the stories that matter from voices that too often remain unheard.
BEFORE YOU GO